Progressive Suspension Fork Springs
Numéro d'article : 148709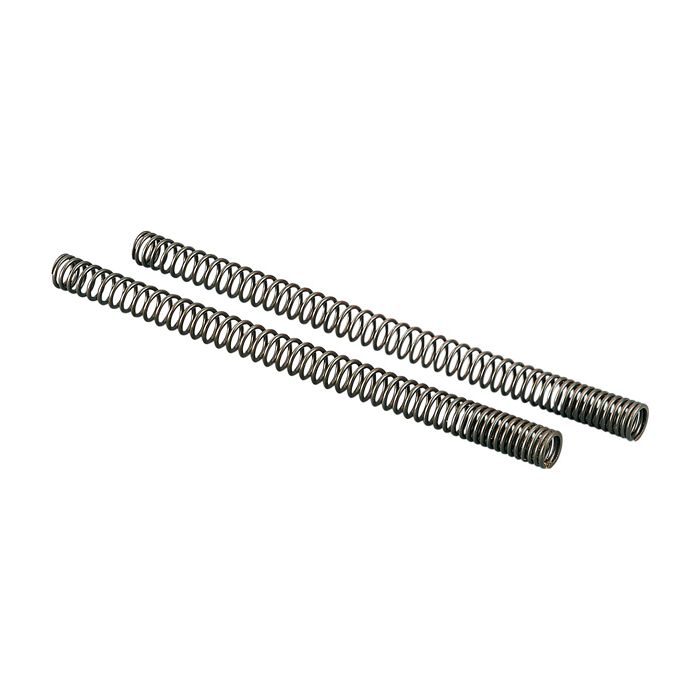 Progressive Suspension Fork Springs
Numéro d'article 148709
Description
Progressive Suspension Fork Springs
Features:
Front Fork Springs from Progressive Suspension
Progressive springs offer a soft initial spring rate for a plush ride
Progressively wound design provides increased resistance to bottoming as spring compresses
Improves handling while retaining OEM geometry
Made in the USA

Reviews
Rated

4

de

5
de
HOTLAP
par
Easy install
Finally got around to getting these for my 10 year old Sportster, install was easier than I thought and the ride and handling are much improved. Only thing I might have done differently is to go with the standard duty instead of the heavy duty as the ride is a bit harsh but I'm hoping it will smooth out with a bit more use. Here is a link (I hope a link will work) detailing the install: https://www.hdforums.com/forum/sportster-models/1175218-fork-oil-change-and-progressive-springs-install.html
Date de publication: 2017-06-24
Rated

4

de

5
de
zooo
par
Yes, do it
After approx. 40000km on klr's I decided to install the fork springs. big difference. You wont notice it around town, however start hitting the big stuff while flying down a forest service road and you will notice it. Very good for pot holes and does feel better in the corners
Date de publication: 2016-06-24
Rated

4

de

5
de
WJC1
par
No more dive
Once installed the front end of the bike sits higher. There is no more dive on the front when applying the brakes and ride is much nicer
Date de publication: 2016-06-26
Rated

5

de

5
de
nomad
par
Excellent product and instructions
Simple to replace the old worn out springs in the air shocks and maintain the air system if needed for heavy loads. Fork springs were really no trouble to install. Ride is great with no air in the system
Date de publication: 2015-06-10
Rated

5

de

5
de
SeanVI
par
Installed in 1983 xv500 Virago
Between the new progressive springs and putting the correct amount of new oil in the forks I've noticed a night and day difference. I used to bounce around and have bottomed out once or twice, but now its just tight and feels right - riding more aggressively and haven't had any of the problems I used to.
Date de publication: 2016-08-18
Rated

5

de

5
de
Prairie Rider
par
Nervous response to bumps in corners is gone
Factory Fork Springs were sagged from Prev Owner trailering bike pulling forks down, so affects my results. New Progressive Forks Best trait is front end is stable in bumps in corners, keeping front wheel well planted, I don't have to react to front end nervous twitches in bumps. In Straight: Small bumps virtually non-existent, Medium a bit hash, Big ones way better not bottoming out. Did bushings seals and oil at same time, was a good plan.
Date de publication: 2015-07-06
Rated

5

de

5
de
Eoj123
par
Progressive front fork springs for KLR650
A must have upgrade for a second gen KLR650 Makes a huge difference over the VERY soft stock front springs Eats the bumps and no more front dive just from letting off the throttle.
Date de publication: 2015-06-10
Rated

5

de

5
de
need to know
par
with new bushings this upgrade seems the way to go for my age induced increased girth as compared to when I bought the bike new.
Date de publication: 2016-06-25
Questions
Why isn't there anything other than standard for the DR650? And if the standard one is the same as stock then what is the benefit?
Progressive Suspensions do not offer heavy duty springs for all applications. These springs improve handling while retaining OEM geometry. They are Progressive Rate Fork Springs, that have several advantages over straight rate springs. A Progressive Rate Spring has the advantage of a rising rate resistance to compression. The benefit of this is that the spring can be soft enough at the start of the travel to offer a "plush" ride, yet be firm enough at the end of the travel to soak up the big bumps.
Date de publication: 2019-10-07
What exactly is included in the kit?
The kit includes the springs, washers and spacers.
Date de publication: 2017-06-01
Can you lower the front end with this product?
For the installation on my 2008 Triumph T-100, the kit came with plastic pipe spacers which could be cut shorter. There's usually a bit of pre-load pressure on the springs when you screw down the fork caps; if you cut the spacers shorter the forks should sink down a bit lower. I'm not sure how much you could lower it without affecting the suspension characteristics etc. It would be trial and error - it might also be necessary to reduce the amount of fork oil used.
Date de publication: 2017-09-25
whats the difference between the heavy duty and standard springs? how do i know what ones to buy?
Usually heavier duty springs are for heavier riders on bikes carrying more gear. Racetech.com has some spring calculators on their website, but I have heard they lean towards harder springs. I find forums specific to bike model etc online can be helpful as people has probably made upgrades in the past and have experience with the results
Date de publication: 2018-01-05
I have been going of road quite a bit lately and my Forks continue to bottom. I have changed the oil to a heavy fork oil. Would the heavy duty fork springs fix the bottoming out. (Sportster 883 hugger)
Just speculation on my part but since the Sportster was not designed for off road use, being fairly heavy and low slung, I would imagine the suspension is just being overwhelmed. It would need very heavy springs and/or longer travel to work ( heavier oil does help). You might try finding out what Evel Knievel had for suspension on his bike since he would have experienced the same problem when landing his jumps. Perhaps also check with shops that specialize in off road bikes, they might be better able to help.
Date de publication: 2018-06-07
Does it higher inches on the front fork?
No, it doesn't raise the front end.  It just stiffens the front spring so it doesn't sag so much when you sit on bike.  Spring is shorter than stock spring but stiffer...was easier to get dork cap on.  You won't need to put air in fork.
Date de publication: 2019-09-18
do you remove the the cartage completly from the forks and use just the spring kit
No need to. Best way to do this: Prior to lifting the front end of the bike up, break the torque on the fork caps, then raise the front end so there is NO load on the springs. Again, there must be NO load on them. Remove the fork caps carefully, keeping pressure as you loosen as the spring will pop up. Remove the spring. Follow the instructions in the kit and good to go.
Date de publication: 2019-03-26