Yuasa GYZ - Batterie Haute Performance Sans Entretien
Numéro d'article : 95844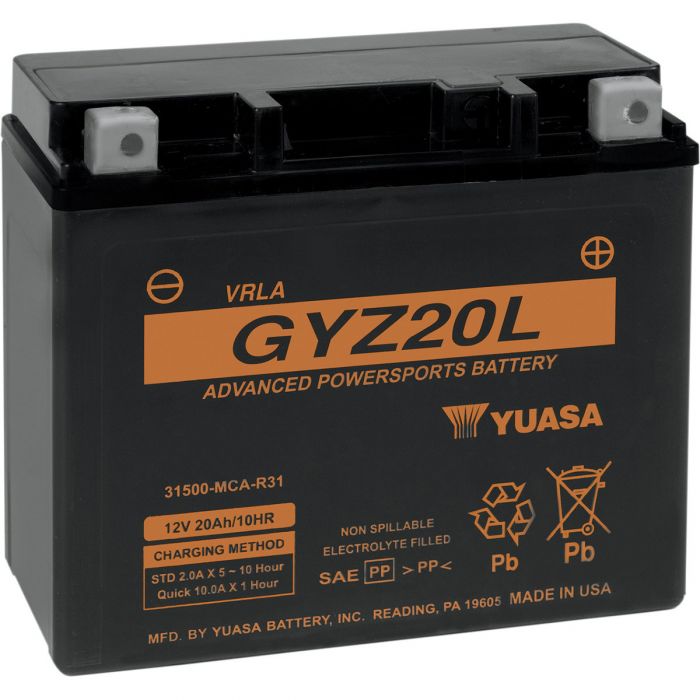 Yuasa GYZ - Batterie Haute Performance Sans Entretien
Numéro d'article 95844
Description
Note:
Cette batterie est activée et scellée dès l'usine. Aucun acide supplémentaire ni manipulation d'acide ne sont requis.
Yuasa GYZ - Batterie Haute Performance Sans Entretien
Intérieur avec Caractéristiques & Avantages
Détail de Coupe de la Batterie GYZ Series de Yuasa
Terminaux ultra robustes
Extrême résistance aux vibrations
Grande capacité et durée de vie
Garantie du fabricant de 1 an
Reviews
Rated

5

de

5
de
Keith B
par
Good Cranking Power
I bought this battery to replace the OEM battery that came with my 2014 HD XL1200T SuperLow. It fit perfectly. The price was competitive and slightly lower to similar batteries elsewhere. Once installed I noticed the higher cranking amps immediately, as the bike turned over effortlessly. FortNine is highly recommended. It's great to have a web based, motorcycle parts and accessory store with such a good selection in Canada. Thanks FortNine!
Date de publication: 2017-08-23
Rated

5

de

5
de
Birky123
par
Awesome!
FortNine's service is excellent. After placing my order, the battery arrived the next day! Put it on the tender but didn't need to as it was fully charged. I installed the new battery in my 2014 HD Ultra Limuted last weekend. First time starting the bike after a long weekend. The battery turned the engine over and the engine started like it had just been running. The extra CCAs are worth it!!!!
Date de publication: 2019-03-29
Rated

4

de

5
de
atakan
par
Great Longevity
I searched this battery for weeks. It's worth to pay $20 more to get this one instead of regular gyz-14. The only problem is Canada post. Pay couple more $$ and get it via UPS.
Date de publication: 2019-03-16
Rated

5

de

5
de
Greensprout34
par
quick delivery, fit right in my 2007 harley davidson softail deluxe
Date de publication: 2018-03-21
Rated

5

de

5
de
Groener1107
par
Excellent battery
Fit my 1200 sporterster perfectly , bike starts up well, delivered quickly &fair price
Date de publication: 2019-09-09
Rated

5

de

5
de
David
par
Great product
I bought this as a replacement for the HD battery in my Road King. With 500 CCA, compared to the 385 CCA of my previous battery, this battery is like night and day for starting power. Engine fires right up with no hesitation at all. Wish I'd bought it a couple of years ago!
Date de publication: 2019-09-03
Rated

5

de

5
de
Thunder
par
Powerful
I bought this battery for my 2010 street glide and it work's better than the OEM one. Powerful and quick start every time.
Date de publication: 2019-08-28
Rated

5

de

5
de
grampy
par
Fit no problem
Much better starting power. No need for battery tender even with the alarm system running.
Date de publication: 2019-08-28