Michelin Starcross 5 Soft - Pneu Avant
Numéro d'article : 478683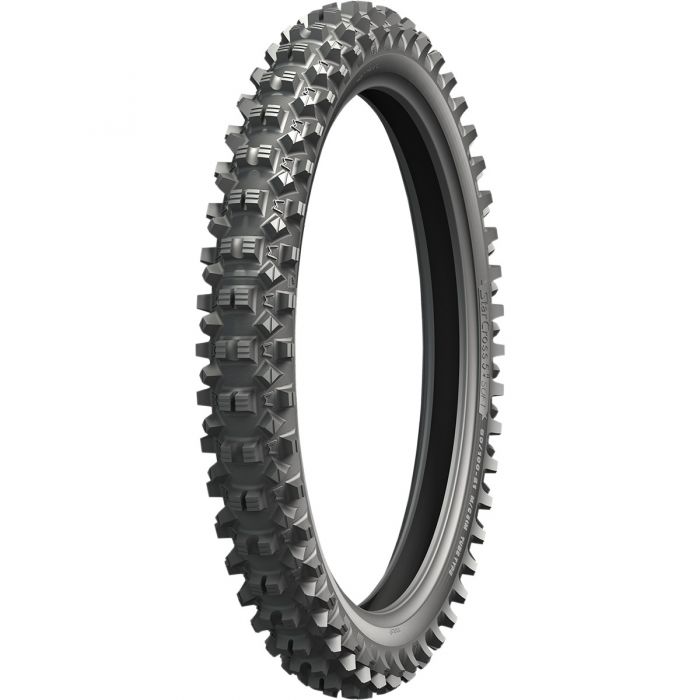 Michelin Starcross 5 Soft - Pneu Avant
Numéro d'article 478683
Description
Michelin Starcross 5 Soft - Pneu Avant
Le StarCross 5 de Michelin est le pneu cross haute-performance conçu pour te permettre d'affronter tous les terrains que tu sois un pilote confirmé ou simple amateur de la pratique du motocross en loisir.
Clique ci-dessous afin de voir les différences entre les divers Pneus Hors-Route de Michelin.
Tableau De Positionnement Des Pneus Hors-Route De MICHELIN
Caractéristiques :
Testé et approuvé par des pilotes pros comme occasionnels
3 années de tests sur tous types de terrains et dans toutes les conditions possibles, partout dans le monde, par des pilotes professionnels comme occasionnels
Conçus pour délivrer le meilleur des performances cross
Plus léger que la gamme précédente pour une meilleure maniabilité et réactivité. Une carcasse plus flexible que la gamme précédente - Une traction améliorée en ligne droite et une plus grande progressivité en courbe - Permet de rouler avec des pressions plus élevées (>=1 bar et jusqu'à 1,2 bar) afin d'éviter le déjantement ou les pincements de chambre sans dégrader l'adhérence ou le confort - Pas besoin de rodage, grâce à sa carcasse souple, le StarCross 5 de Michelin délivre toutes ses performances dès le départ - Une plus grande facilité de montage - L'alliance d'une nouvelle carcasse et d'une sculpture agressive offre un maximum d'adhérence pour du guidage à l'avant et de la motricité à l'arrière
Une offre adaptée à tous types de terrains, de motos et d'usages
Offert en version Sable, Soft, Medium et Hard
Comparison Chart
| | | | | | |
| --- | --- | --- | --- | --- | --- |
| | | | | | |
| Model | Dunlop Geomax MX52 | Maxxis M7304/M7305 Maxxcross | Shinko 525 Hybrid Cheater | Michelin StarCross 5 | Pirelli MT 21 |
| Affordability | Most Affordable | Affordable | Affordable | Affordable | Less Affordable |
| Construction | Bias | Bias | Bias | Bias | Bias |
| Rim Sizes | 10-21 | 12-21 | 18-19 | 18-21 | 17-21 |
| Type | TT | TT | TT | TT | TT |
| Classification | Intermediate/Hard | All Terrain | Soft/Intermediate | Soft | Dual-Sport |
| Balance Dot | | | | | |
| Speed Rating | M - 81 MPH | J - 62 MPH | M - 81 MPH | M - 81 MPH | P - 93 MPH |
| DOT Approved | | | | | |
Reviews
Rated

5

de

5
de
JDugas
par
So Far So Good
so I've ridden 3 times on this tire and its been performing awesome. i ride mostly soft sand/loom and roots and it performs better than most. I've tried all the major brands and would say this one is the best I've tried. it is must taller than the dunlop i was replacing.
Date de publication: 2016-05-13
Rated

4

de

5
de
Red Eye
par
traction tire, good for hills
So happy with S-12 michelin tires for years, so I thought I'd try something new. This tire has very good traction, excels in loose dirt and sand hillclimbs, hooks up and you'll climb that hill you couldn't with your old tire. I didn't give it 5 stars, because it feels "squirmy" on corners. I eventually got used to it, but want to caution others.... it is a different feeling tire, but wow! you'll be amazed with the straight line hook up...... especially hillclimbs...
Date de publication: 2019-06-12
Rated

5

de

5
de
Dr kwon
par
Soft terrain!!
Awesome tire! Takes a beating on gravel roads but it's expected. 250xcw
Date de publication: 2016-08-13
Rated

4

de

5
de
troll
par
I bought this tire for the wet fall riding. Has worked really well on greasy hills. Seems to be holding up well.
Date de publication: 2018-11-05
Rated

4

de

5
de
OldBoy408
par
I ordered 2front sprockets for my 2008 RM 250 but they are the wrong ones. I will have to double check that I have the right machine entered in my garage. Everything else that I ordered was correct!
Date de publication: 2017-09-19
Rated

5

de

5
de
Muddy234
par
Best Enduro tire I have ever used! Highly recommend this tire.
Date de publication: 2017-09-17
Rated

4

de

5
de
MeniaC
par
Tres bon pneu!
j'ai acheté ce pneu il y a quelques mois et je suis encore très satisfait bonne adhérence et traction !
Date de publication: 2016-08-14
Questions
I need a set of tires for my KTM 250xc. If I buy a Michelin in 110 100 18 will that be the right size? I have heard the have their own sizing. Have you adjusted this on the site or will this end up being a 130 type tire.
Hi, Michelin would claim that is the correct size for your bike yes. Personally I prefer the 120 width on the 250 and 300 XC KTMs. That 110 is the same width as the 130 S12 XC. The 120 is the same as the 140 S12 XC. Dan
Date de publication: 2018-09-21