Pirelli MT 21 Front Tire
Item # : 63055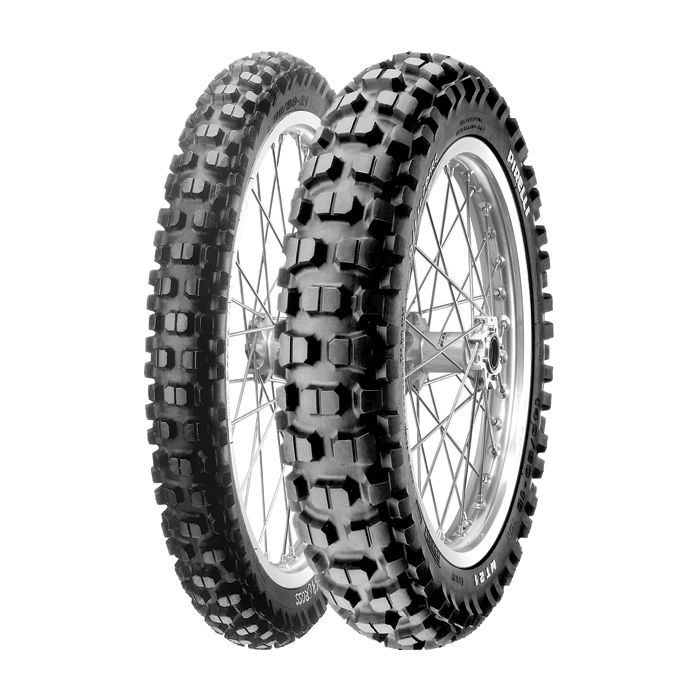 Pirelli MT 21 Front Tire
Item # 63055
Description
Pirelli MT 21 Front Tire
DOT approved
90% off-road / 10% on-road design
Provides excellent off-road performance, even over long distances
Chosen as one of the most aggressive dual sport tires on the market for two consecutive years by Dirt Bike magazine
Designed mainly for off-road use
The best-selling dual-sport tire in the U.S.A.
This tire is part of a matching set, see the MT 21 Rallycross Rear Tire
Comparison Chart
| | | | | | |
| --- | --- | --- | --- | --- | --- |
| | | | | | |
| Model | Dunlop Geomax MX52 | Maxxis M7304/M7305 Maxxcross | Shinko 525 Hybrid Cheater | Michelin StarCross 5 | Pirelli MT 21 |
| Affordability | Most Affordable | Affordable | Affordable | Affordable | Less Affordable |
| Construction | Bias | Bias | Bias | Bias | Bias |
| Rim Sizes | 10-21 | 12-21 | 18-19 | 18-21 | 17-21 |
| Type | TT | TT | TT | TT | TT |
| Classification | Intermediate/Hard | All Terrain | Soft/Intermediate | Soft | Dual-Sport |
| Balance Dot | | | | | |
| Speed Rating | M - 81 MPH | J - 62 MPH | M - 81 MPH | M - 81 MPH | P - 93 MPH |
| DOT Approved | | | | | |
Reviews
Rated

5

out of

5
by
Crazycootes
from
Great tire
I usually run the Dunlop d606 on my ktm 525, but I figured I would try something new. Glad I did! Far better muddy/Sandy traction than the d606 and I feel like it has better traction on he asphalt in the turns as well. Great tire, wear seems to be about the same as the d606, but far better grip.
Date published: 2016-06-24
Rated

5

out of

5
by
Achillesvri
from
Better then d606
I ride my 690 off road every weekend. and ride it to work the rest of the week (100km round trip on the road to work).. I got 2800km of the rear and 7600km on the front.. I ride my bike hard. These tires r worth it. D606 r great I had them in my xr650l but the perellies last longer
Date published: 2017-02-10
Rated

5

out of

5
by
Anonymous
from
Excellent Tires
Amazing cornering for a knobby on the TE610 and believe me I ride fast and corner hard as an ex road racer and it gives me noting but confidence
Date published: 2014-03-24
Rated

2

out of

5
by
rickswa
from
Great traction, but wears quickly
This rear 130/80-18 tire was used 30% on road and 70% dirt on an fully modified XR650L in the Coastal mountains of Canada on rocky, challenging terrain. I am an aggressive rider that routinely rides at the highest speed that is appropriate for the conditions. Traction was great through the entire life of this tire with lateral traction holding strong until the end. Like other reviewers this tire only lasted 1500km when I normally get 2500km (Dunlop 606, Motoz Tractionator). At 800km large cracks appear at the base of 1/3rd of the center blocks, and at 1300km a one full center block of rubber ripped off at the crack and other blocks were missing chunks of rubber at the cracks. After riding on the rear D606, the Tractionator and MT-21, I found that the D606 performs the best and is the best value.
Date published: 2019-08-27
Rated

5

out of

5
by
apucek
from
Great tire, takes me everywhere.
I bought this tire to ride down the continental divide. I put it through every condition you can think of and it performed amazing. It also did surprising well on wet pavement. I got about 7000 km's out of it which I think is fantastic considering what I put it through.
Date published: 2016-09-19
Rated

4

out of

5
by
Vader
from
Grips well, Relatively inexpensive, wears fast.
I use my bike for daily commuting which does involve some dirt rodes, this is the tire my bike originally came with so I have purchased a few so far. They have been wearing off(rears) in 1500-2000 km, which is relatively fast for me. They are cheap compared to more touring esk tires and do grip well in dirt up until about 1500 km where the tread starts to get quite worn and the tire begins to spin going up my relatively steep dirt hill. Overall more of an offroad tire as advertised, Does what its meant to do.
Date published: 2015-06-21
Rated

4

out of

5
by
cvurtis
from
Great Dual Sport Tire
These came stock on my 690 Enduro R, and I was really satisfied with their performance. They hooked up well in gravel, snow, and mud, and performed well on pavement. The 690 turned them into squares after about 1500 km, but that's to be expected with knobby tires on pavement. Noteworthy road manners for a knobbier tire as well, no excessive flexing or squirming, stuck well on cold, wet mountain roads (Lake Louise, 2 degrees in April).
Date published: 2014-10-20
Rated

5

out of

5
by
Jean Michel
from
Great grip on and off road
Those tires make me be very confident off road. I first had the Dunlop D606 rear and Pirelli MT21 up front combo. I found that the D606 was less grippy on the sides in trails where I needed it. The lateral grip is better with the Pirelli MT21. I love these tires but I would always have a foolish dream that off road performing tires like these would not be noisy... ...these are, but less thant D606.
Date published: 2019-10-05
Questions
Hi! Is the 120 90 17 rear tubeless?
Looks like both Pirelli and Fortnine dropped the ball on indicating this on tire size. I would treat this as Tube Type until further notice. You can probably run it safely offroad with a tubliss system or something similar, If you're on public roads, run a tube. YMMV
Date published: 2018-07-18
can i use tubes in these tires for my 2016 klr 650 ? thanks
Yep you can. Run tubes with em on my 690.
Date published: 2018-01-15