ACF-50 Anti-Corrosion Lubricant Formula
Item # : 620981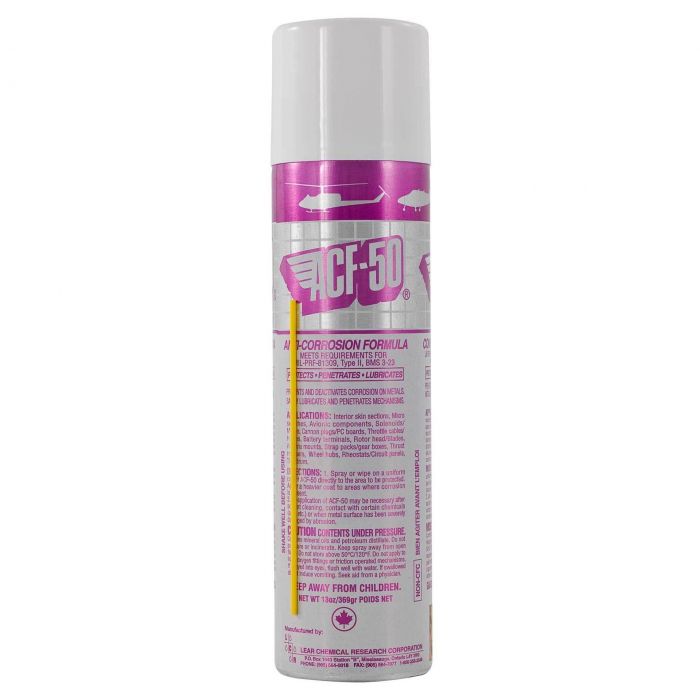 ACF-50 Anti-Corrosion Lubricant Formula
Item # 620981
Description
ACF-50 Anti-Corrosion Fogging Oil
ACF-50, Anti-Corrosion Formula, is a state of the art, anti-corrosion lubricant compound, specifically designed for the Aerospace Industry. It is an ultra Thin Fluid Compound (TFFC) that actively treats metal using advanced polar bonding technology.
ACF-50 actively penetrates and "creeps" into the tightest seams, lap joints, micro cracks, and around rivet heads, displacing moisture and other corrosive fluids (orange juice, coke, coffee, salt water) in these corrosive prone areas.
ACF-50's thin film acts like an "OFF SWITCH" for corrosion remaining effective for up to 24 months.
Kills and stops corrosion on contact.
Protects, Penetrates, Lubricates.
Features:
Approved for use on all metals & electronics
Can be sprayed on, wiped on or fogged for complete protection.
Clear ultra thin fluid film leaves a non-greasy atmospheric barrier to protect base metal.
Spray directly into electrical connections and compenents to prevent corrosion induced faliures.
Chemically neutralizes the corrosive effects of road salt.
Will not dry out or trap moisture in
Excellent vehicle storage preparation and protection
How to Use:
ACF-50 is 95% product, hence virtually no propellant. Keep the tin in a warm environment, shake very well before use and remember a little ACF-50 goes a long way, so keep a rag handy to soak up any excess - then use the rag to help spread the product.
ACF-50 has strong capillary action so will creep into all the areas that moisture can, 'actively' pushing out moisture and replacing it with protection. Go cautiously when applying to callipers to ENSURE YOU KEEP IT OFF THE BRAKES. Use ACF-50 anywhere, except the brakes, on your bike including the engine and exhaust (will smoke on first start and burn off down pipes but still slows down corrosion process). Safe on paintwork, most rubbers and brings up black plastic trim a treat.
ACF-50 contains no water and is approved for electrics so spray directly into electrical joints and components where it will prevent corrosion induced failures and high resistance joints. Works well at stopping dirt, mud and salt from sticking. You can come back from a winter ride with the bike 'white with salt' - a quick wash off and it's gone with the bike still protected. Areas not in direct contact with the elements i.e. tankseat areas, electrics require treating approx once a year. Other exposed areas re-apply as necessary. You can tell the product is still 'Active; as water will bead on contact...having no water content and not being water soluble ACF-50 only dissipates by being 'sacrificial' whilst stopping existing or new corrosion so just re-treat as required.
Manufacturer Part Numbers:
10013 - 13 oz
10032 - 32 oz
10004 - 1 Gal
Reviews
Rated

4

out of

5
by
Silentbob
from
Works but a few issues
Pros: works, stops more rust from forming. -Comes with the items as described in picture. -Manual Spray bottle is more controllable than CO2 version. -Protects electronics and will not damage or interrupt it. -fumes are safe...MSDS says so anyway... -used on Boeing 737 before. -a little last a long time. -good as a lubricant. -once applied, will last about 3 wash. To make it last longer, just use water to rinse bike and waterless wash to touch up paint and engine. -no problem spraying on engine and straight on electrical connections. Cons: runny. Will drip a couple of days eveb after wipe down. - do not spray on tires or brakes. Clean the floor up unless you want to slip. -will attract dirt if too much used. -expensive...so buy in bulk. -not a rust convertor, you still need to remove rust manually. Try to remove rust on area and apply after. Product just stop/prevent more rust from forming.
Date published: 2018-09-03
Rated

5

out of

5
by
Tenny80
from
Works great!
This stuff is amazing! I first heard about it from CSBK pro racer Ben Young. I then found some videos on YouTube on proper application (the bike needs to be CLEAN). I apply in April, June (after the rain in the spring) and then again in November when I put the bike away. Protects against corrosion better then any other product, very easy to install and very little is wasted. I had some nuts on the exhaust of my Vulcan that where completely rusted over, I sprayed the ACF 50 on and within a month they looked 10 times better. They still had some minor rusting, but I suspect with continued use it will eventually get ride of all of it.
Date published: 2019-06-25
Rated

5

out of

5
by
bouzer777
from
ACF-50 Anti-Corrosion Lubricant
I purchased the ACF-50 Anti-Corrosion Lubricant because I have used this oil prior. I find it one of the best anti-corrosion lubricants on the market. I will be undercoating my car and bike with this oil considering it is the best oils to prevent rust. I have used it to stop battery acid corrosion on my car battery and it worked perfectly for 3 years +... I highly recommend this oil for all purposes including electrical. Bob
Date published: 2018-09-04
Rated

5

out of

5
by
Beeker
from
ACF-50
Awesome product, easy to apply and keeps my bike protected from any rust forming. Very quick shipment as well ! Definitely with order more products from this website.
Date published: 2019-01-17