ACF-50 Corrosion Block
Item # : 620985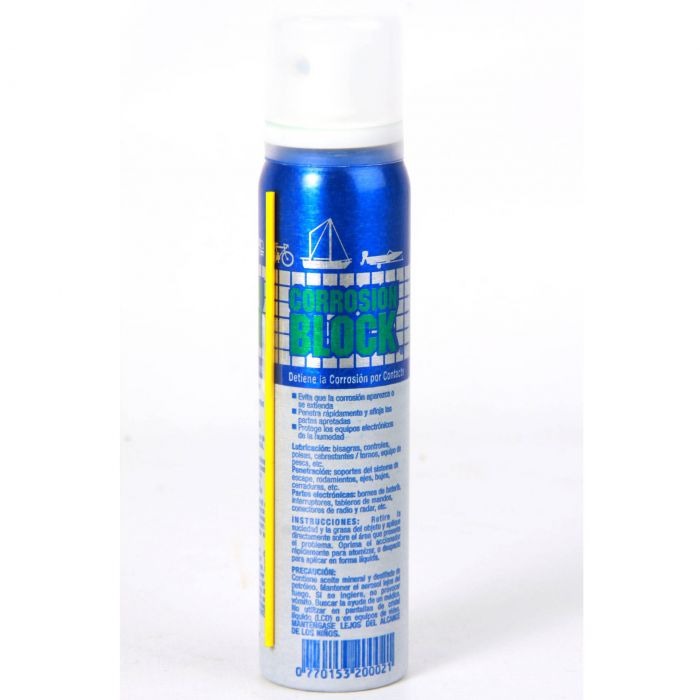 ACF-50 Corrosion Block
Item # 620985
Description
ACF-50 Corrosion Block
Corrosion Block is a high performance corrosion inhibiting lubricant that protects all metals, mechanical parts, external Air Conditioning systems and common electrical components found on your Boat, in your Home, or work-shop. Provides excellent corrosion protection from salty Marine, Coastal or Industrial environments. Corrosion Block is the best penetrate/lubricant for home, shop and garage uses. Contains no wax, silicon, Teflon or graphite to gum up mechanisms. Corrosion Block is easy to apply, clean, long lasting, non-toxic, non-flammable and non-hazardous.
Features:
Kills corrosion on contact
Protects, lubricates, and penetrates
Multipurpose, dielectric/non conductive
Synthetic additives in corrosion block completely penetrate corrosion cells, replacing the moisture which is then allowed to evaporate
Electrical Use:
Corrosion Block has the ability to remove moisture, combined with its excellent penetrating and strong dielectric properties, have brought a number of electronics 'back from the dead' with just one application. Corrosion Block removes the moisture from the corrosion byproduct, then isolates the corrosion byproduct from the electrical circuit. Corrosion Block can be used in many different electrical and electronic applications without fear of damage. Corrosion block will not harm paint or plastic surfaces.
Manufacturer Part Numbers:
20002 - 4 oz
20012 - 12 oz
20032 - 32 oz
20004 - 1 Gal