Akrapovic Racing Line Full System Exhaust
Item # : 187883
$636.99 - $3,729.99
$234.99 - $3,067.99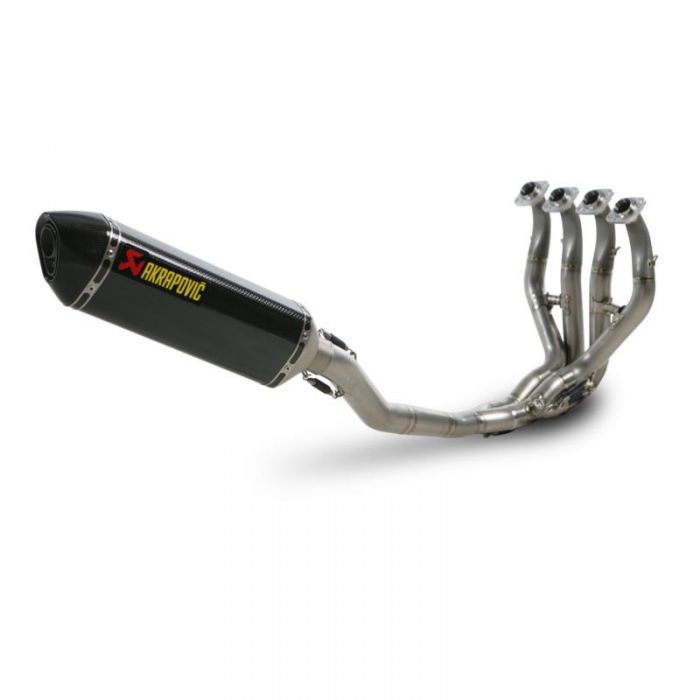 Akrapovic Racing Line Full System Exhaust
Item # 187883
Description
Akrapovic Racing Line Full System Exhaust
The Akrapovic Racing Line has been designed specifically for demanding riders and represents an ideal balance between price and performance. The exhaust systems are dramatically lighter compared to stock exhaust systems and feature exceptional production quality and increased engine performance combined with pure racing sound output. The headers and mid-pipes are constructed of high-quality stainless steel conical tubes with precision handcrafting. A special process known as hydroforming is used in the manufacturing of the exhaust pipes. This process injects pressurized water into each tube to form the ideal shape for optimum exhaust flow without causing creases or compromising the strength of the steel.
Akrapovic Exhaust's unique design enables them to obtain the maximum output for each specific model of motorcycle, while significantly reducing overall weight. It's not just about peak power - Akrapovic exhaust systems deliver increased performance throughout the entire RPM range. Increased power and torque result in a much smoother ride. All Akrapovic exhaust system measurements are formulated on in-house computer-controlled flow benches.
The Racing Line is identical to Akrapovic's top range Evolution Line exhaust systems, with the major difference being the material that is used for the headers and mid-pipes. The headers and mid-pipes of the Evolution Line are constructed exclusively of titanium while the Racing Line uses stainless steel.
Features:
High quality stainless steel headers and mid-pipes
No fuel remapping required, but for optimal performance, we recommend the use of a fuel controller
A combination of beautiful machine and hand welds
Patented muffler
Lightweight, compact and high-temperature-resistant carbon fiber muffler clamp
CNC machined muffler inlet cap
Optimized to maximize lean angle
All carbon fiber parts are produced in-house
Air-tight quality controlled production means your exhaust will be perfect
High-quality, silicon-shielded stainless steel exhaust springs
Reviews
Rated

5

out of

5
by
Jonnyboy
from
Pretty easy install
After extracting and replacing a few broken studs from removal of my old exhaust, the install of the Akra went quite smoothly. I loaded the Akra Power commander map and it seems to run good and improved the power slightly. There is no ceramic anti-seize compound included.
Date published: 2018-07-26
Rated

5

out of

5
by
Quicksilver
from
Amazing build quality and easy installation
I purchased the Titanium version of this and was almost sad to install it under my bike... it is so beautifully made. The sound (with db killer in) is exactly what I was after. More throaty but not so loud that you have to ride with plugs always. It may be in my head but it seems to smooth the engine out and I will hold lower gears much longer than before. 3rd becomes the every speed gear. A much more integrated look, much like the stock exhaust, than the other pipes out there that stick out the side
Date published: 2018-07-12
Rated

4

out of

5
by
Rekvijem
from
Pricey, but great as always
Install time was not too bad (~1 hour or so), and sounds great on the FZ. Left the baffle in due to noise regulations in my area, but it still screams at 5-7k rpm + and it has a nice deep tone on decel.
Date published: 2019-09-13
Rated

4

out of

5
by
Leonard
from
G310GS Upgrade
Shave a ton of weight over the stock exhaust . It looks great and is a breeze to install. Can feel added punch but beware this Exhaust is VERY loud.
Date published: 2019-08-30
Rated

4

out of

5
by
Leonard
from
Love this Exhaust
Excellent shipping from Fortnine as usual. Very easy install. I used a 10mm box end wrench for the Exhaust nuts. Stock exhaust was shockingly heavy. Has quite a bark if you snap the throttle. Otherwise sound is excellent. Noticeable performance improvements too. Not 5 Stars because it needs a Heat Shield. I know Akrapovic has an optional one but I do not see it for sale here. I'll keep looking.
Date published: 2019-07-27
Questions
Does this full racing line come with ECU race unlock code for my bike?
No, it does not come with an ECU unlock code for your bike
Date published: 2019-09-24
Does this kit come with two mufflers?
This item is vehicle specific, so it depends on your application. If you enter the year, make and model of your vehicle on the product page, you will see if this item is a "Guaranteed Fit" or "Does Not Fit." If it fits, and your vehicle requires 2 mufflers, then you will get 2 mufflers
Date published: 2019-09-23
Is it necessary to use a bazzaz or PCV? Which would you recommend and why? I'm having a hard time finding a good Bazzaz map...
It is not necessary, but strongly recommended in order to eliminate backfiring and performance issues.
Date published: 2018-09-26
Hi there do you think will fit on 2018 Aprilia tuono v4 1100
Yes, the Akrapovic part number S-A10E8-RC is compatible with the 2018 Aprilia Tuono V4 1100.
Date published: 2019-09-09
Is this exhaust road legal? Able to pass safety and emissions?
It has a baffle to make it quieter, if you're in Canada all good.
Date published: 2018-05-23