Akrapovic Slip-On Line Exhaust
Item # : 187938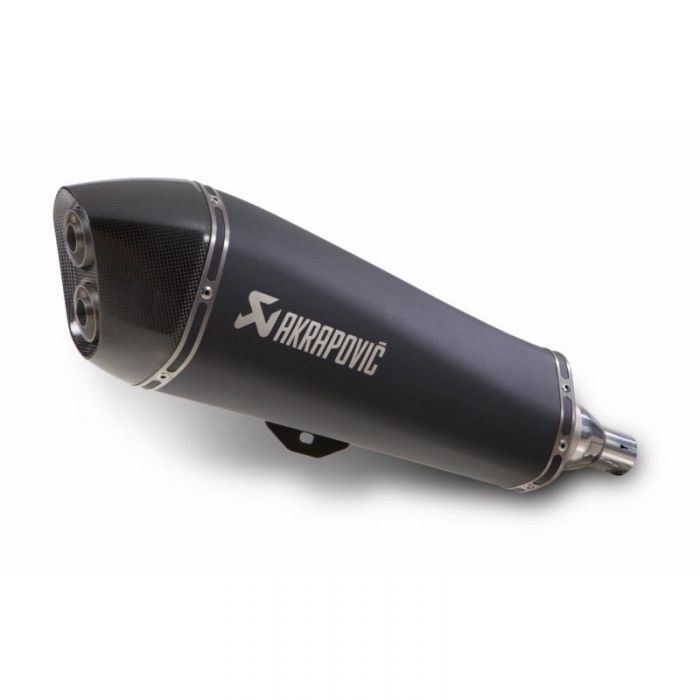 Akrapovic Slip-On Line Exhaust
Item # 187938
Description
Akrapovic Slip-On Line Exhaust
The Akrapovic Slip-On Exhaust represents the first step into the world of exhaust system tuning. By no means entry level, it offers a great balance between price and performance. Each bespoke exhaust is designed to enhance the performance and match the design philosophy of your motorcycle. Transform the nature of your bike by adding not just more power, but also that unique, deep and resonant Akrapovic sound. Whether your choices are carbon fiber or titanium, you can be sure that every step in the R&D, design and manufacturing processes of each exhaust has been performed by a team of highly skilled and experienced engineers.
It's not just about peak power - Akrapovic exhaust systems deliver increased performance throughout the entire RPM range. Increases in power and torque result in a much smoother power delivery and ride. All Akrapovic exhaust system measurements are formulated on in-house computer-controlled flow benches.
Features:
No fuel remapping required, but a fuel controller is recommended for optimal performance
A combination of beautiful machine and hand welds
Patented muffler
Lightweight, compact and high-temperature-resistant carbon fiber muffler clamp
CNC machined muffler inlet cap
Optimized to maximize lean angle
All carbon fiber parts are produced in-house
Air-tight quality controlled production means your exhaust will be perfect
High-quality, silicon-shielded stainless steel exhaust springs
Reviews
Rated

4

out of

5
by
Danyamaha
from
Looks great sounds great
I bought this about a month ago and it looks amazing and definitely sounds better than the stock exhaust on the R1. If you think it's going to be really loud though you will be disappointed. I will be pairing with the link pipe on the future because i would like a little more noise and the additional weight reduction. Install of the can is very easy the Carbon fiber shield however takes a little work getting it into place.
Date published: 2017-08-09
Rated

5

out of

5
by
robert
from
hi friends ...i bought the akrapovich 2 month ago, and i like so much the look it put on my z-900 , i am a 64 year young sport bike rider , and i realy love the sound level , but for the youngers riders.....you may wont more sound than these , for me , this akra is real music , ferrari sound .
Date published: 2019-08-28
Rated

5

out of

5
by
Grandno
from
satisfait
le produit était bien protégé dans sa boite, mode d installation claire
Date published: 2016-08-19
Questions
Does this slip on come with a silencer / insert?
This is a whole piece without removable baffles. It is EC approved and conforms to strict EU regulations for street use and satisfy all conditions for exhaust system noise levels and safety. Noise levels are lower, but the recognizable Akrapovic sound is still there.
Date published: 2018-05-11
Could you tell me the measures and weight of thia exhaust?
right side exhaust is 3lbs 15.2oz left side exhaust is 3lbs 15oz right side collector is 12.5oz left side collector is 14.6oz
Date published: 2016-08-23
 If an Akrapovic is installed does the bike's computer need to be reconfigured due to changing from stock muffler, i.e. will engine run lean or richer due to change in muffler? BMW 2011 R1200RT
No changes required. It's strictly plug and play. Only slight performance gain...beautiful exhaust note!
Date published: 2018-04-13