All Balls Wheel Bearing and Seal Kit
Item # : 127800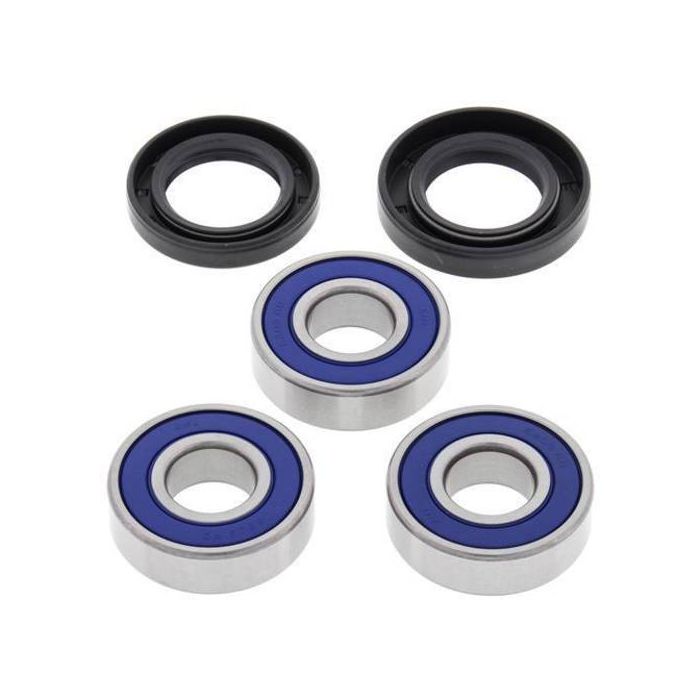 All Balls Wheel Bearing and Seal Kit
Item # 127800
Description
All Balls Wheel Bearing and Seal Kit
Features:
Contain all of the bearings and seals required to re-fit a wheel
The most extensive line of kits for street, off-road and ATV applications
Wheel bearings typically fail from water and dirt contamination. The All Balls wheel bearing was developed in partnership with KML Bearing and is designed for the difficult operating environment of the Power Sport industry
Premium EMQ quality, hi-speed-bearing featuring low drag, double lip rubber seals which provide superior exclusion of water, dirt and to improved grease retention
Type TC Nitrile Elastomer wheel seals are specifically designed to keep out water and dirt
The rubber coated outside diameter creates an optimum seal at the hub
Steel garter spring guarantees constant pressure on the axle shaft over the life of the seal
Reviews
Rated

3

out of

5
by
Anonymous
from
Preventive peace of mind.
I had the wheels off for the first tire change with no record of when or if the bearings had ever been replaced. Do it! Half the price of a tire change and essential to maintain. I've read mixed reviews of this brand's bearings but they come with the seals I didn't want to hunt down separately. It's a product to be judged over the long term but I can say the metal had no blemishes or signs of corrosion. The seals are brand named. One of the bearings withstood 3 separate insertions with a hammer and socket technique and being punched out twice. I heard of some bearings that came apart entirely during fitting.
Date published: 2014-06-08
Rated

5

out of

5
by
No nickname
from
good quality fast shipping
product was exactly what I ordered. good quality, and fast shipping as normal
Date published: 2016-02-07
Rated

5

out of

5
by
JimmyTheChooch
from
Great price
These tapered bearings are a straight up swap for my old style loose ball bearings.
Date published: 2015-12-05
Rated

5

out of

5
by
nerdboy
from
Great place to buy parts.
Every thing was exactly what I ordered and well packaged for shipping Prices are good and I have already place another order and received it .
Date published: 2015-12-05
Rated

5

out of

5
by
MarE
from
Perfect fit
First time I've replaced rear bearings myself on a bike. Sealed bearing replaced the old unsealed ones perfectly.
Date published: 2016-05-20
Rated

4

out of

5
by
djcmx49
from
Great Bundle in kit
I bought a front & rear set of the All Balls bearing kits and they even include the bearings for the rear flange assy' ( Sprocket Hub with Dampers ) Price is OK for what you get but if you buy bearings individually from a local bearing supplier you may save some dough but these kits do include dust seals as well...
Date published: 2016-03-23
Rated

5

out of

5
by
rzu4eah
from
Great Value
Installation was spot on as compared to stock. Best value
Date published: 2016-03-23
Rated

5

out of

5
by
Rorrr
from
installed on my fz1 rear and front bearings and seals. Good kit. Fits well.
Date published: 2015-08-08
Questions
Do the rear wheel bearing kit include the flange bearings too?
Unfortunately, no, the All Balls Wheel Bearing and Seal Kit includes only the bearings and seals for the wheel.
Date published: 2019-10-22
do these come as a pair and are they for the front wheel?
They come in both front and rear and contain all of the bearings and seals required to re-fit a single wheel. The option for front or rear will appear when you input your vehicle information. ~Emily, Customer Representative, Canada's Motorcycle
Date published: 2019-06-26
Are these 20mm inside diameter for the axle, for a 2013 husaberg fe 350
These items are vehicle specific, so the manufacturer does not list these types of dimensions for this product. If you enter the year, make and model of your vehicle on the product page, the correct part will be recommended for your application, and will be the same size as the stock part for your 2013 Husaberg FE 350
Date published: 2019-08-21
Are these bearings good for sidecar bike use?
These would be OK for a lighter sidecar, but for a heavy rig, I would go with tapered roller bearings due to the side loads put on them.
Date published: 2018-12-21