Alpinestars A-10 Chest Protector
Item # : 543762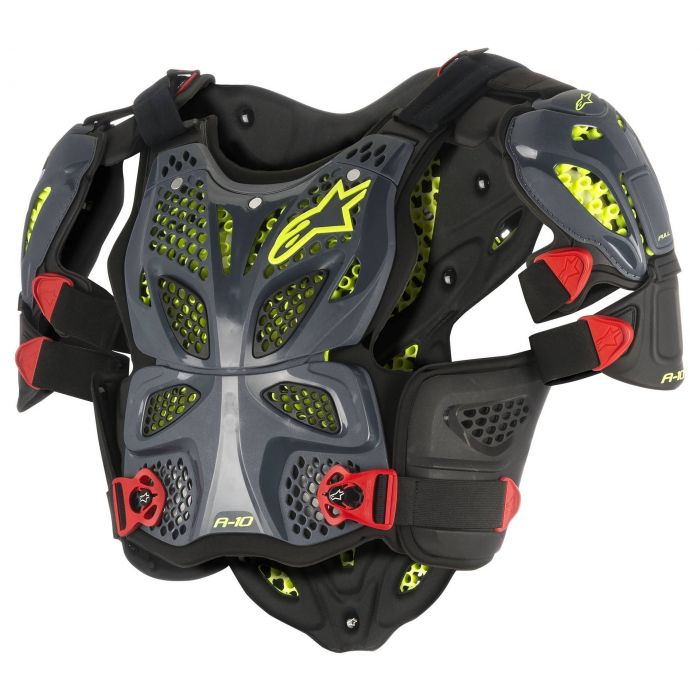 Alpinestars A-10 Chest Protector
Item # 543762
Description
Alpinestars A-10 Roost Guard
Protector plates of the Alpinestars A10 feature embedded grid technology under the shells which absorbs and dissipates impacts forces. The grid technology cell system enables greater flexibility and air ventilation while allowing for significantly reduced weight. Protector plates are CE certified.
Construction:
Hard shells constructed from high performance polymeric material blend for optimized flexibility and excellent weight saving properties
Shell feature perforation zones and air channeling for excellent breathability and ventilation
Modular design to allow for addition of BNS neck support
Removable upper back padded panel for BNS compatibility
Removable upper front panel for BNS compatibility
Soft touch BNS puller for convenient and safe engagement of the BNS
Modular design means protector can be worn in various configurations allowing rider to use in different riding situations
Removable EVA padding on biceps with a locking system on the shoulder pad keeps protection in position
Soft bio foam padded chassis for maximum comfort and personalized, close-to-the-body fit
Side adjustable kidney belt allows for various fit sizes and ensures protection remains close the body at all times
Features Alpinestars quick release attachment system for convenient in and out
Protection:
Back protector CE certified according with the EN 1621_2: 2014 level 2
Chest protector CE certified according with the pr EN 1621_3: Level 2 full chest Type A
Shoulder protectors CE certified according with the EN 1621_1 : 2012 level 1 Type A
Comparison Chart
Model
A-1 Plus
Sequence
Bionic
A-4
A-10
Starting at
$185
$190
$215
$240
$300
Material
Polymer blend
Thermoformed textile, mesh
Polymer blend
Polymer blend
Polymer
Key Features

Removable protectors

Adjustable shoulder straps

Soft bio foam padded chassis

Highly abrasion resistant

Embedded grid technology

Highly adjustable

Thermoformed kidney protection

EVA extension at back

Embedded grid technology

Quick release attachment

Protection
Good
Good
Better
Good
Best
Flexibility
Better
Best
Good
Better
Good
Airflow
Better
Better
Good
Best
Good

Bionic Neck Compatible

Certification
CE certified

CE certified chest

CE level 1 back

CE Level 1 back, chest, shoulders

CE certified chest

CE level 1 back

CE Level 2 chest & back

CE Level 1 shoulders
Reviews
Rated

4

out of

5
by
nickname why im canadian
from
Too Small?
Ok JUST UN BOXED IT. I love it! but... I am 6ft 2" tall 190 lbs and the front plate leaves my abdomen exposed, ok maybe a kidney belt will help but not like the plastic plate will. Was their intention to cover the abdomen or not? The arm bands that hold the shoulder pads on are too tight also, yes I work out, but this medium/large size is for a 5'5" guy with small arms. I wish they made a bigger size, I am not sure yet if I will return it or modify the arm bands. Quality it top notch though. Alpine stars website shows no larger models though Fort Nine says out of stock on a larger model. Should be more clear.
Date published: 2018-07-29
Rated

5

out of

5
by
Fast914
from
A10 is a Fantastic Piece of Kit!!!
I have ridden with the A10 and my Atlas Neck brace five or fix times over the last month. Yes, the fit is definitely not for someone with big guns but overall the A10 is incredibly adjustable and fits well.I feel air come straight through it...so much cooler than my Thor Rig from before. I removed the upper panel on the back to allow my Neck Brace to fit properly....and it does. The arm extensions (Humerus) are easily removed and while they fit over my elbow pads, I have just removed them altogether....one had come off on its own anyway. I am 6' 1" tall and weight about 215 lbs. Chest is about a 44" and arms are spindly...LOL! I called Alpinestars and they recommended the XL/ XXL. This was the right decision...fits perfectly. I appreciate the Rib Protection and have tested that already on some rocks and brush after miscalculating a turn in the woods! No biggie and just picked up the bike and kept on going. I will likely get some kind of Kidney Belt but for now pretty happy. Will follow up toward the end of the season when we put studs on and let ya know how it held up.
Date published: 2019-08-27
Rated

5

out of

5
by
Fast914
from
Really Happy with this Body Armor!
Hi, I just received my new A10 Full Chest Protector and love it! Very adjustable and great rib protection which I was looking for. I also wanted to fit my Atlas Neck Brace and it works really well. I am 6' 1" and weigh about 215 lbs, 44 Chest. I followed up directly with AlpineStars, who by the way got back to me within a day and were really helpful. I gave them my chest and arm measurements along with my height and weight and they recommended the XL/2XL. I am glad I went with that sizing....fits me perfectly. I do not have big arms by any stretch and the arm pieces fit for sure but I think would be tough if you had some guns to speak of...LOL! This armor breathes way better than my Thor Pressure Suit and that likely goes without saying but temps here in Nova Scotia have been in the High 20's to low 30's and humid as heck....body armor is great! On another note, Fortnine was Fantastic to work with. I actually spoke to one of their Staff before I purchased....very helpful! They recommended I purchase on line as I could then very easily track delivery. They turned it around put it at my door in just a few days...really impressed. Thanks very much FortNine! Regards, Grant
Date published: 2019-07-19
Rated

4

out of

5
by
Ren_qc
from
Nice chest and back protector
A bit on the heavy side but it offers more protection than a basic chestplate. I fell a couple times whit it and it held prety good. Only complants is the side protectors whit the piece comming from the front keeps getting out of the elastic that hold it together but i find if i thight it more it is better. In general it is good quality for the price and i would recomend if you are looking for optimal protection but not a full jersey whit protectors.
Date published: 2019-06-24
Rated

4

out of

5
by
KCK09
from
Fits great
Have only wore it a couple times, but it is very comfortable and fits great! Hardly know you have it on! Wasn't sure whether I wanted to spend the money on a chest protector, but it is definitely worth it. The quality seems like it's top notch.
Date published: 2019-06-16
Rated

4

out of

5
by
Swnz
from
Great product, loads of adjustment and very versatile
Date published: 2018-05-29
Rated

5

out of

5
by
ktm rider
from
best features
the best ce protection and coverage of all the protectors available easy for entry and exit and easy to convert i have trusted alpinestars on my feet for almost 50 yrs so it was an easy choice best venting also
Date published: 2018-03-07
Questions
is the lower back panel removeable it looks like it extends down quite far on the back area
The plastic panels are not removable from the padding. The back is not as long as it looks. It fits good and is comfortable. Good padding around the ribs too.
Date published: 2018-03-07
is the A 10 compatible with an Atlas Neck Brace?
The atlas is not a perfect fit. I wear my atlas under the A10 at the back and on it at the front
Date published: 2019-01-26