Alpinestars Tech 7 Boots
Item # : 161967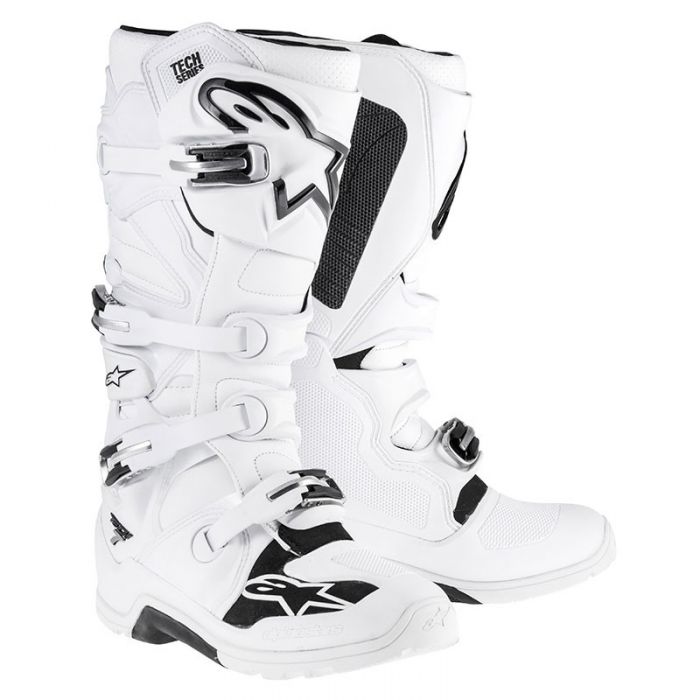 Alpinestars Tech 7 Boots
Item # 161967
Description
Alpinestars Tech 7 Boots
The revolutionized Tech 7 MX boot incorporates innovative materials and technology in a completely new design for a lighter, more anatomically profiled performer. This CE certified boot promotes core stability and flex via a biomechanical pivot while offering excellent ankle protection. The boot chassis has been designed to give complete feel and optimized interaction with bike controls, while the innovative buckle system allows easy, precise closure.
Features:
Boot chassis designed with an ergonomically profiled forefoot and lower toe-box to provide easier shifting and improved rear brake feel and control.
Incorporating an innovative one-piece injected dual compound foot shell with co-injected hard toe protector and integrated steel shank. The shell is highly resistant to abrasion and impact, adds to the boot's overall durability and improves the boot's streamlining.
New dual compound sole is seamlessly integrated into the base structure for superior durability and features high performing rubber grip patterning and enhanced feel. The sole and footpeg insert are replaceable.
Upper constructed from innovative microfiber material that is flexible and abrasion resistant. Upper material is reinforced with PU for high levels of water-resistance and durability and improved weight-saving performance. Material ensures consistent fit even for long term usage and is easy to maintain and clean.
Contoured calf protector plate is injected with high modulus polymer for impact resistance and incorporates Alpinestars' developed blade flex system for greater precision control and movement, added protection for heel and Achilles tendon and helps prevent hyperflexion.
New TPU ankle protection system incorporating a biomechanical link between the middle and bottom sections of the boot helping prevent damage to the leg by providing progressive force relief for torsional forces.
Alpinestars developed TPU shin plate and medial protection are constructed from one single part for greater structural integrity and stability. The anatomically profiled shin plate features a dual closure system with an internal microfiber flap attached with Velcro® for a precise fit closure while the rugged and durable shin plate attached securely with a precision adjustable buckle.
The TPU medial side panel incorporates an advanced honeycomb rubber insert and is designed for excellent grip against the bike while guarding against impact.
Wide entry aperture for convenience and allows broad ranging calf fit adjustment and support.
Innovative buckle closure system includes high-impact aluminium bridge closures, with memory settings and a quick release/locking system with self-aligning design for easy, precise closure and improved riding performance. All buckles are replaceable.
Redesigned instep and Achilles accordion flex zones construction for superior comfort, control and support.
Extended microfiber gaiter helps prevent excessive water and dirt entry.
Internal lining includes anti-slip microfiber suede on the heel to help keep foot in position.
Soft foam reinforcement on ankles and collar for long lasting comfort and shock absorption.
New, dual compound, removable anatomic footbed includes EVA and Lycra top for comfort and support ensures even weight distribution and reinforced heel.
The Tech 7 boot is CE certified and features a unique, high strength sole construction offering durability and protective performance.
Comparison Chart
Model
Tech 3
Tech 5
Tech T
Tech 7
Tech 10
Price
Most affordable
Affordable
Less affordable
Less affordable
Least affordable
Benefits
Entry-level motocross and off-road boot
Protective and durable, for aggressive dirt riding
Better tactile response and flexibility, ideal for trials
Aggressive lightweight enduro boot with excellent breathability
For heavy duty enduro riding, rigid and durable construction
Material
Microfiber, synthetic leather, TPU
Microfiber, synthetic leather, TPU
Leather, mesh, TPU
Microfiber, synthetic leather, TPU
Microfiber, synthetic leather, TPU
Liner
Fixed textile lining
Fixed textile lining
Fixed mesh textile lining
Fixed textile, microfiber suede
Removable inner ankle brace
Buckles
3 - Plastic
4 - Aluminium
3 - Aluminium
4 - Aluminium
3 - Aluminium
Protection
Good
Good
Good
Better
Best
Certification
CE Level 2
Reviews
Rated

5

out of

5
by
ants
from
happy buyer
Enduro lover. I've owned and destroyed cheap new boots two days into South African enduro. These are great fitting, comfortable, light and offer excellent protection for my riding type and style. My feet are large and broad (between ee and eee width), these boots needed a slight break in but now fit well, even around the sides of my big and little toes, where I usually have issues. I've only ridden in one other pair of inexpensive boots so I can only compare the tech 7 to them but aside, they are very nice boots. Only negative is river crossing, they aren't terribly water proof and can wet rather easily.
Date published: 2015-08-28
Rated

5

out of

5
by
vapxtream
from
Best boot for the $$$
For the money one of the best boots u can get. Great for all types of riding. From trail to track. Great fit order it in your size. Went from the tech 3 to the sevens Huge improvement.
Date published: 2016-07-27
Rated

5

out of

5
by
KevKTM
from
Fit amazing, so comfortable!
I bought these after refusing to buy cheap boots ever again. They are extremely comfortable and fit perfectly (same boot size as shoe size). I recommend them to anyone!
Date published: 2015-06-02
Rated

5

out of

5
by
Victor
from
Awesome Boot!
I bought these for my husband and he loves them!! They feel like your wearing a shoe he says and not a boot!
Date published: 2017-06-24
Rated

5

out of

5
by
yz2strokesmoke
from
Fantastic revamp of the Tech 7
I've always liked Astars boots but have hated trying to undo the buckles at the end of the day. This new buckle system is amazing! Also the grip sections added where the boots make contact with the bike was a great addition, very similar to the Fox Instinct boots, but with a price tag that hurts the wallet a little less.
Date published: 2014-02-08
Rated

5

out of

5
by
Bjurcina
from
Very comfortable.
Have owned other brands for many years and this was my first try with Alpine Stars and they are awesome. So light and very comfortable. I've got about 6 rides on them including 1 hair scramble and so far I love wearing them. I'd recommend them to anyone.
Date published: 2015-07-04
Rated

5

out of

5
by
Anonymous
from
Good boots
These are good boots. I had old school tech 8s that I used for ten years or more. These are very comfortable. Try them on at a store before you order online. This was the best price I found.
Date published: 2014-04-28
Rated

5

out of

5
by
Mxmast3r246
from
Awesome!
I've never owned a pair of tech 7s before and I have no regrets, super comfortable, great fitting, and the metal buckles are a great feature. Never have to worry about breaking buckles or having the clips break off
Date published: 2019-11-24
Questions
How's the sizing?  I have old Fly boots that are size 15 and I wear size 13 shoes.
From the many reviews that we have read about the Alpinestars Tech 7 boots, sizing should be very similar to your regular shoe or sneaker size.
Date published: 2015-06-04
what is the part number for these boots? I'm looking for the 201201413611 boot.
Hi Kevin, This particular part number (201201413611) refers to the Tech 7 boots in Black/Red/Yellow, size 11. Simply select the Black/Red/Yellow in the drop down, then select size 11 and it will be the boots you are looking for. ~Jonathan, Customer Service, Canada's Motorcycle
Date published: 2015-04-01
How do these fit for people with a wide foot?
I have a wide foot, and they fit me great!
Date published: 2019-01-09
What is he diff. Between the tech. 7 and tech. 7 LE?
Nothing. le refers to limited edition which is a color design for a particular rider or race event. Structurally and mechanically the boots are the same. Hope this helps.
Date published: 2018-09-20