Antigravity Micro-Start PPS Sport Power Supply
Item # : 502255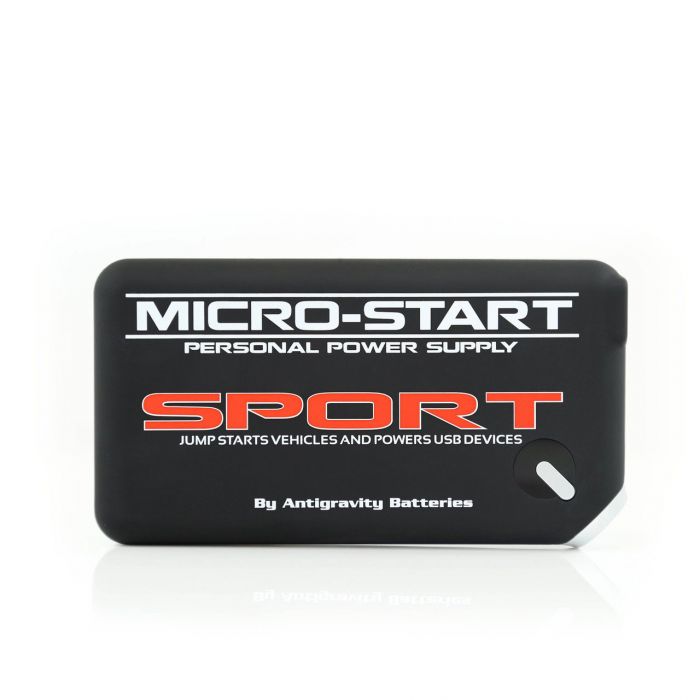 Antigravity Micro-Start PPS Sport Power Supply
Item # 502255
Description
Antigravity Micro-Start PPS Sport
The Micro-Start "SPORT" Jump Starter and Personal Power Supply (PPS) is extremly compact yet is capable of Jump-Starting vehicles up to V8 in size and Charging all your USB devices such as Smart Phones, Tablets, GoPro Cameras and any other USB powered device. It has a great looking sleek and slim modern design with two color options available: BLACK and WHITE.
Additionally, the SPORT comes in the most compact carry case and kit that we offer....yet had everything needed to charge your USB devices and Jump Start your vehicle. We designed the new SPORT for Small Size and ease of use. The SPORT also comes with our latest "Smart Clamps" offering protection from potential reverse polarity connections, short-circuit connections and more.
What sets the new "SPORT" model apart from other MICRO-START models is that it is designed to charge off any available USB Outlets, such as the one on your computer, in your car or your even your existing Phone charger. For example, the SPORT charges using any Micro-USB tip, and it comes with a 4 into 1 USB Cable in the kit, so you can just find any USB Port whether you're in your car, at a hotel, in an airport, on your motorcycle and you can charge the SPORT.. We have eliminated the Wall Charger and Cigarette lighter Charger that the other Micro-Start models come with. By eliminating these chargers it allowed us to reduce the size of the SPORT Kit by almost half in physical size, and make it very easy to charge anywhere since there are so many USB devices wherever you go.
Whether you are riding, driving, camping, or traveling, remain confident that you will be able to start your vehicle in those dead-battery emergency situations, or make that important call if your battery is going dead on your cell phone. It even has a built-in flashlight with S.O.S patterns included! Whatever you do, don't get stuck without back-up power again.
THE MICRO-START SPORT - WHAT IS IT AND WHAT CAN IT DO?
The SPORT is one of the smallest lihium-ion Jump Starter/Portable Power Supply units available: only 5" x 2-5/8" x 3/4", and only 10 oz.
It can Jump-Start Cars, Trucks, Motorcycles, ATVs, UTVs, Snowmobiles and Watercraft and YES it will jump start your V8 truck!!! (1995 and later model non-modified v8 motors up to 350 cubic inches in size)
It Charges and Powers all electronic devices such as--- Cell Phones, iPads, iPhones, Kindles, PSPs, PDAs, GPS, MP3s, Blue Tooth Devices, Cameras and more that use USB 5v charging Standard
It has 2 on-board Power Ports: a Jump Start Port, and a USB 5V 2.1 amp output for charging or powering 5V USB charged devices.
It has a LED flashlight with 2 built-in flash patterns including a S.O.S. flashing beacon pattern.
It has a lighted battery capacity indicator. Press the power button to see the battery capacity left in the Micro-Start
It has built-in over-charge and over-discharge protections for long battery life
It has an automatic power-off when not in use
KIT CONTENTS
The Micro-Start SPORT model comes with all tips and attachments for Jump Starting, Charging electronics and charging the Micro-Start SPORT.
Carry Case
1 Micro-Start SPORT Unit
1 Set Detachable Mini Smart Jumper Clamps
1 White Universal 4-into-1 USB Cable with 4 common tips (Mini USB, Micro USB, Apple 8 pin, Apple 30 pin connectors)
SPECS
150 Amp- 300 Peak Amp Jump-Starting ability
Weight is 10 ounces
Dimensions 5" long x 2.8" wide x 3/4" tall
Manufacturer Part Numbers:
Reviews
Rated

4

out of

5
by
ruddugger
from
Great peace of mind.
I bought this during the off season so I haven't used it yet. Hopefully never have to! But it is small. If u take the clamps out of the case(I bought the wire harness as well) the whole package is very small. Fits nicely under the rear seat (15 VFR). The wires seem heavy duty and the construction looks and feels top notch. I do like that the clamps are "smart" as well if ure using them.
Date published: 2018-02-25
Rated

5

out of

5
by
Toby1kenobi
from
Small size with big power
I had an incident where my KTM 1190R lost battery power and needed a jump. I purchased this to keep in my emergency kit. Great addition
Date published: 2017-02-16
Rated

5

out of

5
by
Ro Mig
from
Awesome product
Must have for the avid traveller! Great product no complaints. Lightening fast delivery:)
Date published: 2018-07-19
Questions
How do you recharge the device? Can you recharge it from a USB or Cigarette Lighter socket while riding? Can you charge it from a wall socket in the hotel room? Are all of the cables necessary to do this included? 
It comes with a USB to multi connection cable. I actually use my Android phone charger to power it up. Keeps the charge for a very long time. Never tried charging whilst riding but I can't see why not, definitely ok from a wall socket.
Date published: 2018-03-27
How many times can it try starting a bike before it goes into protection mode? I realize the CC size and type of engine will vary the result, but if anyone has/can try it and identify the type of bike tested on, that would be great information to have.
I have used it to start my 1200 cc BMW RT1200t . It started it easily and had power to spare. It also keeps its charge for a long time when not in use.
Date published: 2019-09-12