Antigravity Small Case 8-Cell Lithium-Ion Battery - AG-801
Item # : 502227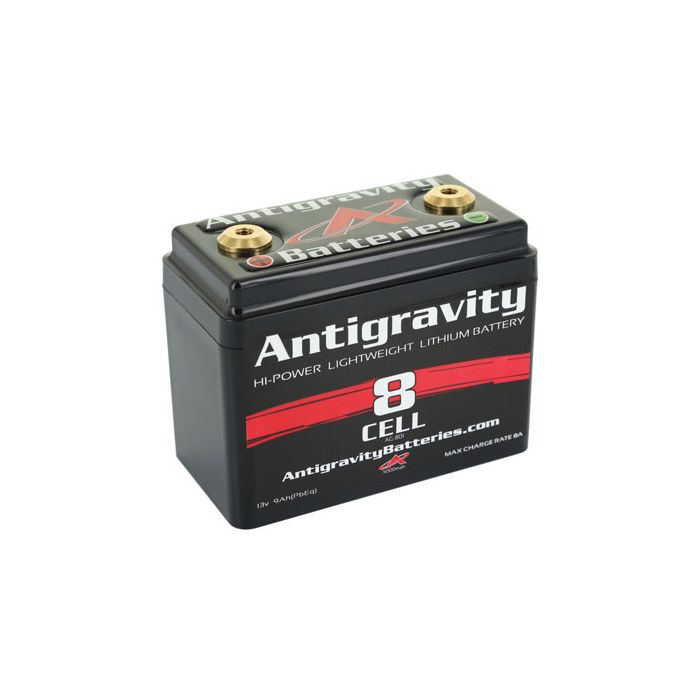 Antigravity Small Case 8-Cell Lithium-Ion Battery - AG-801
Item # 502227
Description
Antigravity Small Case AG-801 Lithium Ion Battery
The Antigravity Batteries AG801 8-Cell Motorsports battery is one of the most popular models. It is an extremely powerful battery in a small package. At a very small 4.25" Length x 2.25" Depth and 3.75" Height (to the top of the terminals) this battery offers extreme power in the most compact size in Lithium Motorsport batteries. This battery is best used for applications where extreme weight loss and ultra compact size are desired and can be used for bikes from 600cc street use and 1200cc race use.
Features
Adhesive backed foam included for easy installation.
Most Compact of Lithium Motorsports Batteries.
Ultra-Lightweight and High-Power Lithium Nano-Phosphate Motorsport Battery.
Can hold a charge up to a year provided there are no "Parasitic Drains" (accessories that draw power when the bike is off... such as alarms, ECUs, iPods, GPS, heated grips, etc).
Built in the USA to high quality standards with unbreakable terminal design.
3-Year Warranty.
Waterproof.
Best Uses
Capable of every day use in bikes up to 750cc.
Great for use in all enduro bikes used for trail riding up to 750cc.
Race use for Enduro and MX electric start bikes up to 1000cc.
Race and Track Day use in motors up to 1200cc. (High Performance motors should use Antigravity Batteries AG1201.)
Custom builds like cafe racers or small bore customs up to 800cc. (Please note if you use older classic bikes from mid 1980s and earlier you should update the charging sytems to a modern voltage regulator.)
Technical Details
240 Cranking Amps - Cranking Amps are the power the battery has.
9 Ah (PB Eq) - Amp Hours are the Capacity of a battery.
Dimensions and Weight
METRIC WEIGHT: 0.7 Kg
USA WEIGHT: 1 lb 9 oz
METRIC SIZE (LxWxH): 110mm x 57mm x 95mm.
USA SIZE (LxWxH): 4.25" x 2.25" x 3.75".
(Height is measured to the top of the terminal bolt heads)
Manufacturer Part Number: AG-801
Reviews
Rated

5

out of

5
by
Flatcakes
from
Amazing power and weight savings!
Bought as a replacement for my Yuasa YTX4L-BS in my 2014 KTM 250 XCFW. Dropped right in to the box and only had to use a little of the included foam to secure it. The brass terminals are top notch and the overall construction is premium. It's about 2 or so pounds lighter than the stock leaf acid. The cranking power is unbelievable now compared to stock. I have a dual sport set up with lots of accessories and lighting and this thing powers it all very well. If you're thinking about buying one, make sure you invest in a proper lithium charger too, like the Optimate. All in all extremely impressed with this battery and will be puttting nothing else into my bike from now on.
Date published: 2017-02-13
Rated

4

out of

5
by
Ripplerockracers
from
Nice size and weight, more power than you would ex
I use this battery on 550cc Vintage Honda's right up to 870cc Vintage Cafe Racers because of its small size and strong output. Only caution is to not overcharge max 13.6 volts or discharge under 9 volts as it will kill the battery .
Date published: 2019-11-18
Rated

4

out of

5
by
Donaldo
from
One of the most powerful batteries out there
Got this for my KTM freeride, which is notorious for hard electric starts. Works very well. EarthX is good too. Shorai not bad. Others I have tried just do not compare.
Date published: 2019-03-15
Questions
Can this battery be installed laying on its side?
Yes, I have mine on the side and never had an issue.
Date published: 2018-01-11