Atlas Air Neck Brace
Item # : 589955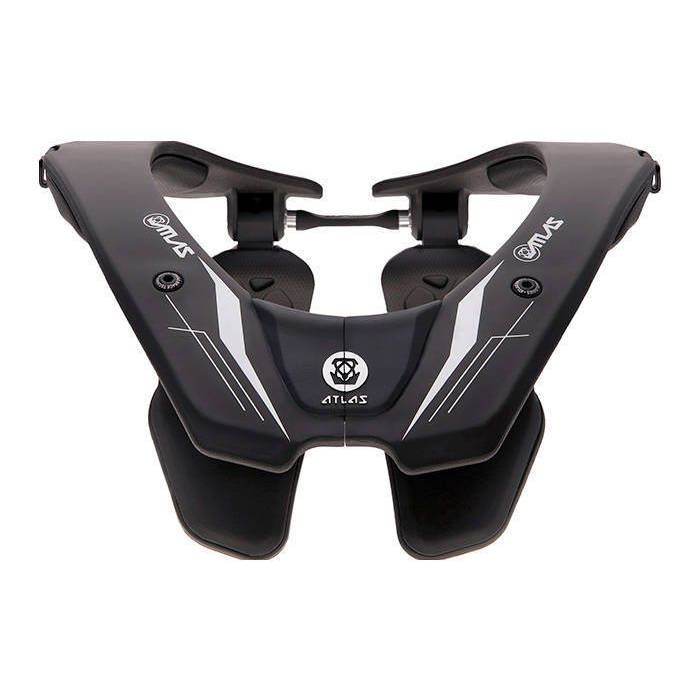 Atlas Air Neck Brace
Item # 589955
Description
Atlas Air Neck Brace
Atlas Neck Brace's are known for the Patented flexible design, providing maximum comfort and mobility. Combining a simplistic minimalist design with flexibility, suspension, and the largest brace-to-body contact ratio makes the Atlas family of braces a clear category leader across the entire range.
Features:
Weightless Minimal Design: Everything you need, nothing you don't. Our minimalist design is incredibly light, small in size, yet big on features.
Flexible polymer construction: Tough, impact resistant polymer construction is ideal for multiple impacts. The flexible nature of the material is designed to slow down violent impacts in an effort to spread out and reduce impact forces, rather than coming to an abrupt stop.
Split-Flex Frame: The Split-Flex Frame design allows the rear of the brace to mimic the natural movements of your shoulders to provide the ultimate comfort and mobility.
Spine & Sternum Free: Each Atlas Neck Brace sits around your spine and sternum, transferring impact forces to the bigger muscle groups rather than directly on the spine and sternum, while greatly increasing surface area contact with the body to dissipate forces more efficiently.
Chest Suspension: Chest suspension keeps the head in motion during a longer period of the impact, while promoting tuck-and-roll ability during an accident. Unique leaf spring style design provides 30mm of chest suspension to help slow down and reduce impact forces. Each chest support can operate independently, allowing impact forces to be absorbed strategically and effectively.
27% More Body Contact: Each Atlas Brace is the smallest overall size compared to the competition, but contacts your body 27% more than the competition - making it smaller, and bigger. Increased surface area contact with the body helps spread out impact forces, with the intent of making their effects less noticeable and/or helping to potentially prevent secondary injuries.
Wireless Tether: Previously our rear tethers used an internal braided steel cable for strength. After 3 years of development we have gone wireless! The new tethers use a specifically formulated rubber compound comolded to custom machined aluminum axle nuts. This unique rubber compound provides incredible strength and longevity, withstanding nearly infinite cycle testing.
Easy Open: Super strong 7075 Aluminum Easy Open release system makes removing an Atlas Brace effortless, reliable, and tough.
Height Adjustment: Each Atlas Air neck brace features 2 height adjustments. Tall pads are included in the box and make fit easier for longer necks, smaller helmets, and/or other needs.
Smart Mounts: Aluminum Smart Mounts of the back of each Atlas Brace provide 6 possible settings to find tune the fit around your chest and back. The reversible design can move the back supports forward or back, and an internal spline system provides a -10, neutral, or +10 degree micro adjustment to fit various body shapes.
Hybrid Strap: A marriage of chest strap comfort, with X strap versatility. Wear it over or under your jersey, and hook it into the supplied clips on each Atlas Brace.
Multi-Use*: Each Atlas Brace is suitable for all non-seated activities that require a full-face helmet. This includes Motocross, Supercross, Offroad/Trail riding, BMX, mountain biking, Snowmobiling, ATVs, etc. *We do not recommend using this product for seated/belted activities like car racing, side by sides, or similar, as they are not intended for this type of use.
Reviews
Rated

5

out of

5
by
Cook3097
from
Excellent product
Fits excellent. Looks good. Definitely recommend!!
Date published: 2018-05-09
Rated

5

out of

5
by
Nina19
from
Great product
Good quality, fits well and is actually comfortable. When you're riding you forget it's actually on.
Date published: 2019-06-17
Rated

4

out of

5
by
Miguel
from
Very Light, comfortable
Bought this for a trip to the Yukon, tons of KMss. Very light, comfortable. Only downside is the silly straps to keep it down on your chest. Need an extra pair of hand to hook them into the brace. Not sure why not a clip in front or side.
Date published: 2018-09-11
Questions
will this work with a roadracing leather suit with a speed hump?
It would not work the supports on the back sit in between your shoulder blades so they'd be right on the speed hump. 
Date published: 2019-08-21