Avon AV54 TrailRider Rear Tire
Item # : 477943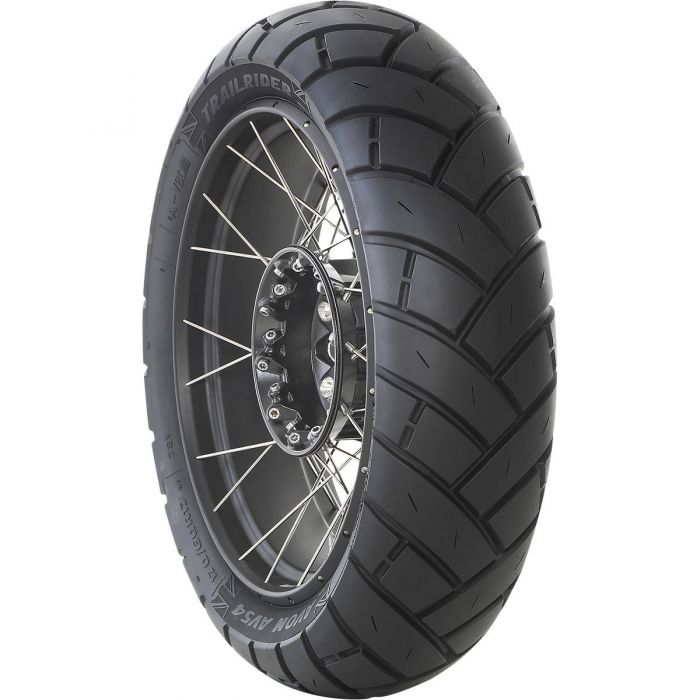 Avon AV54 TrailRider Rear Tire
Item # 477943
Description
Avon TrailRider AV54 Rear Tires
New super rich silica compound using the very latest compounding technology to enhance wet grip
Multi-compound treads on radial rears to enhance mileage and grip
Interlocking three dimensional points hidden in the sipes to improve stability and grip, limit tread flex and allow the tire to warm up quickly- 3D sipes (radial tires)
High tech carcass construction and next generation compounds deliver superb grip and handing
90% on-road, 10% off-road
Reviews
Rated

5

out of

5
by
fozrider
from
Great on gravel forest roads
Took the bike into the mountains on a rocky gravel road. They inspired a lot more confidence than the Anakee 3's I had previously. I also used them in the wet on twisty European roads, great tires!
Date published: 2018-07-09
Rated

4

out of

5
by
Nyquil
from
Nice tire for all weather
I bought these mid season this year and they were awesome in the heat and now that I'm riding in 0 degrees to 10 degrees they are just as good. Sticky in the rain and good for the little gravel that is on the road.
Date published: 2017-12-03
Rated

4

out of

5
by
VanCarl
from
It hasn't wiped me out yet!!!!!
Bought this tire to replace my awesome Distanzia which is no longer offered. I like the tread pattern and the amount of rubber contacting the road. I was watching my mechanic mount the tire and it was quite a challenge to get the bead to seat compared the quick 'pop' of the Distanzia. Eventually it got there. I've been riding on this tire for a bit now in winter conditions in Vancouver and it sticks nicely to the road in rainy and cold conditions. I'm happy with this tire and the price was fantastic!!
Date published: 2018-02-20
Rated

5

out of

5
by
204Rider
from
Great road tire
Bought this tire for a 3000km road trip. It only has slight wear on it right now after the trip. Some gravel, some rain and it performed well on both.
Date published: 2019-06-12
Rated

5

out of

5
by
TrickyBill
from
Avon forever
The tires are very well constructed. I was surprised how little balance weight was needed. They roll great and give good feel on turn in.
Date published: 2018-02-14
Rated

2

out of

5
by
John
from
Good grip on dry or wet pavement, smooth and quiet
I ride a BMW R1200 GS 2018. We went 2 weeks trip to Alaska only on paved roads, tire was very good, just didn't last enough.... 8.000 Km and no more treads. In our last 700 Kms I was riding very slow as was raining and tire had no tread.
Date published: 2019-09-24
Rated

4

out of

5
by
RavenMoon
from
A street tire with edge!
I got this tire as a front a few weeks ago and I'm very impressed so far, its very sticky and handles very well on the street. I still have to wait a few K's before I get a rear to match.
Date published: 2017-08-10
Rated

4

out of

5
by
Ironman
from
I'm impressed!
I bought a front and rear set before a road/off road trip. I went all over western USA, Montana, Wyoming, Colorado, New Mexico, Arizona, Utah, etc. I put on 8500 kms in 13 days and 70lbs of luggage, from thunderstorms and heavy rain to 100+ heat. The front shows little wear, but the rear has squared off(desert straight roads) but I was expecting that. These tires were very good in the heavy rain and dry conditions. The traction in the dirt 4x4 trails was suprising. It gripped the mud and loose pine needles climbing the hills like a true dirtbike should, but I ride a Honda NC750x. These are a great tire, just a little costly compared to others. I estimate about another 1500 kms before they are totally done.
Date published: 2016-06-21
Questions
Are those winter tire approved (three pike mountain with snow flake symbol)? Thanks
The Avon AV54 Trailrider is not a winter approved tire.
Date published: 2019-09-17
Est ce que ce pneu est tubeless? Merci
Oui, il est tubeless
Date published: 2018-11-23