Avon AV71 Cobra Front Tire
Item # : 61324
$129.99 - $255.99
$129.99 - $242.99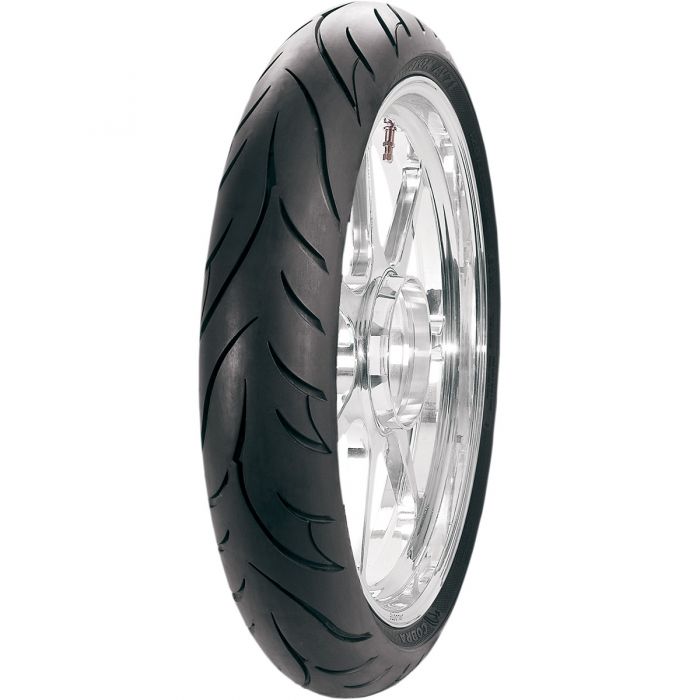 Avon AV71 Cobra Front Tire
Item # 61324
Description
Avon AV71 Cobra Front Tire
With its unique snakeskin sidewalls, an aggressive tread pattern and low noise emission the Cobra silently defeats all roads that stand in its path. Advanced manufacturing techniques used in Avon's successful sporty Viper range have been adapted and applied to the Cobra series. WCTA - Wide Custom Tread Arc - is Avon's new tire profile that gives Cobra a nimble characteristic once reserved only for agile race-bred bikes, all without disrupting all-important stability. A-VBD - Advanced-Variable Density Belt - improves handling in the much wider Cobra sizes. This construction technology utilizes a jointless belt of ultra-strong material. Above the carcass, these strands are wound closely together at the tire's centre for increased stability and wear resistance. Towards the tire's edges the fibers are then progressively spaced out to allow the tire to take on a multi-compound effect as the tire leans. An aggressive tread pattern features FFG - Force Following Grooves - to follow the exact direction of forces that are transferred through the tire. These channels in the tire's surface significantly reduce irregular and advanced wear on bikes that carry heavy loads. Each Cobra rear tire also features the distinctive snake's head logo on the sidewall.
Available in a wide range of sizes, incorporating fitments for Harley Davidson's V-Rod, Triumph's Rocket III, Honda's Goldwing and Valkyrie plus some sizes for custom bike applications.
Features:
Aimed at the power cruiser/custom market
Incorporates sports tyre technology for nimble handling
Special construction to deal with heavy loads
Incredible stability and longevity - perfect for touring
Unique 'snakeskin-effect' sidewall and aggressive tread pattern
Extra wide sizes for custom bikes
130/60VR-23 is designed for custom front or rear fitments
Model Specific Fitments:
150/80R16 = Kawasaki VN2000 Vulcan
150/80R17 (72H) = Honda Valkyrie
130/70HR18 (63H) = Honda GL1800 Goldwing
120/70ZR19 = Harley-Davidson V-Rod
Reviews
Rated

5

out of

5
by
Eleport
from
Best I have owned
I can't believe these tire made on my Softail changing from the OE tires. Turning is now smooth, i see a huge difference, must be the rounded tire profiles and the compound holds so well. Brought them almost to the edge on my first spring ride, got caught in the rain then the the asphalt was cold and they performed awesome, also got lines cement highway, no tracking at all. I have never been too excited about tires, had Dunlops, Michelin, Metzlers (good tores too) but these make my Softail feel so much better and grip so well that I can't wait to go out and ride again! Pictures just to show i leaned them pretty good and they grip well (yeah of course will lean them to the end on the next ride on a hot summer day ;-) Sorry filthy bike, got caught in the rain.
Date published: 2016-05-16
Rated

4

out of

5
by
Brother Grimm
from
240 mm Club here I come
Bought tire for the future as price point for a 240 was great. Visually the tire is great, far better rubber thickness than my original stock Metzler. Very nice looking pattern as well as side wall look (although not a lot of sidewall on this particular tire) Can't wait to wear out the old and run the NEW!
Date published: 2017-02-14
Rated

5

out of

5
by
Zonechamp
from
Best Tire for the Rocket 3
This is my second set of Avon's on my Triumph Rocket 3 and I can't see me changing brands anytime soon. I was able to get 16,000km out of my last rear riding 2up 80% of the time. The front has 20,000km on it now and i expect it to last another 4-6000km. I have never slipped a wheel, wet or dry. When I launch hard the bike would rather lift the front end than spin out. Perfect!
Date published: 2016-07-12
Rated

5

out of

5
by
Lockforward
from
Whetted fitment than the original dunlops
I am very pleased with the fitment and appearance Handling is significantly better than the factory dunlops Haven't had them long enough to know how long they will last but they are an improvement in all other areas and am hopeful mileage will be part of that
Date published: 2015-06-02
Rated

5

out of

5
by
Raven
from
Great looks and ride
I purchased this tire after trying other brands. So far, the ride and feel of the tire is awesome... I installed this tire myself and had no problems at all.
Date published: 2015-08-10
Rated

5

out of

5
by
Patty ohairless
from
Received tire in four days handles great on dry and wet rides will definitely buy again
Date published: 2016-08-18
Rated

5

out of

5
by
Magic
from
Tires are great. Love them.work well . I'm very happy with the performance of these tires
Date published: 2015-12-05
Rated

4

out of

5
by
Victim
from
Sticks to the road
Good tire, don't last long, I've road in these tires for years and have just accepted they will only last a season
Date published: 2015-06-03
Questions
Are the mh90-21's bias or radials?
These are bias tires.
Date published: 2015-08-28
Hi Could you confirm that the MT90B16 74H (Trike) is listed as Avon p/n 90000023950 that is specifically manufactured for a trike? Thanks
Yes I m very satisfy with my avon front tire
Date published: 2016-07-28
what is the difference between 63H and 63V. on the avon AV71 Cobra front tire. 130/70R-18.
The letter is the speed rating. H is for a max of 210km/h and V is for 270km/h.
Date published: 2019-08-19
Hi I was wondering what the difference is between the 180/50-16 and the 180/50r16, there is a 37$ difference between the two?
Hi, The 180/50-16 is a bias tire and teh 180/50R16 is a radial. ~Emily, Customer Representative, Canada's Motorcycle
Date published: 2015-05-15
My front tire is a MH 90-21 M/C 54H. What is the match size for an Avon AV 71 Cobra tire.
MH is the numeric size for 80. So the indicated tire size would be 80/90-21.
Date published: 2019-09-17
This tire is available in 160/80B-16 sizing to fit a Goldwing 1500. Any chance it will be available here?
Hi, This is not currently a size that we carry. I see that the manufacturer lists the size as in products. We may carry it at a later date. Please check back. ~Danielle, Customer Service, Canada's Motorcycle
Date published: 2017-07-23
I'm running MT90B1674H Metzler 888 as the rear tire on my harley softail now and want to try Avon. Are the Avon 140/90B16 77H the same?If not what size should I get.Thanks
The 130/90/16 is the exact size .
Date published: 2018-08-24
Hello there, I bought a 200/70-15 and my eyes don't want to read the little print on the tire.. What is the recommended air pressure?  
Tires only have the maximum pressure on them. You need to get the recommended pressure from the bike manufacturer.
Date published: 2019-06-11