Avon AV84 TrekRider Front Tire
Item # : 541691
$155.99 - $209.99
$109.99 - $155.99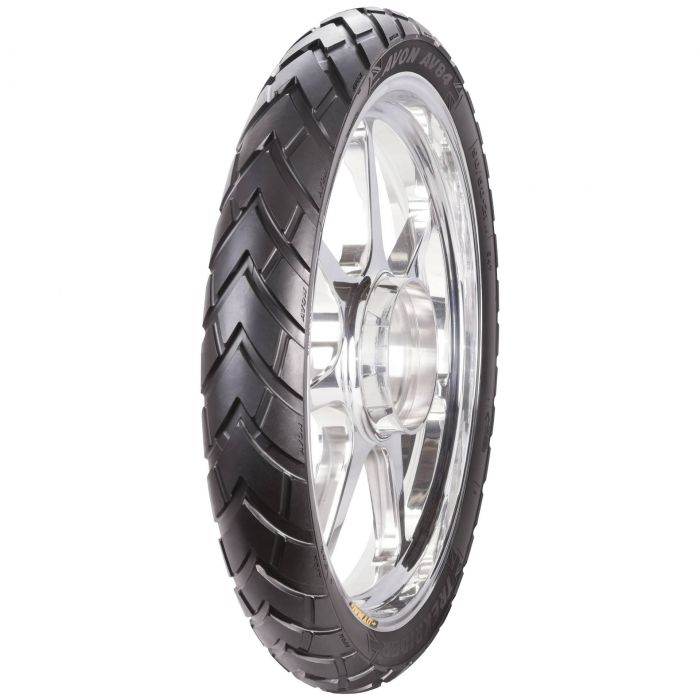 Avon AV84 TrekRider Front Tire
Item # 541691
Description
Avon AV84 Trek Rider Front Tire
The Avon Trekrider Tires are rugged and ready for adventure. The tread blocks and channels are designed to tackle gravel and mud while still providing good on-road performance. An enhanced construction on both the radial and cross-ply carcasses provides great high speed stability yet is complaint enough for serious off road work. The Trekrider tires are an excellent choice for your small to medium sized adventure bike.
50% on-road, 50% off-road
Great balance between on and off road performance
Versatile construction for off road capability
Specially formulated compound for multi-terrain
T-rated for speed up to 118 mph (190 km/h)
Reviews
Rated

5

out of

5
by
superfunkomatic
from
Avon TrekRider - Excellent tourer and gravel
Used a set for my cross-Canada journey and I have to say - I like these tires, a lot! They are excellent. Almost exactly 15,000 kilometers of riding on them before the rear was completely warn out. The front actually still has some life left. I'd highly recommend the Trekriders to anyone looking for a good 50/50 tire. Here are some observations: On pavement it felt as good as the Pilot Road 4 Trails I had on my Varadero - which says a lot - they're that good. I pushed them on twisty roads, rode in wet and rain on several occasions - excellent in all conditions. Offroad they are steady and predictable and bite into surface well. I'd say about 10% of my time on these tires was in gravel and dirt road use. Worked well in packed dirt, loose gravel and even oatmeal type muck. The only place they didn't work well was loose sandy surfaces, but I'd guess that only a true knobby would work there. It's a single compound tire and wears evenly through its life. The tires remained easy to turn in and cornered the same throughout their use right to the end. I had a front flat (twice) on my journey and it was easy to remove the tire with simple hand tools. At 15,000 kilometres they go on, and on, and on. If you use them primarily for dirt and gravel I'd say at about 12,000 kilometres they would stop being useful. On the pavement they were fine all the way. If you're looking for a long-life and multi-purpose tire this is an excellent one.
Date published: 2018-08-18
Questions
Are these radials or bias in the 150/70-17 configuration? Are they a quiet road tire or loud when compared to the Heidenau K60scout?
The tires are bias ply. If a tire is radial, it will have a "R" before the rim size. Based on customer reviews, this tire is quieter than the Heidenau K60 scout. Whilst both tires are rated as a 50/50, the Avon is probably closer to a 60/40, and the Heidenau has a more open deeper tread
Date published: 2019-09-26
In the details it's mentioned "radial and cross-ply". I'm new to these types of tires. Does that mean it's a radial tire? Or bias? Thank you. 
i think that radials are more flat hard tire while the cross-ply is more offroad rap
Date published: 2018-01-28
Are these TT or TL tires?
Tubeless for Me on the Multi - But can be used with a Tube in a Pinch!!! GREAT TIRE!!!
Date published: 2019-07-03