Avon AV66 Storm 3D X-M Rear Tire
Item # : 151646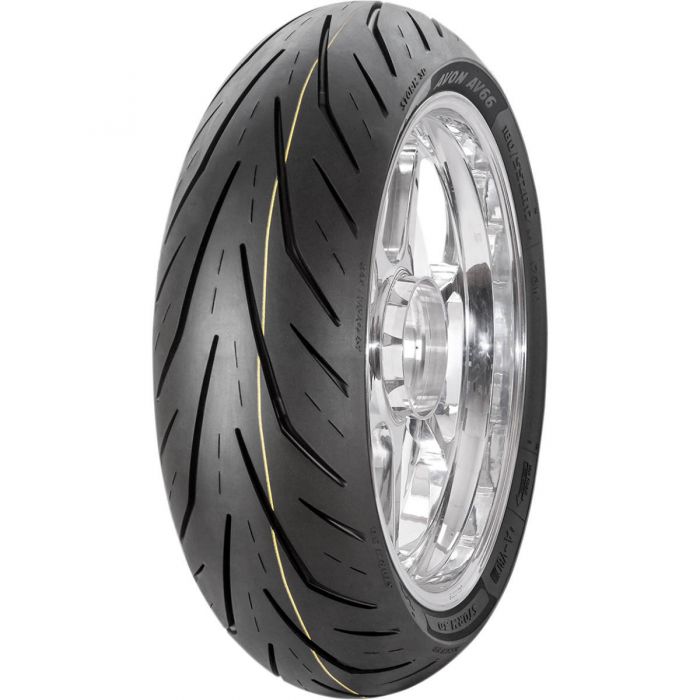 Avon AV66 Storm 3D X-M Rear Tire
Item # 151646
Description
Avon Storm 3D X-M Rear Tire = High performance plus extended mileage
Storm 3D X-M - a sports-touring tyre that combines the performance of the Storm Ultra tyre with the increased longevity demanded by those who use their bikes for business as well as pleasure. The new tyre takes the unique technology found in the 3D Ultra sports tyre family and uses it to create a sports-touring tyre which also delivers higher mileage. The Storm 3D X-M features interlocking three-dimensional points hidden in the tyre's smallest grooves, which improve stability, grip and warm-up times, while limiting tread flex. These latest advances in tyre technology are married to a high-performance single and multi-compound silica-rich tread which enhances wet grip. The Storm 3D X-M gives superb handling and stability characteristics which are essential on today's sport touring bikes such as the FJR1300 and K1200 and is great for Hayabusa riders who want more mileage. It can also transform the performance of older model hyperbikes, such as BMW's K1300 series and Honda's Super Blackbird.
High performance plus extended mileage
The X-M version will deliver 15%-20% extra mileage compared to the current Storm range
Interlocking three dimensional points hidden in the sipes to improve stability and grip, limit tread flex and allow the tyre to warm up quickly (3D Sipes)
High performance single and multi-compound super rich silica tread enhances wet grip (SRS)
Superb handling and stability characteristics
Typical fitments: Suzuki Hayabusa, Honda Blackbird, Kawasaki GTR1400, Suzuki GSX1400
Reviews
Rated

5

out of

5
by
Yamanut
from
Excellent performance from this tire
After about 1000 km, I can say that this tire provides excellent grip in all conditions, as well as a fairly compliant ride. Great straight-line stability, unaffected by grooved pavement. I would definitely buy it again.
Date published: 2015-10-17
Rated

5

out of

5
by
Darryll
from
Excellent Control
My husband and I rode from Central Alberta to the West Coast this past summer. He on his Triumph Thruxton 900 and I on my Honda CBR500rt; stock tires on my bike, my husband with these Avons on both front and back. The handling for me with stock tires was quite a learning experience. It was my first long road trip with a variety of road surfaces and major curves. My husband has been riding since Jesus was a baby so he got a little frustrated with me from time to time because I didn't seem to have the confidence in handling my bike; going fast around corners, doing more than 10 over the speed limit, stuff like that. When we got back home, he ordered me a new tire for my rear. I have ridden several times with this tire and wish that it had been on my bike for our West Coast trip. What an incredible difference in handling! I have not had the opportunity to ride on similar British Columbia curvy roads since, but I have tackled a few corners, as well as different road surfaces. Needless to say, I will be getting a new tire for my front in the spring. My confidence level for riding has definitely increased because of this tire. I wish they could be stock on new bikes, but.... Ride safe, y'all!
Date published: 2017-10-14
Rated

5

out of

5
by
Darryll
from
Great upgrade from stock tires.
I have a 2014 Thruxton that does not handle as well as I would like. I changed fork springs, fork oil and rear shocks which smoothed the ride but did nothing for the nervous handling. As soon as the back tire was worn enough to warrant changing, I changed both front and back to the Avon Storms. I went with a larger size than stock upon a fellow riders recommendation. The change in the handling has dramatically improved in almost all situations. The bike now feels planted and predictable up to 110-120kmh but now starts a slight wobble past that speed. I do not feel it is the tires fault as I have not been happy with the handling from day one. Unfortunately the weather turned cold before I could completely sort things out. Looks like I will be buying a steering damper soon.
Date published: 2015-11-23
Rated

5

out of

5
by
Jasper T
from
Looonnnggg lasting!
This is my second Avon Storm and I fully expect to get 20,000kms plus like the first one. These tires track well and, while they are not as responsive as Road Pilot 4s, they will handle any corner with a little more push on the handle bar. I have a BMW K1600GT and it is very happy to wear the Storms.
Date published: 2017-10-27
Rated

5

out of

5
by
Jasper T
from
Looonnnggg lasting!
Got over 26,000 kms on the last rear Storm tire so hope for the same on this one. Have never got more than 13,000 kms on any previous rear tire. The Road Pilot 4 GTs had better performance than the Storm in twisties but for touring the Storms are great. Have to admit I stayed off the K1600GT's throttle more than usual but I still think that it is a very competitive long lasting tire.
Date published: 2017-06-25
Rated

4

out of

5
by
Jens
from
Avon AV66 Storm 3d X-M
Fast delivery, The look good, Didn't have the change to install jet.
Date published: 2017-03-28
Rated

4

out of

5
by
Shiloh
from
av66 storm
Always been a fan of Avon products, but when tires are on sale price, it`d be nice to know how old they are before purchase, The set I purchased are 3yrs old, won`t be able to test them out till next spring, hopefully they havn`t hardened too much.
Date published: 2017-12-10
Rated

5

out of

5
by
Magna man
from
More chicken strips than I'll ever use!
I love a radial tire for better cornering. My bike needs a 16 in rear tire and Avon is one of the only manufacturers to offer one for my old bike.
Date published: 2017-08-14
Questions
Bias or radial
Radial
Date published: 2016-06-24
Hi I have a 2012 Triumph Thruxton and installed the Avon Storm 3d xm tires. The sidewall shows both front and rear tire pressures at 42 PSI, the Avon website says 30-32 front and 24-26 rear? what tire pressure should I use? Thanks Steve
42 psi is the maximum allowable tire pressure, do not base yourself on that number when adjusting. Go with your tire manufacturer's recommended tire pressures. Be sure to use a decent quality gauge!
Date published: 2018-10-23