Baron Custom Accessories Royal Star Tour Deluxe Handlebar
Item # : 279934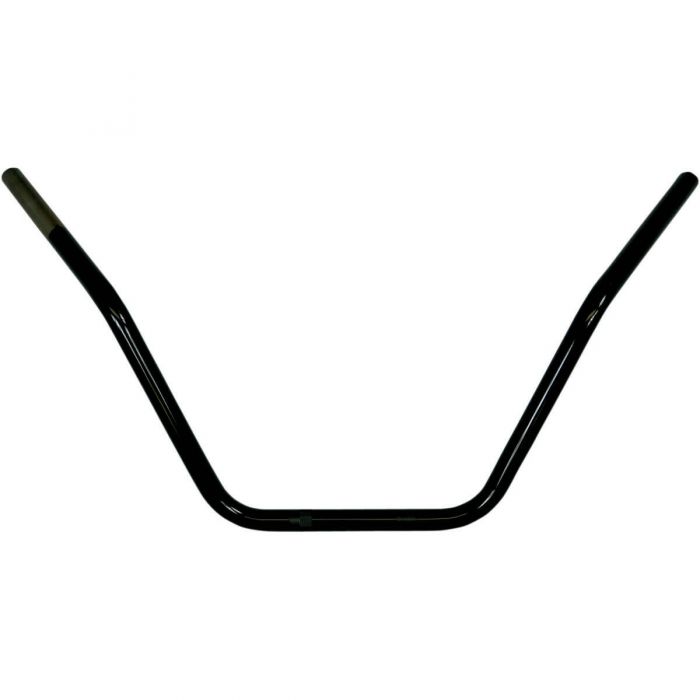 Baron Custom Accessories Royal Star Tour Deluxe Handlebar
Item # 279934
Description
Baron Custom Accessories Royal Star Tour Deluxe Handlebar
Features:
Designed specifically for the Yamaha Royal Star Tour Deluxe
Adds additional 2in. to pullback
Ergonomically designed to create a more comfortable riding position by providing more pullback while reducing overall width. Installs without having to purchase new cables or break lines
Pull: Back 16 1/2in. Rise: 8in. Width: 32in.
OEM Stock grips will not work with these handlebars.
Bar ends are not included
Reviews
Rated

5

out of

5
by
AndrewG
from
The right bars for me
I am five foot seven and these bars make my vstar 1300 much more comfortable and my back doesn't hurt any more.
Date published: 2019-08-28
Rated

5

out of

5
by
Danny
from
Worth it.
According to online forums, these are the most common replacement bars for the V-Star 1300 (the stock bars have the rider bending forward too much). I'm 6'3" and these allow for a much more relaxed riding position. I also like that they work with all the stock cables. Just make sure you have a friend help install them; doing it by yourself is painful lol.
Date published: 2019-01-16
Rated

5

out of

5
by
Lonewolf
from
Great style.
Love these Bars. They add a big differance to my Bike a lot more comfortable.
Date published: 2018-05-10
Rated

5

out of

5
by
Bill
from
What a difference these bars make.
I ride a 2008 Yamaha 1300 V Star and I'm 5'11". I love the bike but found I had to lean forward to reach the stock bars. On longer rides this would eventually cause elbow, neck, shoulder and back pain, taking a lot of the enjoyment out of the ride. I also had to sit forward on the seat which would get a little uncomfortable. After some research I discovered this was a common complaint for this bike (the only complaint, really). I replaced the stock bars with the Baron Tour Deluxe Handlebars and the difference was immediate. No more reaching, the grips are where they should be, allowing me to sit properly, and comfortably, on the seat and floorboards. I can ride all day with no pain or discomfort. The existing cables fit the new bars, the only thing that had to be replaced was the grip ends.
Date published: 2017-08-27
Rated

5

out of

5
by
Dwayne
from
Excellent product and Unsurpassed Sevice
Top notch products and super fast shipping; outstanding value for the money
Date published: 2017-08-09
Rated

5

out of

5
by
Dr Kevorkian
from
Took getting used to but well worth it
Took several rides to adjust to these, but I couldn't imagine hunching forward to reach those stock bars now. I used to get a sore neck & shoulders after about an hour and that is completely gone. Unfortunately you must upgrade the grips at the same time.
Date published: 2016-08-17
Rated

5

out of

5
by
Porter
from
As advertised
Bought it for my 2007 v-star 1300 because the original v-star bars were giving me a lot of shoulder and neck pain. I also own a 2005 Goldwing that I have ridden 2 to 4 weeks straight without any pain. The new baron bars should solve the problem with the v-star. I fits the bike; except I had to buy handlebar end caps because the v-star caps can not be used on these Baron handlebars. Also the handlebar cables and wires are a little tight on the new bars.
Date published: 2016-04-30
Rated

4

out of

5
by
Hawksfan
from
No more back pain.
I recently purchased these handlebars. They were easy to install, feel great, no more fatigue in my arms and back. Only drawback is the original bar ends to not fit. You'll need to get new ones. Other than that, they are great.
Date published: 2015-08-09
Questions
Center width not defined, though fit guaranteed. The instrument pod takes the full 9.5 inches of the stock bars; will this bar accept the pod? Details state stock grips won't work. Is the problem with bar ends? Is this a 1 inch bar?
Installed on 2007 V star 1300. Had to purchase end caps from EBay; originals will not fit. It is a 1" bar. (Purchased:Motorcycle Handle Bar Ends 7/8 Grip Cap Plug Slider Left & Right 22mm CNC ( 281746171183 ). Everything else fits; bars work for me. With the original bars I was over reaching and it was causing neck and shoulder pain. One issue is that the cables and wires are tighter with new bars. Not a problem for me, but be aware that you can only pull the bars down so far as the cables and wires become too tight, they are well down before it becomes a problem.
Date published: 2017-05-31
I just installed the RSTD bars on my 1300 vstar but theres a tab on the throttle casing and there isn't a hole in the bar for it. Do I drill a hole in the bar or break off tab?
Not necessarily I used a black wire tie; works fine , blends in with the black cabling ,without the risk of damaging the bar.
Date published: 2018-06-06