Battery Tender 2-Bank 12V 1.25A Charging Station - 022-0165-DL-WH
Item # : 36447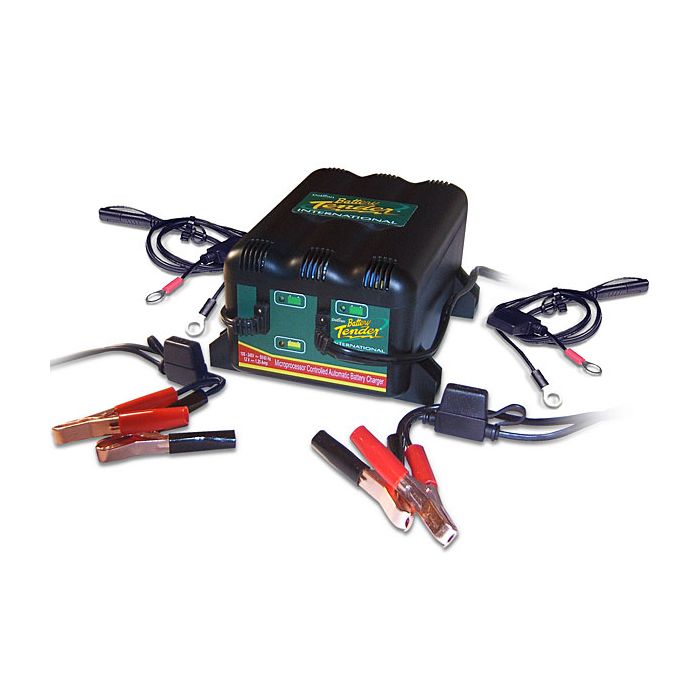 Battery Tender 2-Bank 12V 1.25A Charging Station - 022-0165-DL-WH
Item # 36447
Description
Battery Tender 2-Bank International Charger - 12V @ 1.25A Each Bank - USA & Western Hemisphere
The 2 Bank Battery Tender® Charging Station is two encased 1.25 amp battery chargers designed to fully charge a battery and maintain it at proper storage voltage without the damaging effects caused by trickle chargers. This charger will operate anywhere in the world!
Features:
Input: 120VAC @ 60 Hz
2 independent charging stations.
12 volts @ 1.25 amps per station.
Extremely lightweight! Less than 3 lbs!
25 ft leads available (NOT INCLUDED).
Microprocessor controlled constant current charging!
Reverse Polarity Protected.
Spark Proof.
Perfect for all AGM (absorbed glass mat), sealed maintenance free and flooded batteries
Complies with US and international safety standards (UL/CE).
Listed in the California Appliance Efficiency Database
2 year Warranty
Manufacturer Part Number: 022-0165-DL-WH
Reviews
Rated

5

out of

5
by
Harold
from
Great system
Having bought the extension, using the connectors and the quick connects, it was perfect for setting up both bikes and being able to disconnect at any point to move the bikes and work on them without having to pop off the seat to get to the battery. I am very happy with this charger and would certainly recommend to anyone that has two bikes to maintain through the winter months.
Date published: 2016-02-06
Rated

5

out of

5
by
Clay2
from
Excellent dual battery charger with float system
The best charging system for your money. Keeps battery charged while I'm on holiday
Date published: 2019-01-16
Rated

5

out of

5
by
PapaCee
from
Bought this double charger because we are a 4 bike 2 rider family. Use this charger to charge a ninja 250 and a Z750 Kaw. Batteries are expensive and if maintained properly can last well beyond expectancy. I also have a 2007 ZX-14 that has its original battery that has been maintained. 8 years going on nine, not bad? This charger will pay itself off in short order. Instructions are kinda generic and should be more product specific. As they are printed for more than 1 product. But shouldn't dissuade your purchase.
Date published: 2015-12-06
Rated

5

out of

5
by
Drej
from
Nice charger
Works as described and is very light weight so easy to transport. I decided on the two battery tender so I could avoid swapping the unit from one bike to another.
Date published: 2015-10-18
Rated

4

out of

5
by
Frozen North
from
compact size and weight
I have car, trailer and ATV batteries that require charging throughout the winter. This unit offers the ability to charge two batteries at a time. If you forget them you don't worry about boiling batteries dry as they go into float mode. Used on 6 batteries so far this winter and I am happy with the unit.
Date published: 2015-02-07
Rated

4

out of

5
by
SteveG
from
Very please with this item!
I recommend this item, I buy a 2 stations charging for one my car and the other one my motorcycle to I store during the winter time! Very please with it!
Date published: 2014-01-14
Questions
How long are the cables that come with the charger that go to the batteries
The clamp connectors are about 25" long and the eyelets are roughly 22" long.
Date published: 2017-02-13