Battery Tender Quick Disconnect Harness - 081-0069-6
Item # : 36451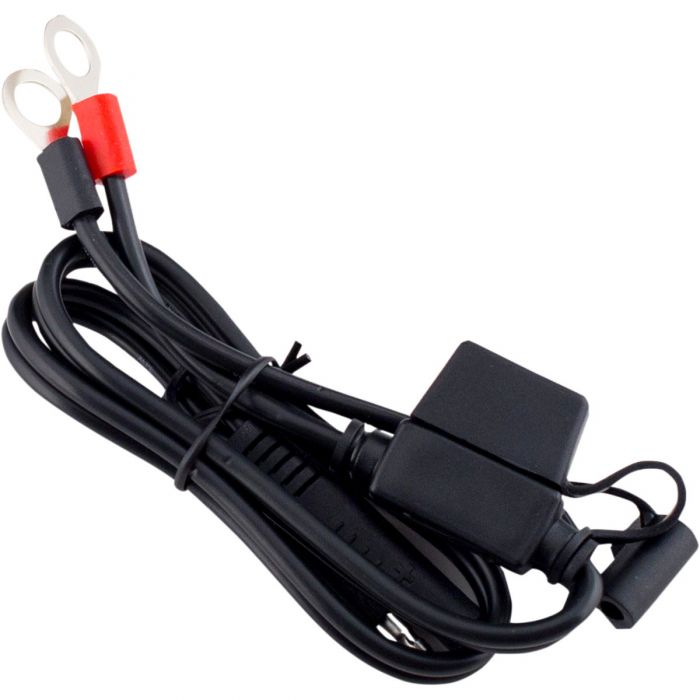 Battery Tender Quick Disconnect Harness - 081-0069-6
Item # 36451
Description
Battery Tender Ring Terminal Harness
Ring Terminal Harness accessory for use with multiple batteries.
Features:
Black Quick Disconnect
18" cord adaptor
16 gauge wire
Contains a 7.5 amp fuse
Convenient for hard-to-access batteries
Adaptor plug is compatible with most heated suits for motorcycles or snowmobiles
Compatible with all SAE equipped Deltran Battery Tenders
Manufacturer Part Number: 081-0069-6
Reviews
Rated

5

out of

5
by
NiagaraParkway lover
from
The BEST Quick Disconnect I've ever had!
Ok, so this is the only one I've ever had but it arrived quickly and without delay. It's exactly as described and performs flawlessly... ok, so it's only a cable. It works and that's all I care about. No flashing lights, or fireworks. Simple and easy ordering process. Thank you.
Date published: 2015-07-06
Rated

5

out of

5
by
Anonymous
from
You need this.
The universal aspect of the connector allows for the use of several different electronic devices in addition to maintaining the battery. An essential item for any bike.
Date published: 2011-06-20
Rated

4

out of

5
by
SHUMBA
from
GREAT SERVICE - read on....
I just installed this USB part on my bike to power 1.) my GPS, and 2.) my dash video camera. Both work just fine. They require approx. 1 or 2 AMPs, and this comes with a 3 AMP fuse installed in the wiring harness on this part. Originally, I had been using the battery tender cable (15 AMP fuse) to power the camera and GPS, but there must have been a surge or something, because the camera got fried along with the plug-in dual USB adaptor that I have been using in a cigarette lighter style power supply. I wired this part #6613WU directly onto the battery, but left the battery tender cable attached to the battery as well, so to charge the battery, use the cable with the 15 AMP fuse, and the 3 AMP USB cable powers the USB sockets. My comment is this: to connect and disconnect this cable is very difficult as the plug is very tight and hard to pull apart, so I am going to install an interrupter switch, so I can easily turn off the battery power without having to pull the plug apart. When it is plugged in, the ring around the USB plugs glows blue to tell you that you have power, but; when plugged in, it is ALWAYS drawing power and will drain your battery, so be sure to either unplug it; or do like I plan to do, install a switch so I can easily turn the power to the USB on or off easily and don't have to pull the plug apart. Just need to find a suitable switch to attach somewhere on the bike. Hope this helps others who want to install a USB cable on their bikes.
Date published: 2016-10-22
Rated

5

out of

5
by
Kyboren
from
Very handy item
I use it to provide a quick connect for the matching USB and cigarette lighter attachments. It charges my phone and runs my GPS on long rides. When not in use, it all stores in a little locking compartment under my seat.
Date published: 2015-08-11
Rated

5

out of

5
by
Tenny80
from
I put these on every bike!
I put these on every bike I have! I use them with my air compressor, battery tender, USB adapter to charge my phone, etc. They are under 10 bucks and have multiple uses.
Date published: 2019-06-25
Rated

5

out of

5
by
Houligan
from
Perfect
Every bike needs a battery tender and this unit is the best way to service all your bikes with one charger.
Date published: 2019-03-18
Rated

5

out of

5
by
Holy Goalie
from
great product
I didn't want to buy the entire charger, just the cord so this did the trick
Date published: 2018-07-08
Rated

5

out of

5
by
Dennis
from
Exactement ce que je voulais
Très satisfait, livraison rapide et exactement ce à quoi je m'attendais!! Merci,!!
Date published: 2017-12-14
Questions
Can i install two of these so as to run two heated vests if i want?
It depends on the draw of the jackets as to whether A) Each jacket draws more than 90 watts of power; if it does, it will blow the 7.5 amp fuse B) What is the output of your stator? 2 jackets, plus lights, ignition draw, and other electrical components may be too much for your stator and leave you with a dead battery. Find out this first.
Date published: 2016-11-29