Battery Tender 800 12V .80A Waterproof Charger - 022-0150-DL-WH
Item # : 36445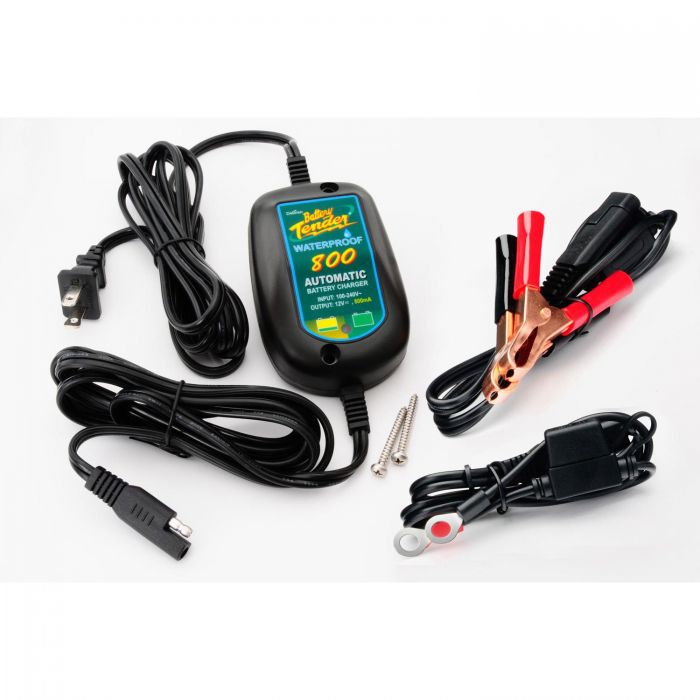 Battery Tender 800 12V .80A Waterproof Charger - 022-0150-DL-WH
Item # 36445
Description
Battery Tender® 800 - 12V @ 800 mA - USA & Western Hemisphere
The engineers at Deltran led the way in innovation and convenience by introducing the Battery Tender® 800. Since its introduction in 2003, it has been widely accepted as a solid new addition to the Battery Tender® family of charger products. This compact 800 mA battery charger has all the charge characteristics of its cousin the Battery Tender® Junior. It incorporates highly efficient surface mount technology electronic components. The interior is completely encapsulated, protected from shock, vibration, and moisture by an electrically insulating, thermally conductive, flame retardant, synthetic epoxy resin compound. It's tough, affordable, and a strong, innovative battery charging solution.
This charger is no larger than a standard computer mouse yet packs 800 millamps of pure constant current charging power. Coupled with a brain (IC chip), the charger will constantly monitor, charge, and then maintain your battery! Perfect for all outdoor types of ATV's, watercraft, motorcycles, boats, or anywhere water is a threat.
Features:
Input: 120VAC @ 60 Hz
"Supersmart" Technology
Spark Proof
Short Circuit Protected
Reverse Polarity Protected
Weatherproof
Weighs only 1 Pound
Includes Alligator Clips and Ring Terminals
Listed in the California Appliance Efficiency Database
3 Year Warranty
Manufacturer Part Number: 022-0150-DL-WH
Reviews
Rated

5

out of

5
by
Randall L
from
One of the must haves for a garage
It's only been in use for about 3 weeks so far, but is working great so far to keep the battery maintained.
Date published: 2019-12-04
Rated

5

out of

5
by
alan j
from
great visual
this is the second one purchased, function is excellent and efficient
Date published: 2018-02-05
Rated

5

out of

5
by
Ayes
from
These are must haves
Lost my last one in a flood believe it or not. This was just a replacement. Works fine if you store your MC yourself or anywhere else. Never let me down.
Date published: 2017-12-21
Rated

5

out of

5
by
Crusherjr
from
A solid product
This Battery tender 800 I picked up is Fantastic. It keeps my stored Automotives(12v) at full charged and unbeknownst to me, the whole unit was submerged in water thanks to melted snow and is still 100% operational. If you are serious about looking for a compact battery charger by all means check this out first. Thanks again FortNine!
Date published: 2017-12-12
Rated

5

out of

5
by
arctic4x4
from
Great Product
I bought this a few weeks ago, works as advertised but I sure had a good laugh as it is labeled as water/snow safe but as soon as you read the generic pamphlet it says keep away from water. Overall its a great product, took just over a day to fully charge my dead ski doo battery.
Date published: 2017-12-11
Rated

5

out of

5
by
Manlenium
from
Battery Tinder .80A
Using for winter storage in the garage. Perfect to keep battery charged over the winter, easy setup.
Date published: 2017-12-10
Rated

5

out of

5
by
FRY22
from
Great product and just what my bike needed
I have a 13 HD RK and this Tender is great. Installed in about ten minutes and the thing works great.
Date published: 2017-10-27
Rated

2

out of

5
by
SilverFox
from
A little bit confused!
I bought this unit because it was advertised as waterproof. Once I got it the instruction booklet says I can't use it in wet locations. ?????
Date published: 2016-12-15
Questions
I intend to buy a couple of this water proof battery tender. However, my question is how long is the wire after the unit? I want to plug it in, mount the unit on the wall (outside) but I can't find in the specs the length of the wire from unit to vehicle.
The cable after the unit is 6 1/2 feet to where either the clamp or eyelet battery connectors plug in. The clamp connector is 25" long and the eyelet is 22" long. So in total using either connector will reach approx 8 feet. 
Date published: 2016-10-31
I live in Northen climate ( cold winter : at times -20F ) , has anyone used this in harsh/cold winter OUTside ? any success or failure in cold weather ? Thanks in advance.
I used this item outside on my snowmobile battery from early spring until January for a few years. I bought a newer snowmobile that does not have a battery, so this unit is in the garage on a motorcycle battery now. I can say that it spent two years outside and looks as good as the day it came out of the package. I did keep it out of the sun. Living in Calgary, Alberta.
Date published: 2016-11-18