BikeMaster Dual USB Port/Plug Charger - 152232
Item # : 281003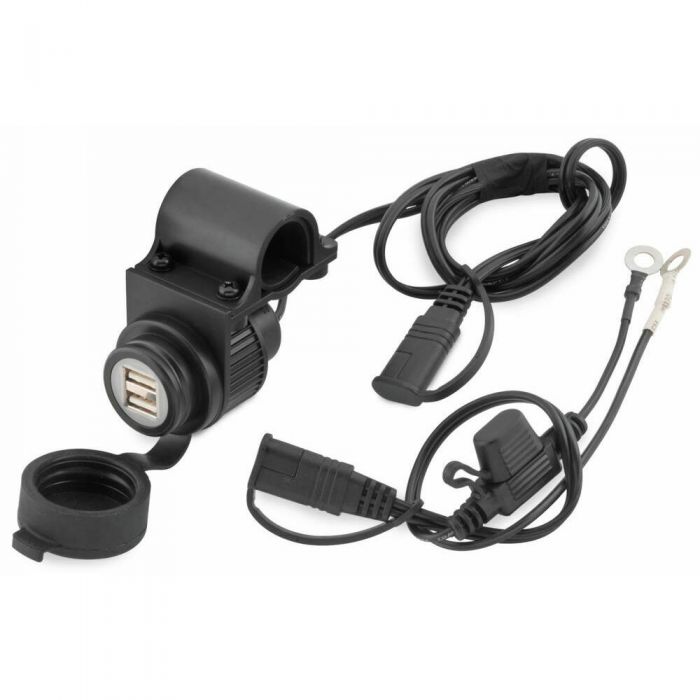 BikeMaster Dual USB Port/Plug Charger - 152232
Item # 281003
Description
BikeMaster Dual USB Port/Plug Charger
Features:
Keeps your smart phone, GPS, MP3 charged while enjoying your ride
Features water and weather resistant, 5 volt/2 Amp and dual USB ports
USB port comes with 38in. of wire and in-line fuse for protection and 12in. long battery quick connect rings
Mounting bracket fits 7/8in. and 1in. bars
Manufacturer Part Number: 152232 / TC-6613WU-SAE
Reviews
Rated

4

out of

5
by
Tristyn
from
Good Stuff
Works great. I removed mine from the mounting bracket, and used a hole saw to drill a hole, and mount directly in my gauge pod. The white face of the charge port illuminates blue, and will drain your battery if you connect directly to the battery. I removed the positive ring connector and crimped on a blade connector to plug into an accessory wire. Now it only runs while the key is in the ON position.
Date published: 2016-12-29
Rated

1

out of

5
by
Andre
from
Design flaw
Product looks and works great with the exception that there is no "off switch". The blue LED light in the socket stays on perpetually. I ordered this since product is supposed to wire direct to the battery so it's easy to install. When I contacted the manufacturer about this, their only suggestion was to rewire it to a keyed ingnition source. Disappointing.
Date published: 2018-06-07
Rated

4

out of

5
by
dem001
from
the blue light is a nice touch
I bought this for a bike trip to keep my phone charged and my cardio scala. It doesn't charge my blackberry and unfortunately there is no switch to turn it off, I didn't figure a blue led would drain my battery in a few days but it did, the device would be better served if it had a switch.
Date published: 2016-08-15
Rated

5

out of

5
by
yamahaha
from
Perfect for motorbike
Have had a power outlet, similar to cigarette lighter, and went through 6 plug-in USB adapters. Needed a power outlet that was bike proven, and this is it. Have done over 4000 kms and it works like a charm. Keeps my phone/GPS/radio/internet connection alive. Recommend this as a tough vibration accepting (I ride a 2013 Yamaha WR250R with 25000 klicks) electronic unit. Plus I have no problem with the blue lighting! Also I have installed it so that it goes off with the key, so no problems with direct connectivity. Cheers, rubber side down!
Date published: 2015-10-11
Rated

4

out of

5
by
Insanity2121
from
Item is necessary for touring
This item is phenomenal and is a necessary component to a successful touring trip. I did a 4000km trip through BC, and the charger was able to charge my phone with no issues. I would highly recommend it, however a design flaw is that it is always on when the bike is off. So I usually just unplug the charger from the battery when I am not using it. Would have received 5 stars if the design flaw was remedied.
Date published: 2015-08-19
Rated

4

out of

5
by
2010TBird
from
works great
Bought to power GPS for a recent road trip. Easy to install, functioned as advertised. Water resistant cover provided good seal to keep water out. Wished the cable was a few inches longer though...
Date published: 2015-07-05
Rated

4

out of

5
by
Mezz
from
Life Saver
Used this to charge my phone and ipod during a 5,000 KM camping trip. As I was camping where power was not available, I would charge during the ride and phone would be good for the night. Easy to install and plenty of cord length to mount just about anywhere. Gets a 4/5 because it attaches directly to the battery and there is no switch to kill the power when not in use. I had to make sure the connectors were easily accessible so I could disconnect overnight to not drain the battery (has LED lights that are always drawing power). If there was a switch on the mount to turn on/off the power or exclude the lights and leave the circuit open until you plug in a device, it would get a 5/5.
Date published: 2015-06-18
Rated

1

out of

5
by
SHUMBA
from
Poor design no on-off switch
I bought this USB device for my Honda CRF250L so I could power both a dash video camera and a GPS using USB cables. The amperage for both outlets was supposed to be 2 AMPS, sufficient to provide power for the camera and the GPS. The camera wasnt recieving enough AMPS as I contacted the dash camera people who told me it was due to lack of amperage the camera did not go into record mode. The stated amperage required for both items was less than two AMPS each. In addition this USB device had no switch so you can turn off the power, because if you left it plugged overnight it would drain the battery. The only way to remove the power was to unplug the device from where it plugs into the plug off the battery. This plug is extremely stiff and difficult to remove. So maybe I will have to buy something else now, a waste of about forty five bicks. I called manufacturer of this cable and they offered no explanation...Don't Buy...Ride safely....
Date published: 2016-12-14
Questions
After I bought this I found out the LED light stays on even if you put the cover over the light and sockets. How am I supposed to connect this to my bike without draining the battery?
I connect it to the bike power using a Battery Tender lead off my battery. I have the connection at the lower back side of my seat and disconnect it at the end of each ride. That way now power drain if not in use as I only connect it when I need to charge something.
Date published: 2018-06-06