BikeMaster TruGel Battery
Item # : 502326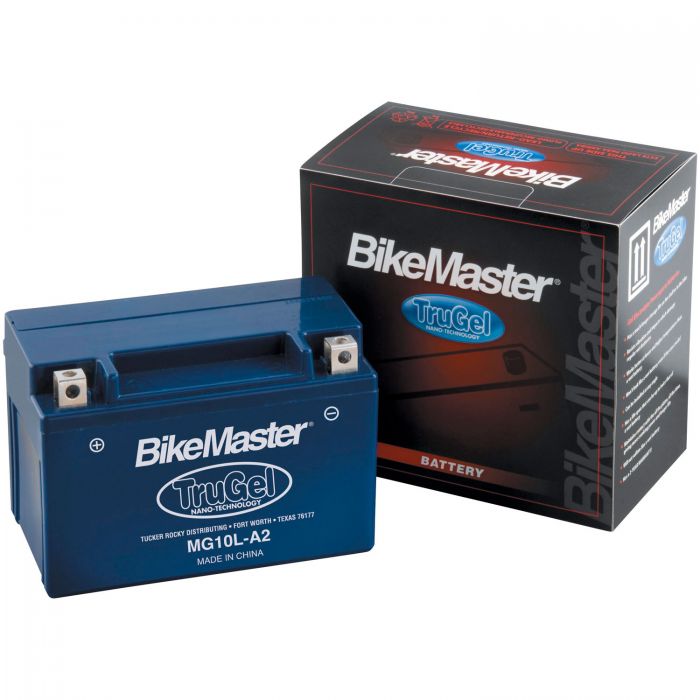 BikeMaster TruGel Battery
Item # 502326
Description
BikeMaster TruGel Battery
Even if the case cracks, the TruGel battery won't leak like a wet battery.
The TruGel battery by BikeMaster is a gel electrolyte powersports battery with a life span twice that of a wet battery. Able to resist vibration and impacts that damage regular wet batteries, it can be installed on your bike at any angle.
Features:
Gel Electrolyte Powersport Batteries
Has a much longer storage life on the shelf or in the bike
Resists vibration and impacts which damage regular wet batteries
Works better at lower and higher temperatures than a wet battery
Will not leak like a wet battery, even if the case cracks
Can be installed at any angle
Has a life span that can be up to twice that of a wet battery
Maintains contact with all of the plates, all the time, giving more cranking power and longer life
Will not sulfate like a wet battery
2-year manufacturers warranty
Reviews
Rated

5

out of

5
by
jglidden
from
TruGel Battery ROCKS!
I was tired of replacing liquid-based batteries on my vehicles (Car, ATV, Motorcycle) and I swore to try an AGM Gel-based battery based on the claims and feedback of others. Well my 3 year old ATV battery went so dead, it could barely charge while running to operate the electric shift. I ordered my BikeMaster TruGel battery and received it super-fast via courier. I checked the charge and it fully charged right out of the box - awesome!. After a month of wildly fluctuating winter temperatures in January from 3 C to -31 C, I was very happy to go to my garage and find a super-strong battery (no trickle charging) that fired my bike up. Never has it turned over so strongly. It continues to deliver strong starts. This bike only gets used for the occasional storm or short drive on my woodlot. The ATV can sit for an entire week when I don't need it. With the Gel-battery, it's so very nice to thumb the starter without worrying if there will be enough charge to turn it over. The gel battery IS WORTH IT. If you need a battery, spend the little extra and BUY ONE!!!!
Date published: 2017-02-10
Rated

5

out of

5
by
John
from
Good battery that work for the Quad
Battery was for a Yamaha 125 quad it fit good and had no issues
Date published: 2018-08-28
Rated

5

out of

5
by
flstn
from
tres bien
j ai acheter cette article et je suis tres content
Date published: 2019-01-16
Rated

5

out of

5
by
raw809
from
worth the extra $s
this the third motorcycle battery I have purchased for my restoration project. This is the first that works every time. It's hard enough to trouble shoot systems without needing to second guess a new (cheap) battery.
Date published: 2018-11-05
Rated

5

out of

5
by
PolarisPower
from
La moto démarre facilement !
Il reste à voir à long terme si cette batterie va durer plus longtemps !
Date published: 2018-05-26
Rated

4

out of

5
by
eeegah
from
good service
Fast delivery,fair prices,the bike aredone and ready for hunting season.I will let you know how the parts stand up later as I live in a city where atvs are not allowed so I can't test them till I go up to northern Ontario
Date published: 2017-09-17
Rated

5

out of

5
by
Marcelo Bebiano
from
Working good!
Despite the fact that is was a bit longer than expected to the item to be shipped, it fitted perfectly on my Vulcan2013. Time will tell if the battery will deliver in the long run but so far, I'm really happy with my purchase.
Date published: 2017-08-12
Rated

4

out of

5
by
none
from
Good so far.
I bought this after my 1 year old YUASA flooded cell battery developed an internal short. Decided to give a gel type battery a try due to claimed superior vibration resistance. I had to buy a "smart" charger as a conventional charger is not recommended for Gel or AGM batteries. I was due for a charger upgrade anyways so that was of little concern. I have only had this battery for a few weeks and it is working as a battery should. Time will tell if it lasts longer than the flooded battery.
Date published: 2017-08-11
Questions
Can I use a Battery Tender trickle charger/maintainer on this batter over the winter?
You certainly can - no issue.
Date published: 2018-09-11