Biltwell Lane Splitter Solid Helmet
Item # : 553544
$223.99 - $369.99
$223.99 - $299.99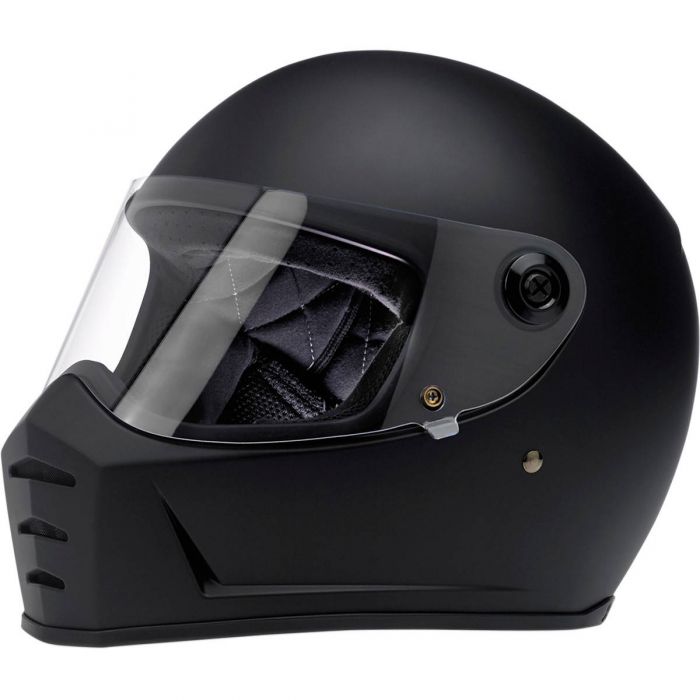 Biltwell Lane Splitter Solid Helmet
Item # 553544
Description
Biltwell Lanesplitter Solid Helmet
Progressively styled and rigorously tested, our finest ECE-certified helmet is a top choice for high-performance riders. Comes standard with an injection molded anti-fog clear face shield.
Helmet Fitment
Helmets comes in all sorts of shapes and sizes. Just because you are a medium in one doesn't mean you won't be a larger or smaller size in another. It's best to consult a professional if you are having issues determining your size. We also offer cheek pads in various sizes to help fine tune your fit if necessary
Features:
Injection-molded ABS plastic outer shell is rugged yet lightweight
Three-piece Expanded Polystyrene (EPS) safety shell dissipates impact loads and fortifies helmet structure without compromising comfort
Molded urethane chin bar pad features front and side vents for cooling airflow
CE-certified polycarbonate shield is anti-fog and anti-scratch for safety and durability
Removable/replaceable comfort liner and cheek pads feature brushed fleece Lycra touch points to absorb and evaporate perspiration
Chin strap features brushed fleece Lycra touch points for comfort and an adjustable strap end retainer
Built in recesses for various aftermarket audio & comms systems
Reviews
Rated

4

out of

5
by
Vrod
from
Well priced lid
I have already worn this helmet on quite a few rides. Flows a very good amount of air, and is better than expected on the highway. Fit and finish are ok for the price. Be careful when sizing as I ordered a Med as per fortnine chart and was too large. When I consulted biltwell's website It put me in a small (55.75) fits great. Small hiccup on return but fortnine's team came through as always with great service.
Date published: 2017-08-17
Rated

5

out of

5
by
Shaw
from
Comfortable helmet
I went with an XL when the sizing chart recommended an XXL, and it fits perfectly. Great comfort, would buy again.
Date published: 2017-08-18
Rated

3

out of

5
by
CanadaJack
from
Great helmet til it rains!
There's a lot I like about this helmet, fit, finish and style are all great, but when it rains the problems start. Water comes in the front vent and splashes up on the inside of the visor and on your eyeglasses, making it difficult to see. If you're a fairweather rider I recommend this helmet but if you ride in all kinds of conditions probably not.
Date published: 2019-07-17
Rated

1

out of

5
by
Bolo
from
Do not buy this helmet!
The visor doesn't fit properly and becomes a machine gun like rattle at highway speeds while the hinges on the side create a constant irritating buzz. The cheek pieces are thin material over plastic and are face crushing. I have a thin face so I can only imagine what this would be like for a round faced person. This is novelty helmet, not for highway use and should be priced at $99 not $300. Spend the extra money and buy the Simpson. This is an extremely cheap knockoff and is absolute torture on a long trip.
Date published: 2019-06-17
Rated

4

out of

5
by
Ke499
from
Nice helmet
Needs a feature to quickly change out visors for when it gets dark.
Date published: 2019-03-16
Rated

5

out of

5
by
Beanz
from
Biltwell lane splitter
Dope helmet!! Looks great and fits really well also good amount of air flow to keep you cool, can't say anything bad, and for the price you get that aggressive look
Date published: 2018-11-05
Rated

5

out of

5
by
Scott
from
Awesome
If youre looking for a good light helmet with 100% peripheral vision that also looks bad a** and feels comfortable, buy this.
Date published: 2017-10-30
Rated

4

out of

5
by
KE499
from
Very nice helmet!
Very nice helmet but getting extra visors is dam near impossible
Date published: 2017-09-17
Questions
Does the visor seal to block water/rain?
The visor seals perfectly, however, the face vent lets in a lot of rain water.  An easy fix is to stuff something up into it if you're caught in a storm. 
Date published: 2020-02-03
does it comes with dark lens?
No it comes with a clear lense.
Date published: 2017-09-20
Are the insides of this helmet similar to the biltwell bonanza? I have that helmet and find the insides quite hard and it doesn't fit my headshape. 
All of the Biltwell models have a similar inside; only the shell varies from one model to the other.
Date published: 2019-10-03
Does this have a sun shield in it?
No, this helmet is not compatible with an internal sun shield, and does not come with one
Date published: 2019-09-17
What head shape do you nead for the lane splitter 
Neutral oval head shape....
Date published: 2018-04-20
Does the shield fog when closed?
I have not had the clear nor the tinted shield fog on my lane splitter. There is plenty of airflow in this helmet.  And the manual makes it clear not to clean the shields with anything but water and a soft cloth.  Using any other kind of cleaner may remove the anti fog coating.   And honestly, water and a cloth have kept the screams perfectly clean.  
Date published: 2019-03-26
Do the vents close?
No, they do not.
Date published: 2018-01-15
On Biltwell Lane Splitter Factory Helmet, The word "Biltwell", is it a sticker or paint?
The decal on the helmet is sealed on with the same lacquer they use to finish the helmet, so no worries about it peeling off down the road. There is a bit of a raise where the lacquer passes over the presumably vinyl graphic but it's barely noticeable. Overall a great looking and feeling helmet.
Date published: 2020-01-22