Bridgestone Battlax Hypersport S21 Rear Tire
Item # : 477972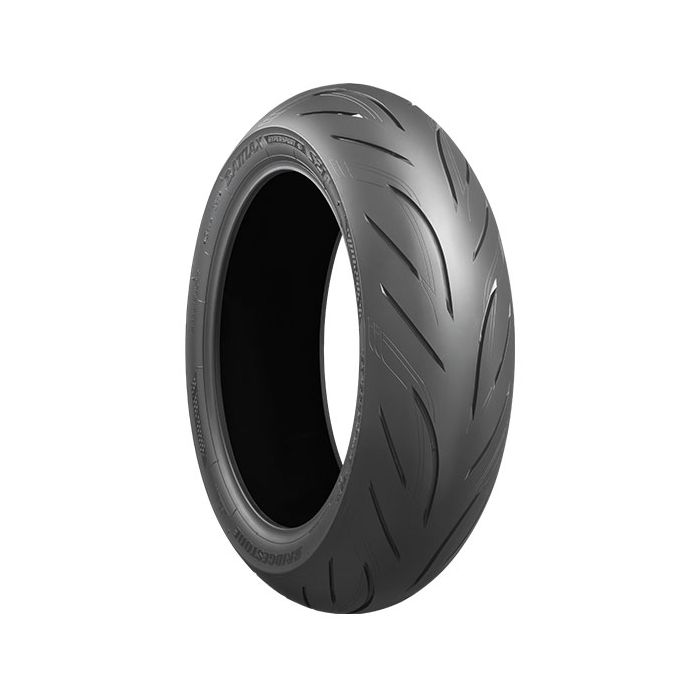 Bridgestone Battlax Hypersport S21 Rear Tire
Item # 477972
Description
Bridgestone Battlax Hypersport S21 Rear Tire
Click here to see an overview of Bridgestone's Battlax lineup.
Bridgenstone Battlax Lineup
Dry grip and wear life significantly improved without sacrificing wet performance
3D cross grooves designed to optimize rigidity and improve contact with the road
Dual compound front tire (3LC) with revised profile generates higher grip at lower lean angles
Triple compound rear tire (5LC) with revised profile provides improved stability and durability
New Enhanced Micro-contact-patch Compound (EMC) technology used for both front and rear shoulder compounds
EMC increases grip potential and improves thermal stability to make sure the tire performance remains consistent as temps go up
(W)-rated for speeds up to 270 km/h (168 mph)
OE Replacement:
E Spec - Honda CBR1000RR 2017
G Spec - Suzuki GSX-S750 2017
J Spec - Yamaha R6 2017
Reviews
Rated

5

out of

5
by
gsxr7racer
from
Unreal tires!
I have put about 2000kms on these tires on my CBR600F4i fully loaded with luggage, empty, rain, dry. These are the first street tires I felt comfortable trail braking into corners when I overcooked things a little. Great feel and so far really good wear, hardly any after 2k! I am running 34psi front and 38psi rear for when I was fully loaded. Awesome tire for the price!
Date published: 2016-06-01
Rated

5

out of

5
by
Sushiman
from
Awesome tires!!
BS S21 is the best tires I've ever used. Very sticky and stable @ any lean angle. ;)
Date published: 2016-06-25
Rated

5

out of

5
by
pipsman
from
These Stones Rock!!
Bought these as an upgrade to the BTO 16's and were they ever..Better traction for sure.Confidence in corner exit is superb..Great tires..Hope they last a bit longer than the 16's,as my bike has a voracious appetite for rear tires..(05 gixer 1000)..Extremely happy so far..
Date published: 2016-08-14
Rated

5

out of

5
by
Vanisle
from
2001 yamaha FZ1
Purchased this tire early July,Unfortunately the front was on back order so I am running a BT 016 Pro on the front and the S21 on the rear stock sizes. This tire sticks really well wet and dry and the wear factor is looking real good .I usually burn thru a Bt 016 in less then 4500 KMS . I presently have around 3000 KMS on the S21 and it hardly looks worn at all. I will mount a matching set of S21's next time around. There are many choices for tires and lots of good one's but my moneys on these Bridgestones
Date published: 2016-09-15
Rated

5

out of

5
by
Coachroy
from
Great Tires
I have had the Pilot Power 2CT and the Pilot Power 3s before and obviously the stock tires. I've also ridden bikes with the Q3 as well. The 2CT I thought was a great tire so naturally when the PP3 I went with that tire. I was very happy with it overall as far as longevity and performance. I also really enjoyed the Q3s, draw back is the life span. I thought I would give the S21 a shot. Couldn't go wrong for the price. I've gotta say that they have given me more confidence in the corners then the other tires that I used. When you lean, that extra soft layer that is near the edge of the tire, really comes into play and makes a world of difference. I was also pleasantly surprised that when I was caught in an absolute down pour (had to poor my racing boots out when I got home) how great they were. I was on the highway with a 120km speed limit with cars throwing water at me and I didnt feel any hydroplaning or slipping. I do notice though that the bike doesn't lean over as aggressively as the Q3 or the PP3. So if you're going into back to back turns I just find the transition isnt as quick feeling. Now this could also be my suspension setup but I didnt feel this with my PP3s. I've put about 3000kms on them so far and 1600km of that was on a trip that was spent a good amount of time on the highway. The tires are still in great shape and have no sign of that dreaded center flat spot.
Date published: 2018-07-03
Rated

4

out of

5
by
Peikko
from
Great tire, uneven wear
I put about 10000km on the tires (all on public roads) and they wore completely worn down, should properly have changed them at 8000-9000km. Was a great set of tires, good confidence, really stable and I could only spin the rear if I was really pushing it, though I did spin the rear a lot when it got wet. My biggest problem is that the front tire wore unevenly, the hard center looks like it's hardly used, but the softer side is almost worn down, giving the front a uneven curve. I ride a CBR1000RR with a 190/55/17 rear tire.
Date published: 2017-08-22
Rated

5

out of

5
by
DJRides
from
Great tire for what it is ment for.
I have had it on my bike for about 2 weeks now almost and have put on just over 1500kms on it. I have road in light rain and torrential down poor with 105km/h wind gusts.(not by choice) i am very very happy with it. Is it my first choice in track tire? No but you could still use it there no prob. Where it shines is in the city and on the highways. Grips well and warms up fast. handles well on wet roads with a super sport.(obviously not trying to drag knee). I was still able to drive the speed limit and had never lost traction once in the rain. With the big wind gusts i had to slow down but only because the wind was trying to take me away. On dry pavement in the city it holds great. Run the PSI a little low around 32 and you will hold your line np. Great in cold and hot temp too. Living in Calgary our temps can change drastically at a moments notice. All in all a great tire for its purpose. I would recommend this to anyone that rides a sport bike and wants a great all around tire. Will right more when i have used up the tire and let everyone know how many KM's i got out of it.
Date published: 2017-06-02
Rated

5

out of

5
by
AndyT
from
Great performance and wear
I bought a set of these tires for my 03 ZX6E this summer before going on a few road trips. After putting 2,000kms on them in under two weeks I can say they have been great. I've driven on lots of different pavement, concrete highways, and some wet roads and they've always felt very stable. Good warm up and nice grip will have me buying another set when these are done!
Date published: 2016-08-22
Questions
Do I go with a non spect version for a 2016 cbr500r?
Yes, the spec tires are a direct OE replacement for the bikes listed in the item details, so you should choose the non-spec option. You can still choose an OE spec tire for your bike if the tire size matches. The construction of the OE tires are just built specifically for the load and performance of the specific bikes they are listed for
Date published: 2019-04-11
which tire do I choose for 2004 cbr600f41 the e-spec which stated for cbr1000rr or do I use the 180/55zr17 73W?
You would require the non speced version, the regular 180/55zr17
Date published: 2019-01-04
I understand the OE is g spec for my 18 gsxs 750 rear tire. but how is it different to the 73W? other than price?
The G-spec is different in the case that you would want the exact tires that were on your vehicle when it came out of the manufacturer. This is the only difference. They could be marked (OE).
Date published: 2019-10-07
What's the difference between "j" and "g" spec etc?  Thanks 
G Spec indicates that it is the OEM tire for Suzuki GSX-S750 2017 and J Spec is the OEM tire for Yamaha R6 2017. You can find this info in the details section of the item.
Date published: 2019-01-04
What does the 73W or 58W means?
It's the speed rating for the tire. A quick google search for tire speed rating will describe it more as there are charts for the rating.
Date published: 2018-07-18
I have a suzuki gsxr 600, should I order the 180 55/zr17 G spec or just the normal 180 55/zero 17 73W?
Zero 17 73w is good if you are an aggressive rider as the load and speed rating is high comparing zr17 G spec.
Date published: 2019-01-04
Whats the difference between th specs? I have a 2013 fz8
not sure what you are asking but if u are comparing the s21 with the s20, then its the compound used to make the tires. S20 uses dual compound where S21 uses triple compound which allows more grip when leaned over.
Date published: 2019-01-04