Bridgestone Battlax Hypersport S22 Rear Tire
Item # : 661674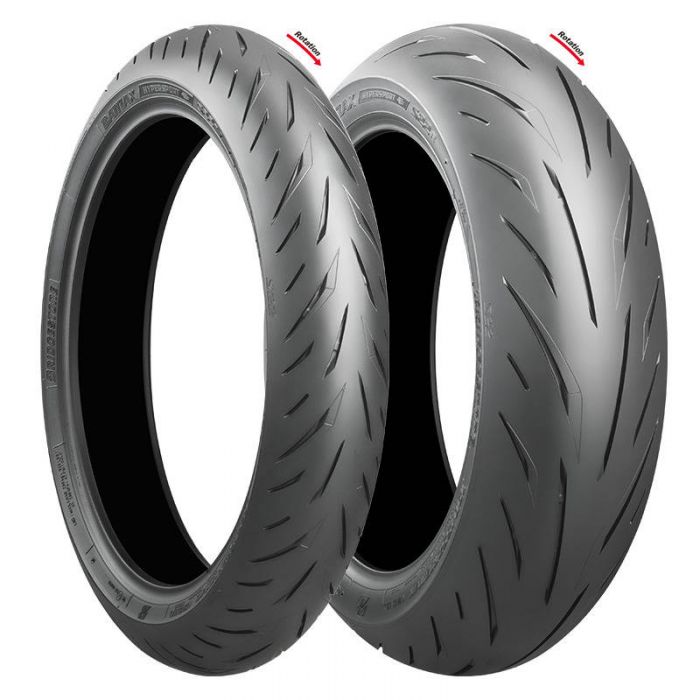 Bridgestone Battlax Hypersport S22 Rear Tire
Item # 661674
Description
Bridgestone Battlax Hypersport S22 Rear Tire
The Battlax Hypersport S22 is the successor to the Battlax Hypersport S21, which is featured as original equipment on numerous sports motorcycles and is a top replacement tire choice for countless riders. Compared to the Battlax Hypersport S21, the S22 boasts improved dry grip and lightness coupled with sufficient wet performance. These features provide sport bike riders peace of mind when the weather suddenly deteriorates or when driving on wet surfaces.
Features:
New tread pattern: To enhance cornering on rainy days, the S22 features an increased land-sea ratio on the tire's shoulder in comparison to the S21, and pattern rigidity has been optimized. These features contribute to improved wet performance and handling lightness.
New Compound: Optimized resin component and fine particle silica. Steps were taken to optimize the resin component in order to develop a new compound that can function across a wide range of temperature conditions, including lower temperatures. This allows the tire to deliver higher grip on dry surfaces. The center compound of the S22 rear tires utilizes silica comprised of particles that are smaller than those found in conventional tires to increase the area of the silica in the contact patch, the portion of a tire that makes contact with road surfaces. This composition enables the S22 to better grip the road in wet conditions.
Optimized contact area: In the development of the S22, Bridgestone employed its proprietary ULTIMAT EYE™ technology to measure and visualize the behavior of tire contact patches. This technology has also been used for developing tires for the FIM Endurance World Championship. Bridgestone has reduced the slippage area in the rear part of the tire's contact patch in comparison to the S21. These changes contribute to improved grip and light handling of the S22, while preventing declines in lifespan.
Comparison Chart
Model
Conti Sport Attack Hypersport
Bridgestone Battlax Hypersport S22
Michelin Power RS
Dunlop Sportmax Q4
Pirelli Diablo Supercorsa SP V3
Affordability
Most Affordable
Affordable
Affordable
Less Affordable
Least Affordable
Construction

Zero degree steel-belted for extra stability at high speeds

Rear tri-compound
Front bi-compound

Dual Compound Technology for both front & rear tires
Carbon black, wound strip, carbon fiber reinforcement

Front mono-compound
Rear bi-compound

Size Count
3 Front, 5 Rear
2 Front, 6 Rear
3 Front, 9 Rear
1 Front, 5 Rear
1 Front, 5 Rear
Rim Sizes
16, 17
17
17
17
17
DOT
Notable Features
Great option for aggressive on-road riding and weekend track days
Fantastic option for street riding, long life, also performs well on track
Excellent water dispersion, versatile track & road sport tire
Lean angles up to 62 degrees, exceptional track performance
Racetrack performance while being a street legal tire, improved mileage
Speed Rating
W
W
W
W
W
Warranty
10 yrs from DOT , 1/32" void
4 yrs from DOT, 1/32" void
4 yrs from DOT, 1/32" void
4 yrs from DOT, 1/32" void
Lifetime, 1/32" tread void
Reviews
Rated

5

out of

5
by
Canadian triple
from
Exceptional performance
Put 4,500 km on my first set of the new S22's on my SV1000. Good for another 500km or more on the rear but going on another stateside trip. Great tire for canyon riding. No idea what they are like in the rain. Never stepped out on me. Will be buying again. Work well for my style of riding. No longer do track days. Grip excellent.
Date published: 2019-09-30
Questions
What is the difference between the OE 180 and the non OE 180
Typically the OE version is the same ones provided to motorcycle manufacturers, which may or may not differ from the aftermarket version of the same tire despite having the same model name/number.
Date published: 2019-10-01