Cortech Super 2.0 Saddlebags
Item # : 132749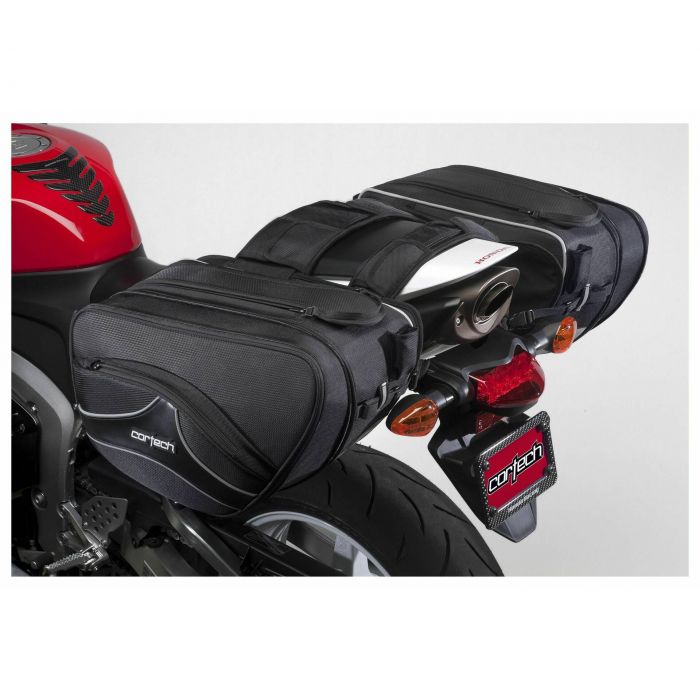 Cortech Super 2.0 Saddlebags
Item # 132749
Description
Cortech Super 2.0 36-Liter Saddlebags
Features:
1680 denier ballistic polyester and 1800 denier three-lined twill Jacquard weave side pockets with a polyester backing
Protective heat shield on lower section of bags and back piping (minimum clearance of 2in. required)
Protective non-slip, non scratch diamond pattern strap and side pads help to protect the motorcycle's finish
Two-tone red and black soft interior lining
Zippered side pocket on each bag
Phoslite® reflective piping
Internal support panels
Quick-release mounting system connects to Cortech® Super 2.0 Tail Bag
Reversible main closure zipper sliders allow for concealment when closed
Locking zipper sliders and expandable main compartment increases each bag's capacity
Rain covers included (removable)
Dimensions:
16.9in. L x 6.7in. W x 10.2in. D (36 Liters for both bags)
16.9in. L x 9.2in. W x 10.2in. D (Expanded)
Reviews
Rated

5

out of

5
by
Ivan
from
They saved my legs
A few weeks ago, I was riding home on the highway going about 90kph, when a car struck me from the rear in a side-swipe. My bike and I went down into a low-side, and these bags not only held together, but kept the weight of the bike off my legs, keeping them safe. Thanks in part to these bags, I left what could've been a major accident, with one small bruise and a scratch. The bike's plastics and Akra exhaust were also protected. Alas, the near brand-new bike is a write-off. As for the bags themselves, they're amazing. I can find ways to fit them onto just about any bike. Lots of space, super high quality. Fitting the rainproof covers is tricky sometimes, if you angle it wrong, they pool water at the bottom and soak through the bags. Granted, this happened once, out of numerous trips through heavy rain. I'll be buying a second pair asap!
Date published: 2016-08-21
Rated

5

out of

5
by
Grego
from
Great Bags
I like these Cortech bags. They fit great and install was relatively easy. Once you get the center straps set, you can set them and forget them. Then it takes literally seconds to remove the bags and put them back on again. They are secured very well to the passenger pegs. My bike is a CBR 954 and they fit awesome. My girlfriend is a geologist and we love going for rides and collecting rocks. Well these bags fit the bill as she now has a set on her bike as well. No rocks are safe if we are out riding together with our Cortech bags. I highly recommend!
Date published: 2014-04-09
Rated

4

out of

5
by
Firstridefz6
from
Great bags!
I recently purchased these bags for a circle tour of Lake Superior (3500 total kms from home and back). I ride a 2005 Yamaha FZ6 which has under seat exhaust and I was concerned about the bags over heating and/or melting from the exhaust. However, the bags worked very well and I was able to position them such that they did not touch any part of the exhaust. Their size is great and they looked great on the bike. I would highly recommend these bags. The only reason I cannot give them a 5 star rating is that they are not waterproof (we had three straight days of at least some rain, and some very hard rain) and while the "waterproof" covers supplied with the bags fit well and mostly kept the rain out, the interior of the bags did allow some moisture in and thus some clothes did get damp. I was still very satisfied with this purchase and I hope to use them for a long time.
Date published: 2016-08-16
Rated

4

out of

5
by
Blim
from
Can definitely hold a lot of stuff
I bought these along with the 24 L tail bag to hold three days worth of clothes, a sweater, a pair of shoes, a water bottle, a DSLR camera, a toiletry bag, snacks and other miscellaneous items. These bags can hold a lot and I didn't even use the expansions. The straps need to be adjusted/tightened after three hours or so of highway riding. The rain covers don't do much and I actually lost two out of three of them on a long trip. Initial setup took some time because every bike is different and these are universal bags. They are very convenient because they can be unclipped quickly. Somehow I managed to rub the inside, lower edge of one of the bags. Not sure if it happened during a hard lean and rear wheel compression. Overall I would recommend these bags because they hold a lot, look decent, are well made and are a good value.
Date published: 2016-08-15
Rated

4

out of

5
by
Beth
from
Perfect fit!
We ride Triumph Thuxtons. The challenge was trying to find bags that not only fit, but worked well and looked good. We went on a camping trip from Ottawa Canada through the Aderondacks and the White mountains, including New Hampshire and Maine. The bags held all our camping, cooking, and clothing. The bags stayed secure during the entire trip. They are easy to remove when required and do not put the bike or the rider off balance. Although small, when you know how to pack you can fit everything you need for a 10 day camping trip.
Date published: 2016-08-13
Rated

4

out of

5
by
Jezreel
from
Pretty Good for what it is
I've used these saddlebags on numerous trips on my 2007 yamaha r6 and found some pros and cons: pros: - Good amount of storage space for extended trips. - Material seems very sturdy and i have no doubt these bags would last for a long time. - The laced zippers on top of the bags make it a lot easier and convenient to close/open the bag especially when its already installed on the bike. cons: - The straps that goes from the bag to the bike gets in the way of the rain cover. I've found that with the rain covers installed, it will keep your stuff dry on a light rain. But when it starts raining a little harder for a prolonged time, water will find its way inside the bag. After a few failed attempts on trying to utilize the rain cover, i've given up and just started putting my clothes in a dry pack, then put that in the saddlebag. This way it stays dry no matter what. - On a sport bike, expect the bottom of the saddlebags to sag inwards. Can't really blame the bag for that, but just a heads up to people. Overall a good bag that enables me to take my sportbikes on very long road trips.
Date published: 2016-08-02
Rated

5

out of

5
by
JG84
from
Great Touring Bags!
These saddle bags are great! I bought them to do some trips on my 05 Honda 919 and they work very well. Very impressed with the quality and the amount of storage these provide. The fit, finish and detail are top notch. I've also received a lot of comments on how good they look on the bike. I've ridden over 2000 km with them and there's no sign of melting by the heat generated from the dual exhaust they lean against! This was concerned of mine when I purchased them. The ease of install and removal is impressive. Minutes to install, seconds to remove and the bags have never shifted around on me while on the road. My only complaint is that they don't come with a locking mechanism but hey, these are soft bags, not hard cases so I'm okay with it. As always with Canada's Motorcycle, the delivery was very fast as these were listed in stock.
Date published: 2015-08-09
Rated

5

out of

5
by
KawaSport
from
What is well made, and delivers the purpose?....
Super 2.0 Saddle bags from Cortech. They are very well constructed, the expandable feature (adding 1/3 third more volume) is great, in that you have a choice of actual saddle-bag volume (the right luggage size for the load-out of the trip/event), and every part of the bags, speaks of thought-of-purpose, and a quality build, from the body of each saddlebag, to the strap attachments that connects them, and holds them in place upon your bike. Hold the set in your hands, and you know you will get years of ownership, service out of your gear. I also purchased at the same time, the also-volume expandable Cortech 2.0 Tail Bag, and it is every bit as good in design, fit, and quality of construction materials as the Super 2.0 Saddle Bags. The way that they had forethought in hold-down attachment points connecting the Tail Bag, to the Saddle Bags, shows that this product, from an engineering aspect, was well thought out, and executed. I am most pleased with all three pieces as a working, complimentary set of each other. I already have three cross-country tours in mind, to allow these babies, to 'earn their keep'!!! These saddle bags, as well as the tail bag for the series, comes most highly recommended by this rider! I own a 2004 Kawasaki 750 ZR-7S, and the Cortech Super 2.0 Saddle Bags not only fits perfectly over the back end/passenger seating area of the saddle with the trailing edge of the bags forward of my rear turn signals, both in the vertical as well as horizontal planes, but they do NOT overpower the 'business' look of my Sport Tour, while installed, and this is important, "...they look like they belong there, while on tour". The saddle bag set comes with all the straps and anti-paint scratch pads (very nice feature set!) for a satisfying installation. In closing, does the reader own a Sports Tour, or Enthusiast ride? If so...and you want to take to the road with your rain gear, wind-breaker jackets, shoes, clothes, tools, whatever, this is the set for that purpose. In expanded mode, they will carry it all. If less than the kitchen sink is being taken, (large smile inserted), zip up the expandable profile, and let er rip. Happy touring fellow riders,.... British Columbia, Nova Scotia or Newfoundland awaits you!
Date published: 2017-10-27
Questions
How easy are these to put on and take off of a bike?  I was hoping to use these on my commute to work and since I dislike using backpacks, I was searching for another option. I don't mind carrying them in after parking the bike.
They are not snap on and snap off bags like some. There are snap locks on the straps, but like as not by the time you have them mounted, a couple of the snap buckles will be hard to access, so it will take you a couple of minutes to remove the bags and top pack. You probably know that the bags are to small to hold a helmet. Otherwise, they are very well made, handle the weather reasonably well, and are good enough for picking up groceries and other errands. I will mention though that the bags will hang rather badly, tending to bend inwards with weight, and if you are fussy about looks, you will want someone to jerry rig up a couple of metal braces.
Date published: 2016-11-07
Will this fit on a Versys 1000, year 2013?
Most of the bags on our site are not vehicle specific, they are universal. Please use the measurements provided in the item to details to see if this is a good fit for your bike. These bags strap on top of your seat and hold underneath with two quick-disconnect buckles.
Date published: 2019-09-19
Would this bag fit well on a EX650 Ninja 650 ABS 2014? Is it holding well while riding on the highway?
Hi Bernard, Most of the bags on our site are not vehicle specific, they are universal. Please use the measurements provided in the item to details to see if this is a good fir for your bike. There will be no issues ones the bag is mounted on the bike with regards to holding during riding. ~Danielle, Customer Service, Canada's Motorcycle
Date published: 2016-02-22
Would anyone know if these bags would fit on a 2014 Honda CB 500X?
It's fit perfectly on a 2014 Honda NC750X.
Date published: 2016-11-29
Hi,  I'm looking for a set of removable saddlebags to use on my 2017 Aprilia Tuono.  Ryan mentioned about some bags contacting the rear wheel in his video, is that a risk here?
I  have not  had any problems  with mine
Date published: 2018-01-24
Do these bags work on a 2005 Yamaha FZ6? The FZ6 has dual under the seat exhaust pipes so I worry about heat.
On my 650 Versys 2013 with one exhaust pipe under the frame it fits welll. With two exhaust pipes under the seat I would not install these bags on your FZ6 they would be too close to the pipes and may be damage by the heat.
Date published: 2016-08-08
I bought these bags, and they are great.  The one issue I have is that when I have them loaded, with the side panels extended, they really lean inwards towards the wheel and the exhaust pipe.  Any suggestions on how to keep the bags straight?
My buddy has these bags and had the same problem. I just ran a short bungee between the two handles across the top of the seat and it kept the bags from wanting to lean in towards the wheel (he has a Kawi Ninja 1000). They end up sitting nice and straight. We've done two 3 day trips to Parry Sound like this and its been a solid solution.
Date published: 2017-10-27
Further to my earlier question about these bags fitting 2011 Versys 650; this bike also has handle bars on each side of the back seat. Are those bars going to get in the way of properly installing the bags?
No My fz6 also has the rear seat handle bars and fits perfectly. If anything it keeps the bags from touching the tail pipes which is exactly what I would want 
Date published: 2017-09-14