Crampbuster Cruise Assist
Item # : 670844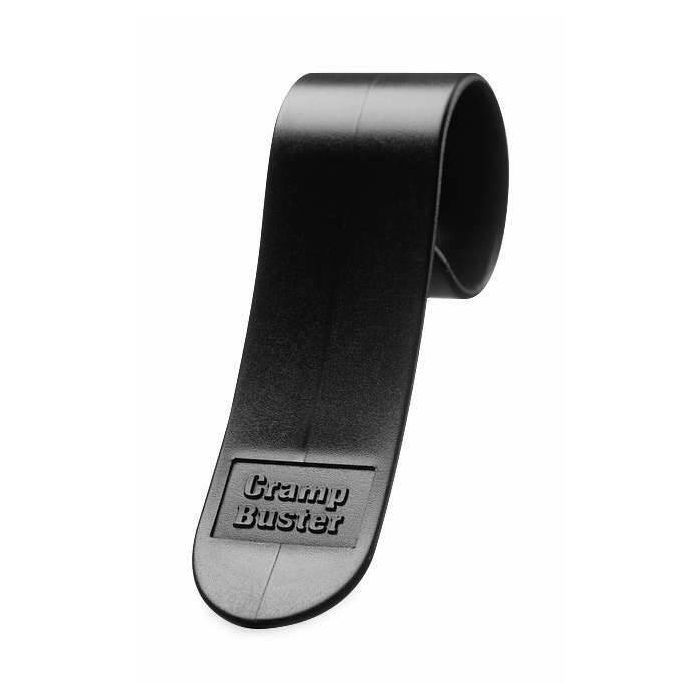 Crampbuster Cruise Assist
Item # 670844
Description
Crampbuster Cruise Assist
The Crampbuster Cruise Assist allows you to comfortably maintain a steady throttle control on your motorcycle. It eliminates the need to clench your wrist for long periods of time and makes riding much more enjoyable. This easy-to-install paddle dramatically reduces wrist fatigue often caused by long rides. No tools are required for installation. Just spring it open and slip it on.
The Crampbuster is not a throttle lock, but rather a motorcycle cruise assist. With a relaxed hand on the throttle, this type of cruise control allows for much easier throttle operation. A Crampbuster is easier to operate and more versatile than traditional and mechanical motorcycle cruise controls.
Features:
Full-throttle control with a relaxed hand
Reduces wrist fatigue and cramping
Easier throttle operation
Eliminates throttle creep
Sold each
Sizing:
Standard size fits most 1 3/8" and smaller diameter grips
Oversize fits most 1 3/8" and larger diameter grips
Narrow size measures 1" inch wide by 3" inches long
Wide size measures 2 1/4" inches wide by 3" inches long
Manufacturer Part Numbers:
CB1 - Standard Narrow - Black
CB2 - Standard Wide - Black
CB2-PINK - Standard Wide - Pink
CB3 - Oversized Narrow - Black
CB4 - Oversized Wide - Black
CB4-C - Oversized Wide - Chrome
Reviews
Rated

3

out of

5
by
NoNicknamesThankYou
from
Difficult
The site didn't list dimensions for this item. I assumed that because it was listed as narrow, it wouldn't impinge on the grip too much. I have another, wider version from a previous ride that is too wide. It is actually about 1 1/2" wide and so takes up too much of my grip for my liking. I think the product is good but not suited to my application. As a side note, I was frustrated that FortNine had so few specs listed (which is not uncommon) but when I emailed to ask about returning the item, I got no reply. Usually their customer service is very good so this was overall, a disappointing purchase. I would give the product 4/5 but the service was a 2/5 so overall=3/5.
Date published: 2018-05-09
Rated

4

out of

5
by
jb48
from
Narrow better than large for me
I tried the large version first. It worked ok but I found it too intrusive on my twist handle; in case of a panic stop I feared it could interfere with quick decelerating/stopping operation. I then bought the narrow one and found it a better compromise between comfort and safety.
Date published: 2015-08-09
Rated

4

out of

5
by
Paul L
from
Perfect for cruising
Simple enough but gets the job done. Great if going out cruising on the open roads. I keep it on during my 20 min drive to work through the city but probably wouldn't for a longer ride with more stop and grow. Price makes it worth it alone.
Date published: 2018-11-24
Rated

5

out of

5
by
MattP
from
Excellent add-on!
My wrist and forearm were getting very sore on longer trips so I decided to try this out. Tried it on an 800 KM day trip recently and it took all the discomfort away.
Date published: 2017-09-20
Rated

5

out of

5
by
fgag
from
I bought this 2 months ago and I really love it. My hand doesn't hurt anymore even when I do over 300 km. When I drive in a town,I don't use it so I just roll it back, and on the road I roll it more for my comfort. Simple and very efficient. Does the job. I even have one for my sister.
Date published: 2017-08-14
Rated

4

out of

5
by
Parker13
from
Works great
This is what I needed for a long time, for cramps in my throttle hand. Installed easily, easily adjusts and can be installed and removed in minutes with no tools required.
Date published: 2019-09-05
Rated

5

out of

5
by
Fred
from
Works great.
Works good. Does not get in the way. I would recommend if one does not have cruise control.
Date published: 2019-08-28
Rated

4

out of

5
by
Smankwald
from
Worth every penny
Beginner rider or experienced rider, both will agree that proper throttle control is important. Science mumbo jumbo about leaverage aside, this product makes it so you can really fine tune your throttle output. It literally takes 3 seconds to install and the benefits are huge, especially if you take long road trips. Anything that cuts down on rider fatigue is a boon in my book.
Date published: 2019-08-27