Dainese Super Speed Textile Jacket
Item # : 189261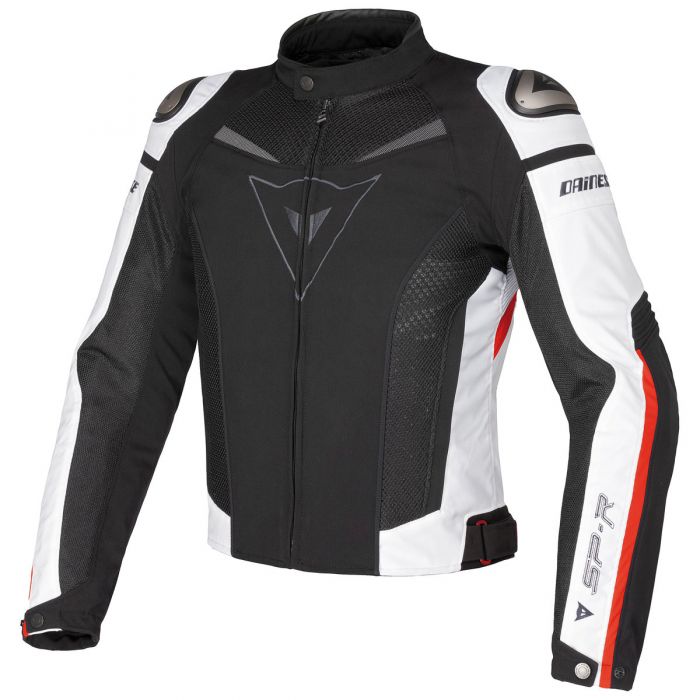 Dainese Super Speed Textile Jacket
Item # 189261
Description
Dainese Super Speed Textile Jacket
Combining exceptional ergonomics with unparalleled technical content has always been a priority for Dainese. The Super Speed Textile Jacket sets the new standard for summer jackets designed specifically for sport riding. The Super Speed boasts excellent technical features including composite protectors, aluminium inserts on the shoulders, various adjusters, chest and back protector pockets and a zipper for fastening to Dainese Pants. Made of mesh fabric, the Super Speed offers excellent ventilation, with a removable windproof insert that ensures correct temperature regulation even with changing weather conditions.
Protection:
Composite protectors certified to EN 1621.1/97 Standard
Aluminium inserts on the shoulders
Ergonomics and Comfort:
Duratex fabric
Boomerang fabric
Inserts in elasticated fabric
Neck adjustment
Wrist adjustment
Waist adjustment
Jacket-trousers fastening system
Perforated fabric
Removable windproof insert
Sanitized® lining
Other:
Pocket for G1 and G2 back protector
Pocket for Thorax chest protector
Reflective inserts
2 outside pockets
Internal pocket
Reviews
Rated

4

out of

5
by
The Duke
from
Good Buy...I am Happy with this Jacket
I wear the jacket running around town and to work. I have not completed any long trips with this jacket yet but looking forward to it. Con is that it can be hot when you are sitting at a red light, but it does have good ventilation, and is comfortable when you are moving. Seems to be made of very durable material. I checked the reviews on a lot of American sites prior to buying this jacket. (there just are not many reviews here) Very few cons were brought up about this Jacket on those sites. Which is the reason that I decided to try it and so far I have not had any issues. I have been using the jacket for about a month on an almost daily basis.
Date published: 2014-06-03
Rated

5

out of

5
by
Tech
from
Absolutely perfect
This jacket is a looker. Perfect fit, well made with excellent material. Perfect for warmer days where my leather is just too much. One con is that it should include a back protector.
Date published: 2018-05-26
Rated

5

out of

5
by
yabui2216
from
Super comfy jacket
it has plenty of airflow and will keep you warm with the two layers that can be removed or kept it is a super comfortable jacket that fits snug and looks great.
Date published: 2018-05-16
Rated

5

out of

5
by
James
from
Great jacket - fast delivery
The jacket fits great. Nice airflow. Two days after I bought the jacket I got an email from another store with a super sale on the same jacket. Their sale price was the same as the price I bought it at.
Date published: 2017-09-18
Rated

5

out of

5
by
lukeeelu
from
bought this because i need a air jacket. I'm usually a alpinestars guy but when i got this jacket... the jacket is so nice and comfy could not explain more. price is more expensive but you pay what you get.
Date published: 2016-09-21
Rated

5

out of

5
by
blackshadow
from
great for summer
Gives enough ventilation. More flexible compared to my other leather Dainese C2 Avro. The material is a bit hard to keep it clean and white...may need dry cleaning after a season.
Date published: 2016-08-14
Rated

5

out of

5
by
Dents
from
Amazing jacket
I bought this jacket at the end of March. The jacket is incredibly comfortable and fits much better then my previous Icon jacket. It moves a disgusting amount of air, the liner does little for keeping the cool out, but if you bought this jacket to stay warm well... you goofed. Great jacket, first time ever buying Dainese and I will definitely purchase more! Actually ended up buying some Vera Cruz right after because I was so impressed with the product.
Date published: 2016-04-27
Rated

5

out of

5
by
Canyon Rider
from
Love The Jacket
Very happy with this jacket, it fits better then my Dainese leather jacket (which I also like) due to the added adjustments, the removable liner makes it great for cool or hot days. Would buy it again!
Date published: 2019-09-11