DID 520 ERV3 Exclusive Racing Chain
Item # : 51415
$218.99 - $303.99
$168.99 - $303.99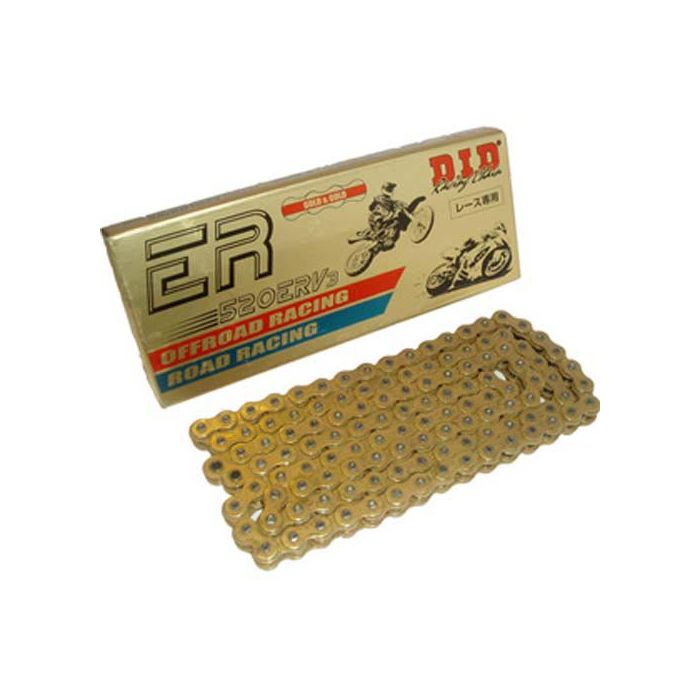 DID 520 ERV3 Exclusive Racing Chain
Item # 51415
Description
DID 520 ERV3 Exclusive Racing Chain
Features:
High-performance, lightweight, low-friction chains designed exclusively for racing
Pins for Exclusive Race chains are put through a special patented heat-treatment process that produces a surface 1.5 times harder than conventional carbon heat treating
Provides the highest wear resistance, tensile strength and impact resistance available
ER Chain are designed for sprint road racing
ERT & ERM Chain are designed for motocross
MX Chain was developed for motocross with Team Johnson Suzuki Bieffe in Europe. Features 11% higher tensile strength, 20% higher fatigue strength, 13% stronger anti-tight joint performance, 17% higher roller impact strength and 20% longer wear resistance
ERV & ERV2 Chains are designed for endurance road racing with special low-friction X-Rings
Specifications:
Pin Length: 18.6 mm
Roller Diameter: 10.22 mm
Plate Inner: 2 mm
Thickness Outer: 2 mm
Weight (100 Links): 1.5 kg
Tensile Strength: 8660 lbs.
Seal Type: X
Wear Resistance (Index=Std. Chain=100): 3100
Rivet Connecting Link: Included
Clip Connecting Link: N/A
Engine C.C. raing: 750 C.C. (Rally & Enduro, Superbike & Supersport)
Questions
Does this chain come with a rivet style master link? 
Hi Justin, The connecting link that is included with this chain is a rivet link. Charlie | Customer Service | Canada's Motorcycle
Date published: 2015-03-11
Is this a x-ring erv3?
Yes, these are designed for endurance road racing with special low-friction X-Rings. Sam | Customer Service Canada's Motorcycle
Date published: 2015-01-08