Dunlop D606 Dual Sport Rear Tire
Item # : 25675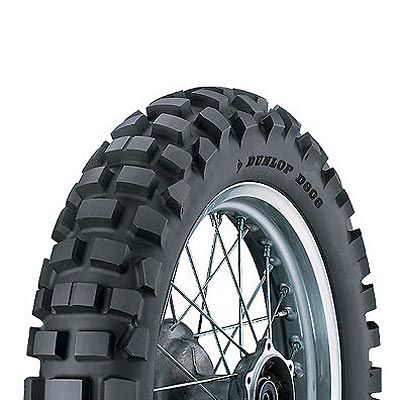 Dunlop D606 Dual Sport Rear Tire
Item # 25675
Description
Dunlop D606 Dual Sport Rear Tire
Dunlop designed the D606 tire to be street-legal but with an emphasis on aggressive off-road riding and great durability.
A full-depth tread pattern designed for rigorous off-road use yields excellent traction on everything from hard-packed fire roads to soft single-track trails.
At the same time, the D606s tread compound is engineered for good highway durability and grip.
D606F front tire matches with D739 A/T rear for desert riders.
Reviews
Rated

5

out of

5
by
Flatcakes
from
Don't let looks fool you
Purchased front and back tires for my KTM 250 dualsport based on a recommendation from my mechanic. True to his words, these tires look intimidating due to the 90/10 offroad bias, , but after several hundred kms they haven't given me one issue, and they can even hang corners pretty good too, due to their stiff sidewall and strategically placed blocks. Cupping may be an issue later on but you have to remember these are a dedicated dirt tire that somehow snuck past the DOT, not a 50-50; so if you're concerned with pavement wear, determine your riding needs first. Hardly if not no speed wobble or vibrations coming from the front tire once the wheel was balanced at highways speeds. My biggest advice is ride these like they were designed to be ridden, they work plenty good on the asphalt and are killer in the dirt, but you're not a MotoGP superstar, so don't expect them to perform like this! All in all I'd put these on again, no problem.
Date published: 2016-12-14
Rated

5

out of

5
by
zooo
from
great for the big trips.
my 3rd set of these for the ktm exc. I started buying this tire more for the longivity reports i heard from others. Have gotten great long dual sport rides, with dirt and tar. Very strong sidewall so be ready for a tuff tire change compared to weaker tires.
Date published: 2015-12-06
Rated

5

out of

5
by
superdave
from
Works well in a 21" on an F800GS
Used to run TKC80s which were cery squirrelly on loose gravel and collected mud. These are excellent in gravel and mud, and althpught they have an odd wear pattern - heavy bike under braking - and dont last that long, for offroad, they are excellent.
Date published: 2018-08-26
Rated

5

out of

5
by
UnDR650
from
Passe partout tout terrain
Excellent pneus pour un DR650 autant sur la route que hors route, plus particulièrement a l'aise en hors route, sur la route par contre son rendement sur la route ne diffère pas beaucoup de la moyenne des pneus 50/50, évidemment au Québec on ne fais plus la différence entre la route et les sentiers, par conséquent pour une moto comme une Dr650 et autre motos de cette catégorie le D606 s'avère un excellent choix, ne vibre pas trop, semble bien coller par contre c'est un 90/10 et non l'inverse, un minimum de jugement est nécessaire. Pour ceux qui préfèrent le hors route a la route et qui désirent se rendre au sentier par la route le D606 est un bon choix
Date published: 2017-03-30
Rated

5

out of

5
by
Mark
from
Good mileage
Just ordered my second D606 because the first treated me well. I have 3500 km on my current D606 rear tire which is getting worn and probably could get another 1,000 on it if i wanted to. Lots of gravel roads miles , sand , dirt and some pavement .
Date published: 2018-02-05
Rated

4

out of

5
by
xlcc
from
DR650
I use my bike about 145km. a day, highway and logging roads to work and back home.The tire can get a little sqirrly when lay over hard on pavement but still hang in there.It is a bit rough on lined roads when new.On gravell and dirt it really shines.A tough carcass you can trust,likey ride while flat.This is my 2nd 606 and don't see any reason to go back to other tires i've used in the past.Best one wheel drive tire for dual purpose I know of.Also loved the good price and free shipping and great service.
Date published: 2013-06-08
Rated

5

out of

5
by
Macdaddy
from
Dunlop 606 500 excf
Great tire. Seems to b fairly tough for holding upto to DOT applications.
Date published: 2019-11-18
Rated

1

out of

5
by
hightower
from
would not buy again
if ya have a dunlop d606 rear and want a good match get the Pirelli mt21..its a much better front tire..the dunlop seems to be alot less stable off and on road..
Date published: 2019-08-27
Questions
Will the 606 work with a tubeless system like Nuetech?  Is the 606 reversible?
Yes, the Dunlop D606 Dual Sport Rear Tire would work with a Nutech system. It is not recommended to reverse the tire installation side.
Date published: 2019-08-28
Can this tire be used without a tube? I'm on a KTM with a rim band and TPMS. 
This is a tube type tire so it is not recommended to use without a tube. You can contact Dunlop directly though and they may be able to confirm if you can use it considering you have the TPMS
Date published: 2019-10-11
Dunlop D606 Dual Sport Front Tire Will this fit my 1997 Suzuki DR350SE?
If it has a 21 inch rim it will I just mounted it on a F 800 GS for the second time  It would fit my KTM 250 also 
Date published: 2018-03-08