Dunlop D908RR Rally Raid Enduro Rear Tire
Item # : 25906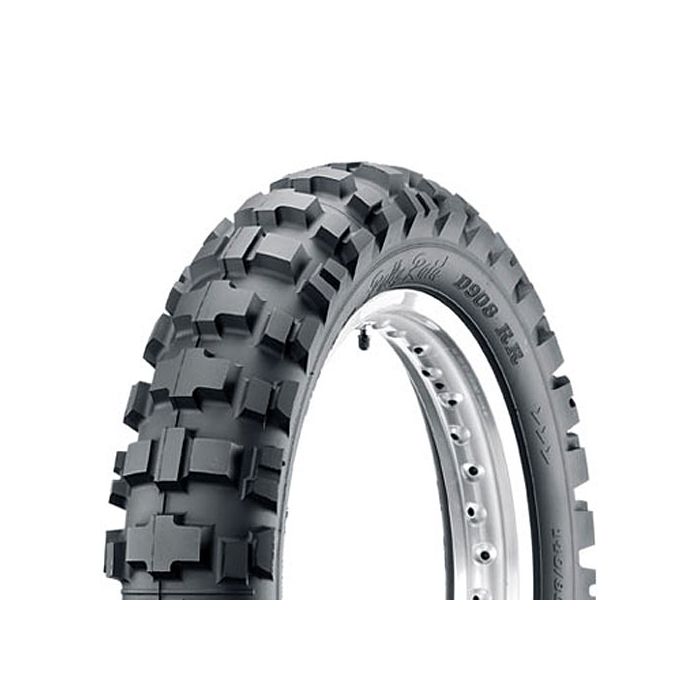 Dunlop D908RR Rally Raid Enduro Rear Tire
Item # 25906
Description
Dunlop D908RR Rally Raid Enduro Rear Tire
The dual-sport D908RR is designed to handle severe racing and cross-country conditions and provides exceptional durability and grip over rocks, hard ground and pavement.
Designed specifically to cope with the speed, horsepower and weight of large displacement rally-type dual-sport machines.
The D908RR is DOT-approved for road-legal use.
Reinforced tread blocks yield exceptional traction and stability.
Generous open space around the shoulder area provides ultimate traction in sand and mud.
Heavy-duty casing for excellent bump absorption and allows lower air pressures for a larger footprint and increased traction.
Reviews
Rated

4

out of

5
by
mannpad
from
Great tire KTM 990
I mounted this tire to participate in the Horizons Unlimited Mountain Madness in Panorama BC. A mix of paved roads, gravel hardpack and some slick single track. My buddies were envious of my traction and i did not even air down.
Date published: 2016-08-13
Rated

4

out of

5
by
Jason
from
Not so simple...
I went from a 140/80 TKC80 on a Husqvarna 701 to these. First ride was a logging road and I thought I was going to die. The bike wanted to pinwheel badly above 80kph. I put a few heat cycles in them and it settled down a bit. But I still didn't like them. What a hassle to get them on too. A week later I'm riding a medium level hillclimb up a mountain and then a medium up from a river bed. The bike was bouncing all over the rocks and mud and did not want to climb. The former TKC80 tires could ride out of there with a monkey on the throttle, and were recommended by Husqvarna to be at 26psi front and rear. I was running the 908rr at 20 psi and it was deadly. I was ready to put my worn out TKC80s back on and sell the 908rr. That night. Lightbulb. Dropping the pressures down to 17 made the bike back into the killer it was. The suspension was able to work. Later in the week, I got stuck on an elk trail for 60kms with gnarly rock. I aired down to just about able to press the valve in and the bike was amazing. If you put these on and they disappoint, please play with lower pressure than maybe what you are used to. They are an unforgiving carcass, almost like run flat tires. So let some air out and let the suspension work in tandem instead of fighting the hard tires. Rating currently is "good". Let's see how long they last compared to the TKC80, which lasts around 1200kms.
Date published: 2017-10-19
Rated

4

out of

5
by
Muisic
from
Its my second tire and i love and recommend this tire
Date published: 2018-11-05
Rated

4

out of

5
by
Ihop
from
good tire for expedition use off the beaten track
I am on the second rear of these tires and find them to be top shelf... They are fairly expensive so I will only use them for longer trips where I expect there will be some gnarly country to cross rather than burn them up with everyday use... The tire has a good strong carcass with a tread pattern seems to last about 20% longer than similar purpose tires, which inspires confidence when you are in the back country miles from civilization... It is one of the few tires available in a true 140 x18 size which really work well on my 640..
Date published: 2016-11-24
Questions
Tube or tubeless ? I need one with tube
You can use this with a tube. Tire is great on big dual sports. F800GS, HP2 etc. I didn't like it on my Husky 701.
Date published: 2018-05-16