Dunlop Elite 3 Front Tire
Item # : 25781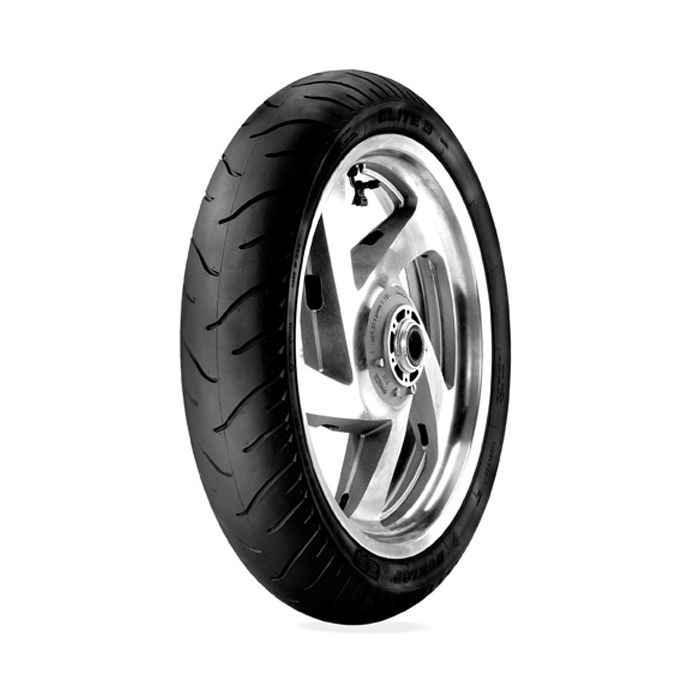 Dunlop Elite 3 Front Tire
Item # 25781
Description
Dunlop Elite 3 Front Tire
Substantially improved wear resistance traction and wet weather performance
New profile modeled after the shape of modern radial construction tires
Better response and a solid feel through turns for confident cornering
The high-mileage E3 tires suit a wide range of large-displacement touring motorcycles as well as a majority of the most popular cruiser bikes available
H-rated for speeds up to 130 mph
Sizing Information:
130/70HR-18 = GL1800(02-05), VTX1800 (02-05)
130/70HB-18= GL1500 88-00/Hammer 2006
Reviews
Rated

5

out of

5
by
Maverick
from
excellent mileage on tire
I put these on my 2014 Goldwing and headed out to the east coast NF, Pei. round trip was 14600 KM towing a trailer and according to highway scale 960.lbs on rear tire. road and average 110kmh in 30+ temps. after trip still had 5mm of tread left
Date published: 2016-11-05
Rated

4

out of

5
by
Sete Bond
from
Dunlop Elite 3 Radial Tire
The Dunlop Elite 3 Radial Tires are the best tires I have found for my GL1800 - this is my 4th set of them. They provide good traction in all conditions. I ride fairly assertively, and never with a passenger, but am averaging only about 23,000 km per set of tires - a far and disappointing cry from the 35,000 km or so I got from bias ply E3's on my GL1500. This is my 3rd purchase of these tires from Canada's Motorcycle - best price I can find and good service.
Date published: 2016-01-12
Rated

5

out of

5
by
Chuck
from
Just as Expected
Good tire, now have a matching set, bike corners with more confidence and better in rain, Had the Dunlop 404 previously,
Date published: 2016-08-15
Rated

5

out of

5
by
ALAN
from
Great Tire
Great tires. Third set I have put on and will do it again. Got 25000 Km on the last ones. Handle great in all conditions
Date published: 2016-08-14
Rated

4

out of

5
by
McRider
from
light and nimble handling
I just had a rear installed on my '13 Goldwing. It feels great with very nimble handling. I replaced my Bridgestone's Exedra G's with the Dunlop but trying to see how long these tires last. I have had 3 Bridgestones in the past and was quite happy with them always getting 18,000 k at the top of the wear mark. I had tried an Avon but those only lasted to 16,000 k and the sidewalls are not anywhere as stiff as the Bridgestones nor the Dunlop. The Dunlop has even stiffer sidewalls. A bit more expensive than the Bridgestones but if they last longer they may not be.
Date published: 2016-05-27
Rated

5

out of

5
by
Kimmie
from
great tire
2nd tire just about wore out found excellent wear and load handling approx.15000 miles on the tire now
Date published: 2015-07-30
Rated

4

out of

5
by
dmac
from
18000 kms on my Victory Vision Tour.Great overall performance and wear.Ordered a new set Monday at 2pm delivered Wed 10am. Congrats to both Canadas Motrocycle and Canda Post great service
Date published: 2015-07-15
Rated

4

out of

5
by
gary
from
good tire great mileage would buy again good traction on wet or dry roads
Date published: 2015-07-05
Questions
I don't see a ply rating! I.e. radial vs cross. ???
Hi Mike, For a radial tire, there will be an R in the tire code. All other tires are bias ply. ~Danielle, Customer Service, Canada's Motorcycle
Date published: 2015-06-03