Dunlop Elite 4 Rear Tire
Item # : 510472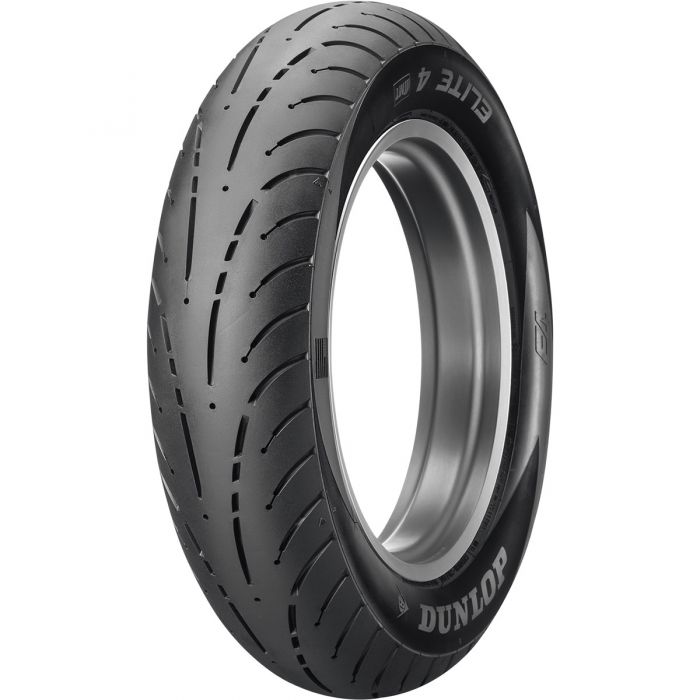 Dunlop Elite 4 Rear Tire
Item # 510472
Description
Dunlop Elite 4 Rear Tire
Mileage, mileage and more mileage: Dunlop's all-new Elite 4 with MT Multi-Tread rear tires provide significantly more mileage than single-compound tires.
All Elite 4 rear tires utilize Dunlop's MT Multi-Tread technology with a long-wearing compound in the center of the tire and a lateral-grip compound on each shoulder, providing increased mileage without sacrificing handling.
New tread pattern helps provide class-leading wet-pavement performance, even wear over the life of the tire, and less road noise.
Available in radial and bias-ply construction, the Elite 4 fits hundreds of touring, cruiser and standard bikes, including current and non-current machines.
High-mileage, even-wear characteristics, and great grip- the all-new Elite 4.
H-rated for speed up to 210 km/h (130 mph)
Reviews
Rated

5

out of

5
by
Fullsaddlebags
from
Another trip south to Utah
I have ridden 28,000 kms on the rear Elite 4 which was installed July 1 2017. Three trips south of the boarder in heavy rain ,temps up to 120 in the desert mts in Denver Col., and more I now have 110,000 miles on my Indian Chieftain and running strong. I put a lot of faith in Dunlop tires as these are truly the only part touching the asphalt in all road conditions .Great tire!
Date published: 2017-08-14
Rated

5

out of

5
by
Tinker
from
Dunlop knows a thing or two about motorcycle tires
I have Elite3's on a Goldwing, and they have been excellent. The last one went 30,000 km and is still not too bad. Most importantly, if you watch inflation pressure, the stay straight, and don't cup. The E4 has no wobble or run-out, and shows every sign of being as good. If it happens to be a bit better, it will be truly wonderful. A bit more money than some, but far more satisfaction.
Date published: 2017-08-10
Rated

4

out of

5
by
Viper
from
Fitted on my GL1800
Just put 2200 Km's on this tire. Handling in the corners is great. Seems to disperse water well. Does not like rain grooves.
Date published: 2017-08-24
Rated

5

out of

5
by
Barry
from
Great wearing
I bought E4's front and back before i went on my trip 6700 km into states. I rode in +110°f weather and also got into some heavy rain.these tires handled it great...no hydroplaning.
Date published: 2017-08-09
Rated

5

out of

5
by
tinker
from
Great tires
I have had lots of Dunlop E3's, and they were great. The E4's so far seem to be at least as good. I've got these about half worn out, and they are everything I hoped for. They look like they will go between 25 to 30,000 km, and are well behaved.
Date published: 2017-09-23
Rated

5

out of

5
by
David
from
Great Tires
Very happy with this new series tire, great handling and a solid feeling on both dry and wet roads.
Date published: 2017-08-09
Rated

5

out of

5
by
fuddud
from
very fast delivery
the tire is of good quility and meets the proper fitment for my goldwing
Date published: 2017-09-17
Rated

4

out of

5
by
bindadogg
from
Great improvement in ride and handling!
My first impressions were that my bike rides and handles way better than it did with the new tire. I have not ridden enough miles to comment on how many miles the tire will give me. I replaced an Elite 3 Dunlop and I do believe this tire is an improvement.
Date published: 2017-08-12
Questions
Is the 180 60 r16. Radial?
Yes, the R is for radial.
Date published: 2017-11-12
Are these compatible with an E3 rear tire I assume thy will be but have to ask Enjoy
Even more so the Dunlop Elite 4 exceed my expectations 
Date published: 2017-07-31