Dunlop Sportmax Q3 Plus Rear Tire
Item # : 558112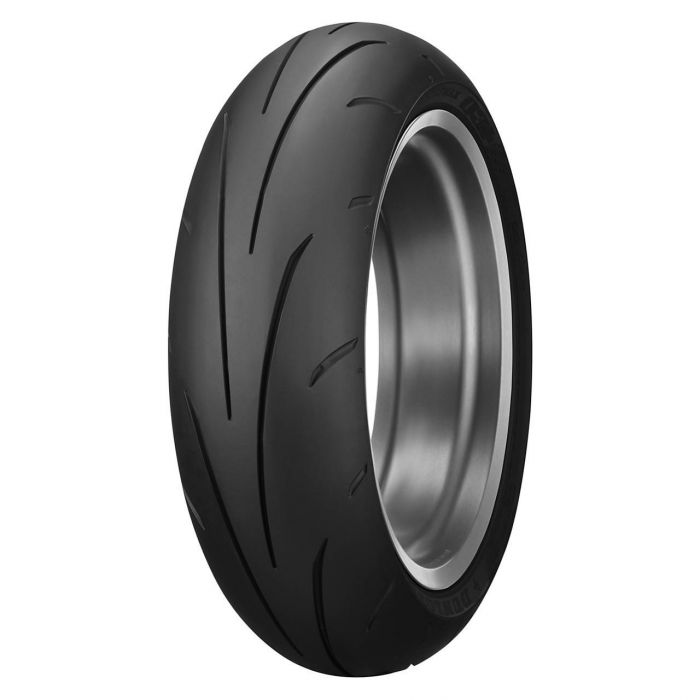 Dunlop Sportmax Q3 Plus Rear Tire
Item # 558112
Description
Dunlop Sportmax Q3+ Rear Tire
The groundbreaking Dunlop Sportmax Q3+ offers more longevity on the street and the track, plus more grip, stability and steering feel. More than 80-percent of the Q3+ has been redesigned compared to the Q3.
In the "Plus" iteration of the Q3 - the only hypersport tire made in the U.S.A - Dunlop is touting an 80% redesign, with only the best features and the confidence inspiring character remaining untouched from the previous Q3.
Major updates come via new tech and a new center compound in the rear MT Multitread tire - resulting in both higher mileage and improved cornering performance. The Q3+ retains the corner-crushing CFT "Carbon Fiber Technology" sidewall reinforcement pioneered in the Q3 and features a very similar, steep, aggressive tread pattern.
The major trick up Dunlop's sleeve for the Q3+ is especially exciting for riders looking to level up at the track - the Q3 Plus marks the inception of Intuitive Response Profile™ (IRP) technology in the Q3+ rear tire, allowing for greater latitude in choosing a new line mid-corner, while also providing remarkably linear, predictable steering. That means a wider margin for error so you can push yourself and your bike to new limits at the track.
Features:
Only hypersport tire made in the U.S.A., the Q3+ was designed at Dunlop's Buffalo, NY headquarters, and manufactured in the Buffalo plant on the same high-tech production equipment as Dunlop's racing tires.
Dunlop's Huntsville Proving Grounds is the only motorcycle tire test facility of its kind in North America, and the Q3+ was tested extensively at Dunlop's Huntsville Proving Grounds as well as several racetracks in the U.S.
Dunlop's Carbon Fiber Technology (CFT) employed in the Q3+ uses carbon fiber reinforcement in the tire sidewalls for exceptional cornering performance and feel.
Aggressive Q3+ tread pattern uses minimal tread grooves that are long in length to enhance wet-weather performance.
Intuitive Response Profile™ (IRP) technology in the Q3+ rear tire allows greater latitude in line choice while cornering, plus amazingly linear steering.
MT Multi-Tread™ technology in the Q3+ rear tire uses a silica-infused, long-wearing compound in the center of the tread for longer tread life, and special lateral grip compounds on the left and ride shoulders for outstanding grip.
The all-new Q3+ offers superb grip, stability, steering feel and longevity on the street and on the track.
Reviews
Rated

5

out of

5
by
Lee RideFar
from
Excellent Track Day Tire
I went from Michelin Pilot Road 4s and Pilot Power 3s. After joining the expert group I was past the limits of the Michelins. The Dunlop Q3+ were fantastic. Solid the entire day. I never had a 'moment' with them, which means I still can push them. I run 1:57s at the Ridge Motorsports Park and will go for the 1:55s next season on these tires. Maybe even lower...
Date published: 2017-09-17
Rated

5

out of

5
by
Bking
from
Q3 keeps getting better
I have these on a Bking and have used the Q line for 3 versions now. These new Q3+ have about 2500 km on them after my recent road trip and made the ride great. They seem to tip into corners easier than the previous Q3 and the tread life looks to be better as there isn't any flat spot in the middle that normally happens after a road trip. I average a little over 6000 km per set of tires. If you ride a sport bike and enjoy making the chicken strips as small as possible on the street then I highly recommend the Q3+
Date published: 2017-08-17
Rated

5

out of

5
by
D man
from
Q3+ is great, Feels soft and wants to grip
I purchased a set from fort nine. Shipping took a week to get to bc so i was happy w that. Thanks fort nine. These tires are awesome. At 38psi in the rear you can still push on the tread. It is a softer style of compound it seems . Feels like your riding on a nice cloud that will grip n compensate. If you ride hard these tires kick butt!
Date published: 2017-09-09
Rated

5

out of

5
by
Glass Rebar
from
This review is for both the front and rear Q3+.
TL;DR I'm blown away by the Q3+. These tires let me slice through corners and commute into town, all the while without breaking the bank. I will definitely be buying them again for the next tire change. I've put about 3000km on them so far and there's been less tread wear than I expected. I haven't done a track day with them, but I do ride quite aggressively. They held up well through a couple rainstorms too. When I bought my first bike, I thought it was just inexperience that caused me to have a hard time on twisties and turning at intersections. I even had a couple sketchy moments where the rear tire (that came with the bike) struggled to hook again after hitting a pebble. Following a nail in my rear tire, I did some research and splurged for the Q3+. Now with these new tires, it's as if a few bowling balls on a chain dragging behind me have been removed from my bike. I can turn on a dime, slice through twisties and I feel much more agile in traffic. My confidence while riding has improved significantly now that I'm glued to the road. I even hit a bump in the road the other day that caused me to grab a couple inches of air, and the Q3+ hooked again like it never left the ground. If you're doing the tire change yourself, expect to struggle a bit getting them on the rim. They're quite stiff and the last section of rubber took some elbow grease to finish installing.
Date published: 2018-08-26
Rated

5

out of

5
by
Death Wish Rider
from
Amazing grip and durability.
This is my second sportmax Q3+. The previous one lasted a whole season (over 7000km) and still has about 20% tread left on it. It provides confidence inspiring grip in the twisties and superior durability in the centre of its tread. It is by far one of the best tires I have used on the street. Gone through multiple heat cycles and the grip has not changed. It wears very slowly in the middle. I have done high speed runs for nearly 100km distance several times last year and took it to the edge on the twisty roads daily. Absolutely amazing! Strongly recommend to anyone who is no slouch on two wheels. I ride 2003 Cbr954rr, no traction control or abs and this tire has never given me a scary moment.
Date published: 2019-01-18
Rated

4

out of

5
by
Jkden
from
Good on a heavier ZX-14
Have the older Q3's on a heavier ZX-14 stretched and with Nitrous... it is my daily drive. I can lean much more on them then the Evo's I had, more confident, and very small chicken strips on the street - on a big ZX.... can spin the tire in first and sometimes 2nd gear; but once warm, the rear sticks pretty well and really snaps the neck, more than my R1... Plus reasonable wear, 2nd season on the back with about 4500 km and the rear will still be good for a bit longer; not bad on a 530 lb bike that I leave black streaks with. Front wheel is also showing reasonable wear. Will go with the Q3+ when needed. Recommend.
Date published: 2018-11-12
Rated

5

out of

5
by
RogueNinjaBoy
from
The best gripping tire for the price!
Awesome tires that inspires the most confidence when riding twisty roads and curves. I don't really have to think about what these tires are even doing into corners the just grip beyond belief. I always recommend matching front and rear tires as to have the smoothest ride and handling without any problems. These tires definitely last a bit longer than the regular Q3's that were also a great tire. Simply put, my skill level is way below what these tires are capable of on the road. Someone with a higher performance machine and skill level would probably have no problems doing track days with these tires and still safely ride home afterwards. I will definitely buy these tires again for my sport touring motorcycle.
Date published: 2018-11-05
Rated

3

out of

5
by
puff
from
Good for hot dry track, mostly..
The cost Is pretty good at 200-250. No fun at all on drizzle to wet roads. Really good for drifting. Wheelies seem to slip more than you want. Strong composite if you dont want to often.
Date published: 2018-08-07
Questions
Are the tires you receive come with a fairly new manufactured date or are they like 1 or 2 years old?
They were pretty fresh. Less than 3 months from mfg i believe. I dont know exact number but they were not old when i got em!
Date published: 2019-01-10