Dynojet Jet Kit
Item # : 105137
$21.32 - $575.99
$21.32 - $575.99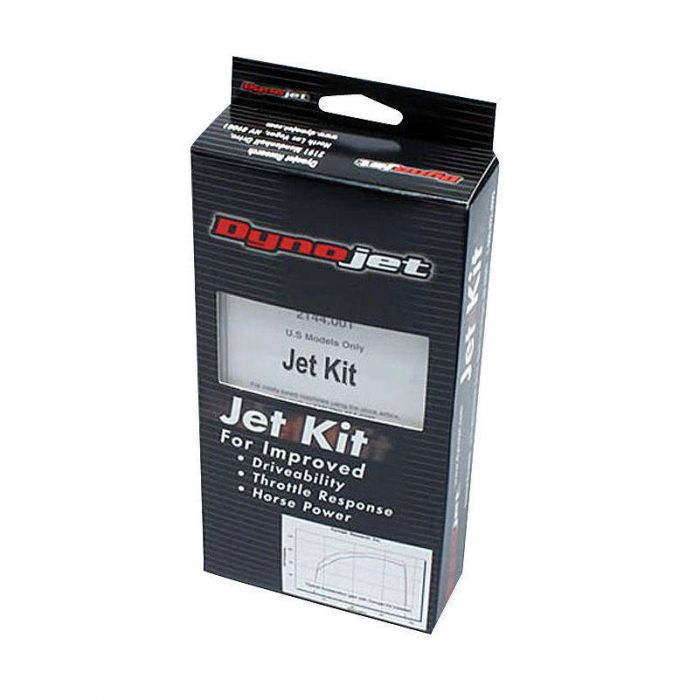 Dynojet Jet Kit
Item # 105137
Description
Dynojet Jet Kit
Features:
Stage 1: stock engine/ filters, stock/ modified pipes; about a 5% power increase
Stage 2: stock/ mild modified engine, stock/ modified pipes, stock/ modified filters; about an 8% power increase
Stage 3: stock/ mild modified engine, stock/ modified pipes, individual air filters; driveability may be compromised, N/A for some motors; about a 10-15% power increase
Stage 7: race-only, high rpm, not for street use
Kit includes jets, needle, spring, shim and instructions
Reviews
Rated

5

out of

5
by
Lowell
from
Honda shadow 750 Jet kit
Dynojet claims the stage 2 kit will yield an extra 2 hp. My Shadow can now accelerate on a steep hill where it could just hold 80 KPH ( in 5th gear ) before the kit installation. Although I did not dynotest before and after installation 2 hp seem to be a reasonable estimate of the power increase. The only problem I had was several very stubborn screws that had not been turned since the bike was manufactured 11 years ago. There was absolutely no trouble with the kit. Dynojet's instructions were clear and precise. Installation was easy. Idle, fuel economy, and cold start performance were not affected. I now have more power for climbing hills and passing. Anyone who can take a carburetor apart can install this kit with good results.
Date published: 2017-03-29
Rated

5

out of

5
by
Spud
from
Works like a charm
Put the stage 2 on a 1988 Kawasaki ZX750 with pod filters, easy job, about 5 min each carb. I live at altitude and it still works fine, bike deserves after market exhaust just to get the most out of it.
Date published: 2015-06-02
Rated

4

out of

5
by
Gear Head
from
Great performance, but...
Results of this kit are 100%! But be careful to use the proper drill bit for your slide vent hole as there are two drill bits in the kit. (It's the smaller one)
Date published: 2015-06-02
Rated

5

out of

5
by
Timothy
from
good instructions
Kit is easy to install. Instructions include exactly how to DE restrict the bike. Huge noticeable difference in bottom end power. Just a note their numbering for their main jets are different than how the stock jets are numbered.
Date published: 2016-08-13
Rated

3

out of

5
by
Marc
from
Ok Kit
Was better than stock jetting but have since switched to a JD Jetting kit and the JD is much better so 3 stars for this one. I think CM should consider stocking the JD kits though :)
Date published: 2015-06-02
Rated

5

out of

5
by
Kyle
from
Includes everything needed
I bought this about a month ago for my drz 400 and it comes with everything needed extremely easy to do at home and only took an hour or 2 to complete the bike runs amazing now I have less back fire better mileage and I've noticed better response in bottom and top end
Date published: 2019-11-23
Rated

4

out of

5
by
Billy26
from
Offre une réelle différence sur la moto, désormais elle réagit à la commande des gaz
Date published: 2019-11-12
Rated

5

out of

5
by
ItsJunk
from
Excellent results
The jet kit absolutely changed my bike, woke up from a factory tune, tied up against emissions constraints. Both carbs are now synchronized, and you can hear the improvement. strongly recommend an OE gasket kit while before you start.
Date published: 2019-09-11
Questions
Will this work with my stock 07kx250f carb?
Yes, the Dynojet Jet Kit is compatible with your 2007 Kawasaki KX250F.
Date published: 2019-10-08
What size jets come in this kit I need 158/55 for my stock keihin carb for xr650l 2013
The jet sizes included are different depending on your vehicle. If you enter the year, make and model of your vehicle on the product page, the vehicle specific part will be recommended for your bike. You can then view the installation instructions in the item details, and the included jets will be listed for your specific model
Date published: 2019-10-07