Dynojet Power Commander FC
Item # : 480734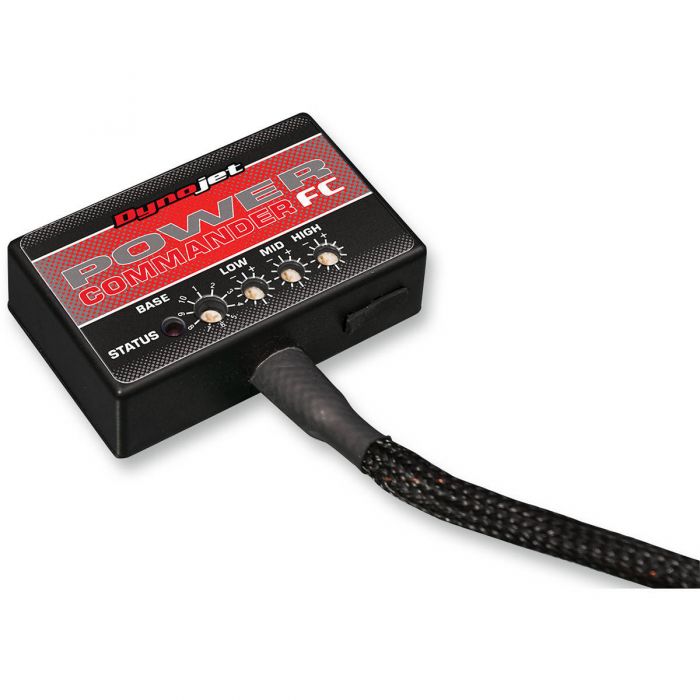 Dynojet Power Commander FC
Item # 480734
Description
Dynojet Power Commander FC
The Power Commander FC is a new plug-n-play fuel management device pre-programmed with Make/ Model specific maps. In addition the Power Commander FC has the added ability to modify or change these maps on the fly without a computer.
Users can literally select between a Power Commander FC Map, custom-built maps, or even fine tune low, mid or high rpm ranges while sitting on the bike and without plugging into a computer. Standard +/- 10% increments from selected map settings, different ranges are available using the supplied Control Center software.
Users can also load up to 10 of their personally built Power Maps into the Power Commander FC and select between them while in the saddle - eliminating the need to "re-boot" with the computer every time a new map is desired.
Features:
Uses OEM style connectors and high quality wiring harnesses
Small, lightweight and easy-to-fit on the bike
Pre-programmed with PCFC Power Maps specific to make, model
No computer necessary for modifying fuel management
Fully adjustable computer compatibility for ultimate tuning and personalization
Software is compatible with Power Commander, so you can download Power Commander maps to the PCFC
Integrated O2 Optimizer where Applicable
+250 / -100 fuel change. Enough adjustment to cover almost all modifications
Enhanced "accel pump" utility (increased adjustment and sensitivity ranges). When you need to adjust your fuel curve for quick throttle inputs.
Note: This unit does not work with any of the Dynojet accessories - SFM, Ignition Module, shifter, LCD.
Reviews
Rated

5

out of

5
by
Ash431
from
Love it
I bought this for my motorcycle that has an aftermarket exhaust and intake. I am not in lean conditions anymore. My motorcycle runs cooler.
Date published: 2018-02-22
Rated

5

out of

5
by
Cameron
from
Compact and efficient
If all you need is a simple tuner without all of the accessories the V series has, or you are working with a budget, this is a good option. It is simple to install, very small and easy to use, and easy to tune.
Date published: 2017-07-30
Rated

5

out of

5
by
kman
from
great product!
using the pcfc in conjunction with an a/f monitor and able to set the fueling easily on my Versys. works great and easy to install.
Date published: 2018-05-23
Rated

3

out of

5
by
FrankiB
from
A little disappointed
The item was delivered properly as always. The installation was fairly straightforward. The engine runs well but not great. I am disappointed at the fact that only one "stock" map is available for my bike. I guess it's my bad for not validating before My purchase. To be fair, It kind of defeats the purpose of a device that is supposed to support exhaust and air filter upgrades and modifications. So be advised!
Date published: 2018-05-09
Rated

5

out of

5
by
tommy
from
did what i expected
fairly easy install if you have some know how .works as expected
Date published: 2017-10-25
Rated

5

out of

5
by
Simon
from
Simple et efficace
Facile a installer et à communiquer avec l'ordinateur.
Date published: 2017-06-23
Questions
I have a 2015 Kawasaki zx-6r that has a two brothers slip on. The PCFC sounds like what I'm looking for but when I look on the PC website there are no listed maps for my bike. Does this mean there are pre-loaded maps that will work or no maps at all?
Yes, this item is pre-programmed with PCFC Power Maps specific to make, model, and as the item shows this is a guaranteed fit, your bike map will be on there
Date published: 2019-03-29
Wpould it fit on Suzuki V-Strom 2011 ? And what is the differece with a Commander V ? Thanks,
Yes. If you enter the year, make and model of your vehicle on the product page, you will be able to order the vehicle specific part for your bike. The FC is more of a "no frills" option for consumers who just want reliable and basic functionality. Its capabilities are still broad enough to allow for the use of various pre-programmed maps. The drawback is that it doesn't work in conjunction with many of Dynojet's accessories like the quickshifter, limiting its performance. If you want to go all our with accessories like the quickshifter or want an even higher level of tune-ability, the Power Commander V presents a superior option. This controller also allows for gear inputs and analog inputs so that users can map adjustments based on multiple factors.
Date published: 2019-10-04
Hi there, I have a 06 ninja 650R and I'm just confirming that I can simply just plug this in and not have to worry about messing around with it on my computer and such? I'm more less wondering can I just get away with the pre loaded maps? 
Hi, I installed a commander just 2 months ago, and it's really straight forward. I just had to plug mine in and select the model year on the commander to get the right map - that's it. It's made a big difference and I got rid of an annoying hiccup that my bike had around 2800rpm. My bike is a 2011 Suzuki Vstrom DL1000. I would recommend this PCFC. I hope I was able to help you.
Date published: 2016-07-28
I have a 2011 M50. I have added the K&N air filter and Vance and Hinze staggered short shots. Will this work to stop the backfire?
Check If they have a tune for your bike/setup before purchase. They did not have correct tune for my setup however when I contacted DynoJet they offered free dyno tuning. I ended up just using a tune for a similar setup and it worked well.
Date published: 2018-07-13