Dynojet Power Commander V
Item # : 105576
$122.99 - $941.99
$122.99 - $941.99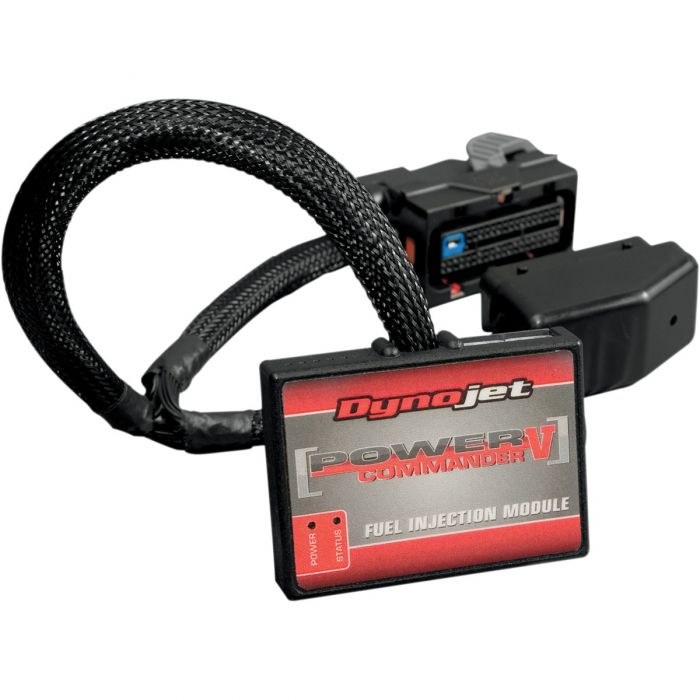 Dynojet Power Commander V
Item # 105576
Description
Dynojet Power Commander V
Features:
Reduced size from PCIIIusb (less than half of the size of PCIII)
USB powered from computer (9 volt adapter is no longer needed for programming)
2 position map switching function built in (map switch not included)
Gear input (allows for map adjustment based on gear and speed)
Analog input (allows user to install any 0-5 volt sensor and build an adjustment table based on its input such as boost or temperature)
With gear position input connected the PCV is capable of allowing each cylinder to be mapped individually and for each gear (for example: on a 4 cylinder bike with a six speed transmission there could be up to 24 separate fuel tables).
Unit has a -100/+250% fuel change range (up from -100/+100%). This allows more adjustment range for 8 injector sportbikes
10 throttle position columns (up from 9 on PCIIIusb)
Enhanced "accel pump" utility (increased adjustment and sensitivity ranges)
Software is compatible with Windows ME/2000/XP/Vista; opens all maps with .djm extension
USB cable and 9V battery power adapter are included
Made in the USA
Reviews
Rated

5

out of

5
by
EdmBikr
from
Must have!
If you go with high flow air and pipes this is your best bet for tuning your bike right.
Date published: 2015-06-03
Rated

5

out of

5
by
klum44
from
Bought this a month ago. Thumbs up!
easy to install and set up. maps were a breeze to download and install. got way more power and torque right away. No Bull. it really works.
Date published: 2016-01-10
Rated

4

out of

5
by
xprairie
from
Does the trick
I just installed the power commander went very smooth. Very easy to install. Went for my first ride and there is a noticable performance and sound difference. I have a Vance & Hines Twin Slash Pipe and the power commander V has helped the performance
Date published: 2017-03-30
Rated

4

out of

5
by
xprairie
from
Does the trick
Dyno jet power commander V was very easy to install took me about 1 hour. The only tricky part was moving the Gas tank enough with out taking it off completely. Installed 1 of the tunes that was on the web site. Bike fired up right away no issues at all. The tune I picked corrected the backfiring I was getting under deceleration. I've put on about 500 km. since the install and find the bike performs better than ever. I have a Vance & Hines twin slash pipe on the bike so this definitely helped. I and going to experiment with the tunes as the summer goes on. I am very happy with the purchase.
Date published: 2017-05-04
Rated

5

out of

5
by
FZ rider
from
Great product!
I've used Dynojet Power Commanders before and have always had a high opinion them. This one is great, as expected. The O2 optimizer does a great job improving drivabililty in closed loop.
Date published: 2016-07-01
Rated

5

out of

5
by
Anonymous
from
Excellent product
Another excellent product from Dynojet. Easy to install, good instuctions, works perfectly. Has many add ons if you want more out of the product.
Date published: 2014-01-14
Rated

5

out of

5
by
Bryan45
from
Great Product
Works great although the map choice from the web site only takes it so far. Still had popping when the throttle was closed. V&H Twin Slash were installed prior to the PC V installation. Since then, I took it to the next level with a K&N Air Filter and added the Dual Channel Auto Tune. Now it works great.
Date published: 2016-07-19
Rated

5

out of

5
by
Kochen
from
Great service and speedy delivery
I bought gloves,tires,power commander, air filter.
Date published: 2015-11-10
Questions
2008 suzuki c109r which has a engine knock in 4 and 5th gear under power. Buddy thinks it maybe a mapping issue with oem ignition. Would Power commander 5 eliminate noise and improve perfnce. Dealer told me sell the bike and replace.
It could be a mapping issue but I would strongly recommending contacting Power Commander first. They can be reached directly here: http://www.powercommander.com/powercommander/Contact/powercommander_contact_us.aspx
Date published: 2019-07-16
Will this unit help add fuel on a cold start ? These sleds don't start well = a lot of cranking before they start .
It should. Dynojet say that through exact engine temperature via the bike's ECM, the PCV can then judge how much fuel to add during cold starts. For more information on the advantages of using this fuel controller on your vehicle, we would suggest contacting Dynojet directly
Date published: 2019-12-03
Does this fit a 2015 Kawasaki Vulcan s and work for installing a danmoto 2 into 1 highway man exhaust on this bike?
Yes. If you enter the year, make and model of your vehicle on the product page, you will be able to order the vehicle specific part for your bike. This item is not specific to any specific exhaust or other modification. It simply allows you to adjust the fuel intake, to ensure you are getting the best performance out of your vehicle. For more information, we would recommend watching the product video in the item details
Date published: 2019-10-08
It's says 49% off yet the difference between the list and sale price is not that. What is the cost of this product? Thanks!
Hi Tyler, Once you choose the make/model/year of the vehicle from the drop down menu you will see the price(s) of the item(s) recommended for your vehicle. ~Danielle, Customer Service, Canada's Motorcycle
Date published: 2019-02-22
I have been looking around and am a bit confused. I have a 2012 Yamaha R1. Most places list the PCV and the Auto Tune kit separate. Is this listing for a PCV Fuel Injection Module (22-054) and an Auto Tune Wide Band O2 (AT-200) combined?
A single channel O2 optimizer is integrated, however the Auto Tune Wide Band (AT-200) is sold separately.
Date published: 2016-08-02
Will this Dynojet Power Commander V Install and work on my 2011 Kawasaki Vulcan 1700 Nomad right out of the box or does it require set up and a bunch of adjustments?
2012 Voyager 1700 ABS - It will work out of the box. Fairly easy to install. The existing computer will mostly compensate but you will probably notice popping when you close the throttle. I installed mine after I installed V&H twin slash. The fuel mileage went down though. Since then I have I have gone to a K&N air filter and dropped the money to add the dual channel Auto Tune as well (got someone to install that because the O2 sensors need a fitting welded to the exhaust). Now it runs great. - Hope this helps.
Date published: 2016-07-21
I have ordered a Dyno Jet Power Commander V, I see that the 2 position map switching function is built in,( map switch not included ) Do I need to purchase a map switch?
Yes just a regular toggle switch will do, I bought the auto tune and quickshifter to go with it, so I don't use the switch, just did some preliminary set up and let it do it's own thing. 
Date published: 2017-05-25