EBC Double-H Sintered Brake Pads
Item # : 95074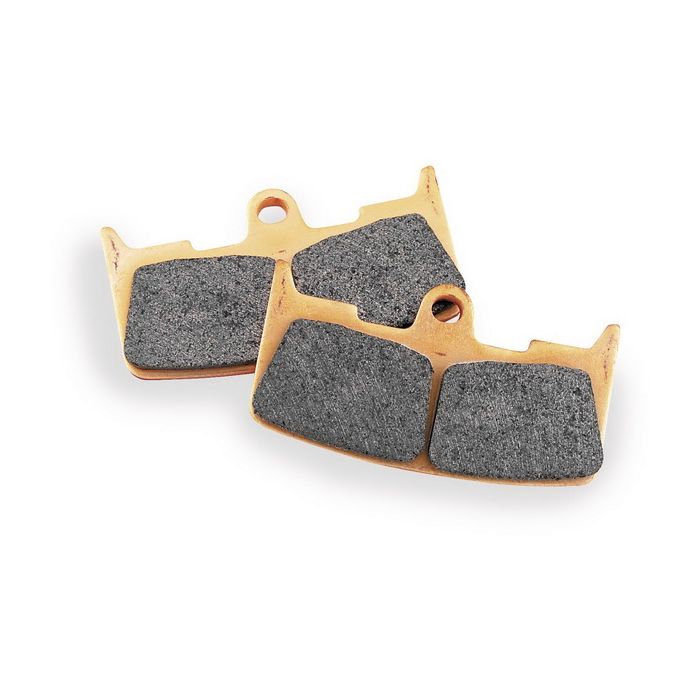 EBC Double-H Sintered Brake Pads
Item # 95074
Description
EBC Brakes® Double-H™ Sintered Pads (2 Pcs)
The EBC flagship sintered streetsport pad that delivers highest braking power, stability and long life. Ultra high HH rated friction TÜV tested and ECE R 90 brake safety approved, there are few pads on the market to meet or beat the performance of Double-H pads. Made in the EBC state-of-the-art sintering plant in Ohio, USA, these pads stop fast - wet or dry - and last for thousands of miles.
Most manufacturers build bikes using sintered metal pads and these are direct replacements for that technology with several differences. First the refined compounds researched and used exclusively EBC are second to none in terms of quality of materials and workmanship. Secondly almost all EBC Double-H sintered pads use EBC design perforated stainless steel heat and noise shields on the reverse side, keeping brakes cooler by reducing heat transfer into the bikes hydraulics and dampening noise.
Features:
Fast street and superbike pad
TÜV and ECE R 90 approved
Ultra high brake effect and lifetime
Perfect braking wet or dry
Note: Image for reference only, actual product may vary.
Reviews
Rated

5

out of

5
by
Hilt
from
I replaced both front and back with the EBC Double-H Sintered Brake Pads in my Yamaha FJR. they are certainly much better than the OEM pads
Date published: 2016-05-05
Rated

4

out of

5
by
tdesign709
from
Upgraded pads with stock Rotors
Bought and installed myself. Product is exceptional and I do feel a difference in stopping distance. Due to the different pad material I am getting different feedback and a different noise from the rotors. Next step is to upgrade to ebc rotors :)
Date published: 2015-08-10
Rated

5

out of

5
by
Danny
from
Great product
Fast shipping and great product! Done about 200 km so far and excelent braking,no rattle,no skeeks!
Date published: 2016-05-05
Rated

5

out of

5
by
M4Hamm
from
Great high-performance street brakes
My 2nd set of EBC Double-H brakes. Smooth, quiet with great stopping power and no fade in 'spirited' street riding.
Date published: 2015-11-04
Rated

5

out of

5
by
Geezerboarder
from
Good buy
This was a good buy! Cheaper than stock HD parts, quick delivery and they fit just as good as the originals. Over a month riding on them, no sign of abnormal wear and the brakes don't feel any different than stock.
Date published: 2015-10-17
Rated

4

out of

5
by
Naterider
from
Proven
Used on track and street with confidence. They have the feel, power and quality brand assurance that you have to spend far more on to beat. Anything less is not worth it when you're life depends on them!
Date published: 2015-10-17
Rated

4

out of

5
by
rocco
from
great but squeal
installed these on my 2002 gsf600 they work great very grabby which after a few stops you get used too. Call manufacture about reusing the oem shim, they said there pads do not need the shim. The brakes do squeal a bit on light braking. I notice that i have less brake fade, the oems after a fun ride i tend to use rear brakes a little more they fade, these feel great from the being to the end is anything they grip more. The down fall of my grip is rear tire locks up easier
Date published: 2016-08-16
Rated

5

out of

5
by
planetoldchild
from
Fabulous brake pads.
45+ yrs of riding/30+ bikes. I was turned onto EBC double HH pads in 1990. Have owned 10/12 bikes since and have never used any other pads. They are constantly reliable, I have never had a single issue with any pad/pads, and the braking is consistently great in all weather.
Date published: 2015-09-15
Questions
are the back shoes on my vtx 1800 thicker than the front ones.
If you enter the year, make and model of your vehicle on the product page, you will be able to order the vehicle specific part for your bike. Different vehicles have different pads for front and rear, and some have the same
Date published: 2019-10-09
Hello. Does this set include 4 pads total for both calipers? Thank you
Hi Jayco, This is one set (two pads). Example: if you are looking for a front pad application, you will need to order two sets.
Date published: 2018-10-30
there are not actual part #'s in the description. How can you verify the EBC pert #,,. Some sellers say these are not compatible with the F700GS,,.
Once you enter the year, make and model of your vehicle on the product page, it will show as either a "Guaranteed Fit" or "Not Expected to Fit." If the item is a guaranteed fit, and once you have selected "front" or "rear", the OEM number will be displayed in the product details of the item, as shown in this example: http://imglin.com/20191126114342%5F7369812.png
Date published: 2019-11-26
how do these pads rate on BRAKE DUST  compared to OEM ? better ? Worse ? I have a Harley and find HD pads produce a lot of dust. 
Sintered brake bads are made using a low-dusting formula that contains no ferrous (iron) compounds.
Date published: 2015-10-27
Hi So if I'm looking to change the front brake pads for my KLR 650 2008, I would need to buy two sets? It looks to me that I only need one set for the KLR 650 Thanks
Brake pads are sold per caliper. The KLR 650 2008 only has one front caliper so only one brake pad set is required.
Date published: 2017-02-28
Do these pads come with the brake grease and scraper kit like the Harley ones ?
No they come as a set of two pads per package. Nothing else. 
Date published: 2017-08-07
Hi do I need to order 2 kits for the front on my 2013 s1000rr.
Most front brakes are linked, meaning one side operates off the rear brake pedal and the other off the front brake lever, if you are not sure what the pads are in the rear but need to change both fronts, then do all three with same pads manufacturer.
Date published: 2018-07-24
I am looking to change my front pads for my 08 gsx650f. Do these pads fit?
EBC pads are bike pacific, just input your bike info and the ebc pads for your bike will show the fit, I prefer the EBC double HH . IF your bike has a linked brake system I would plan on changing all 3 sets to get the same stopping effort on both front and rears.
Date published: 2019-09-19