EBC DRC Series Clutch Kit
Item # : 142655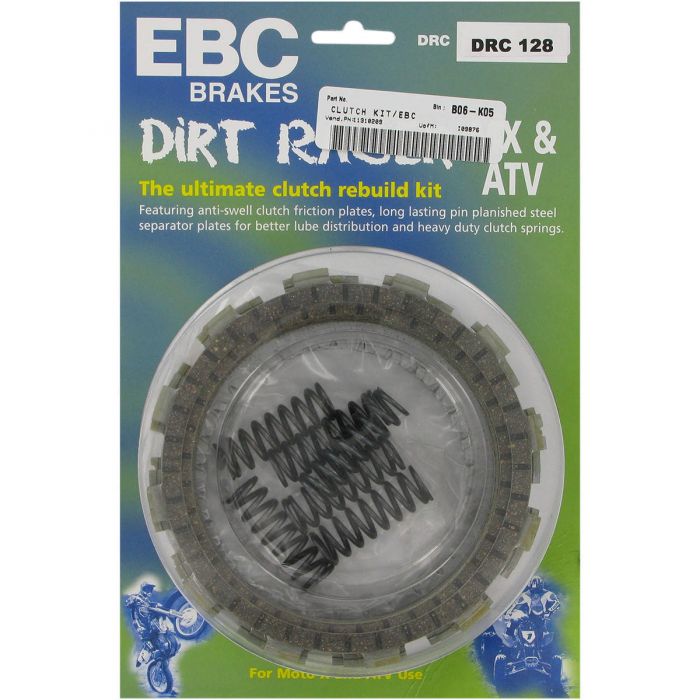 EBC DRC Series Clutch Kit
Item # 142655
Description
EBC Brakes® DRC Series Off Road Clutch Rebuild Kit
The Ultimate clutch rebuild for your ATV and Moto Cross machine.
The perfect choice to completely re-set your off road ATV or MX bike to new clutch status includes all necessary parts. Soak friction plates in drive-case oil for a few hours before install.
Features:
Uses OEM style cork lined friction plates
Includes STEEL driven plates for better life
Full engine set resets clutch precisely to new
New heavy duty clutch spring set included
Stack height factory measured kit
Reviews
Rated

5

out of

5
by
Gaud89
from
Excellente clutch!
J'ai acheté ce set de clutch pour remplacer ma clutch d'origine sur mon Crf250l. Je suis vraiment impressionné par la qualité de celle-ci. Les springs sont pas trop dure, la clutch ne glisse pas. Excellent produit et excellent service!
Date published: 2018-07-17
Rated

5

out of

5
by
Dirt bike
from
EBC Clutch kit, frict,& steel plates with springs
Put the clutch kit into a 2000 Yamaha TTR 225. Perfect fit with replacement springs 15 % stronger than stock. Only a slightly harder pull on clutch lever. No replacement "judder" spring to fit between the middle narrow friction plate,so used the old one. Clutch now works like new.
Date published: 2017-09-20
Rated

3

out of

5
by
Nitrojackflash
from
EBC TTR 125 Heavy Duty Clutch Kit
The quality and general function of this kit is good. Unfortunately the heavy duty clutch springs that came with the kit are excessively strong to the point that an average rider would not be able to squeeze the clutch lever sufficiently for it to fuction. Reinstalling the OEM springs with the new clutch plates and friction plates sees it works fantastically!
Date published: 2015-08-08
Rated

3

out of

5
by
Soldat
from
Fast chiping, but have good clutch, so bad Sprint.I broke my pusher plate.
Date published: 2019-11-18
Rated

1

out of

5
by
Cafu
from
Not happy
2013 ktm 450 sx-f factory edition. Its possible for this kit to be fried in 2 rides? Trail riding and I know the clutch was abused a lot but my last kit was a moose clutch and last almost 2 seasons, riding on the same trail.
Date published: 2019-10-01
Rated

5

out of

5
by
khaos
from
fits perfect. and even has a couple extras!
This new clutch pack made a huge difference on my bike. Has lots of get up and go now. Can get on the back wheel easy. And install was a. Breeze .
Date published: 2019-09-03
Rated

1

out of

5
by
Tyler
from
Super grabbing
I recently put this ebc clutch disc set and springs it came with in my kx250, the clutch is super hard to pull now (my guess is the stiffer springs) and it grabs and slips super bad when letting the clutch out. It's like the clutch is engagaing then disengaging while I'm letting the lever out. I've taken it to a local shop and they said it's just the way the disks are. I've tried different oils including atf and none have made it better. I pre-soaked the discs over night in oil before installing like recommended. Pretty disappointed.
Date published: 2019-08-28
Rated

4

out of

5
by
Jess
from
Great clutch
Great clutch hooks up good and quick great purchase for my cr
Date published: 2019-06-13