EK 520 SRX2 Quadra-X Ring Chain
Item # : 432498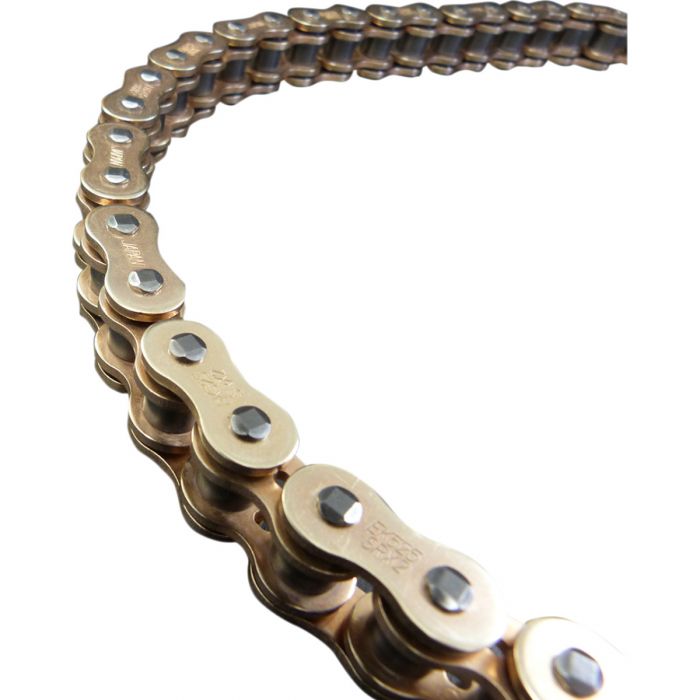 EK 520 SRX2 Quadra-X Ring Chain
Item # 432498
Description
EK 520 SRX2 Quadra-X Ring Chain
The SRX2 series chains are an excellent value for any street machine.
The SRX2 chains feature lightening holes, reduced friction and Quadra X-Ring design which increases chain life from 1 1/2 to 2 times longer than a standard O-Ring chain
Premium All-Around Quadra-X Ring Chains
For up to 750cc Street/650cc Dirt
Tensile strength: 8,500 lbs.
Reviews
Rated

4

out of

5
by
thomasdgs
from
Works Fine, But Order A Spare Master Link!
I ordered this product (Natural Colour) a few months back for my 2007 Suzuki DR-Z400 SM, and recieved it on time and as described as always with CanadasMotorcycle.ca. After roughly 4000 km, mostly street and highway, the chain seems to be holding up well and doing what its suppose to. It has required very few adjustments since installation. My only complaint about it was that the clip that came with the supplied master link cracked when trying to install the chain, which is why I only gave this chain four stars, and why I recommend ordering a spare master link (or two) when ordering this chain.
Date published: 2015-10-20
Rated

5

out of

5
by
Flyintony
from
Perfect
Perfect for abusing with no mercy. Riding a ktm500 with a 140 teraflex rear tire and after 10h of hard technical this chain didnt even stretched yet.
Date published: 2018-07-26
Rated

3

out of

5
by
Amir
from
Screw type link sucks
I got this chain because the last one lasted 100 hours. It had a link type master. This one came with a screw type master which is a stupid design in my opinion. I see they tired to make it easy to install without a revit tool but it leaves out about 1/8" of the pins after snap them at the designed week spot. That will damage my chain guides. I ended up grinding them and try to revit them as well to be safe. I don't trust a few thread pressed through a chain plate to hold the master together. Nothing wrong with revit or link type masters.
Date published: 2018-01-12
Rated

5

out of

5
by
Big bird
from
EK 520 SRX2 quadra Xring chain
Easy website, many products, videos are good, speedy delivery, chain was easy to install, good job Fortnine!
Date published: 2017-08-10
Rated

4

out of

5
by
pierrejac
from
facile a installer outil fournie avec la chaine pour installation facile ,,,,,
Date published: 2015-10-18
Rated

5

out of

5
by
Paul996
from
Le progrès !
Les chaines EK sont un très bon produit ,la façon d'installé la chaine avec un maillon visé un peu déconcertant mais fonctionnel ,alors tout est parfait !
Date published: 2019-11-19
Rated

5

out of

5
by
michel bedard
from
michel approve
this is a review by no one but the legend MICHEL BEDARD. Michel is on a quest to reach notting but the speed of light.He will achive this by pumping up the compression of his cr250r to infinity.For that you need special piston that reduce the volume of the compression chanber to zero. On that i will continue buying from fortnine.
Date published: 2019-08-27
Rated

5

out of

5
by
Stoney
from
Good Chain, Clip style link
Happy with this chain over my stretched out one. Fantastic price, came with a clip style masterlink which im happy with. Most likely will order again provided i get a decent amount of km's out of it.
Date published: 2019-07-10