ElectroSport Regulator/Rectifier
Item # : 173406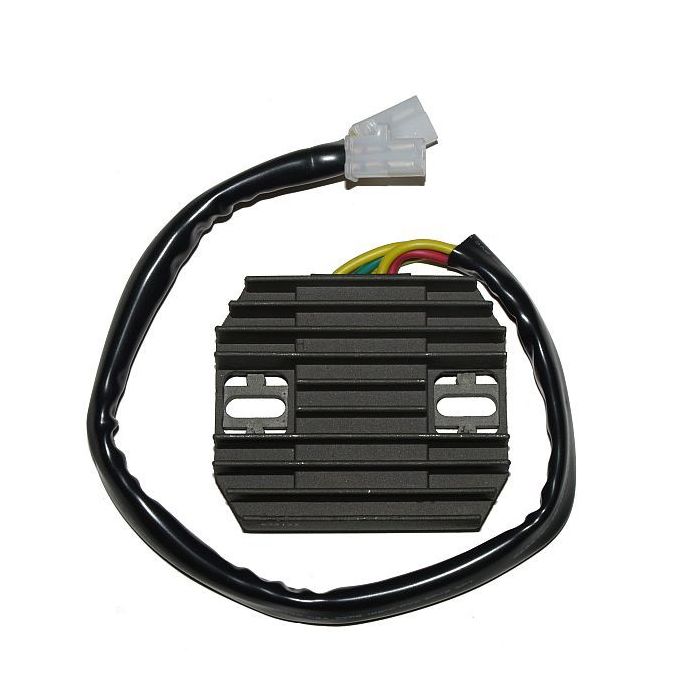 ElectroSport Regulator/Rectifier
Item # 173406
Description
ElectroSport Regulator/Rectifier
This is by far the best regulator rectifier in the world. The Electosport RR design prevents overcharging and dissipates voltage quickly while providing optimum power balance and protection to all of your electrical components. This aluminum die cast heat sink helps remove heat quickly and the slotted mounting holes provide easy installation. Electrosport offers a 1-year warranty
Connector blocks are designed to fit perfectly into the OEM wiring harnesses
Exclusive slotted mounting provides easy installation
Aluminum die-cast heat sink wicks excessive heat away quickly
Machine installed wiring connectors
High quality protective sheathing keeps wiring tucked neatly away
Reviews
Rated

1

out of

5
by
Distefano
from
150$ for 3 weeks
I bought this item and 3 weeks later item is fried. Lost 150$ and precious time.
Date published: 2016-06-25
Rated

1

out of

5
by
rick
from
Do not recommend
Failed after a week, please use alternative brand or oem.
Date published: 2015-10-18
Rated

1

out of

5
by
gsxrbrad
from
Horrible
I bought my first one of these back 2 months ago. It fried. Thought to myself maybe it was just a faulty unit. Didn't want to deal with warranty, so just purchased another one. In 2 weeks that one fried too!! Ended up just buying OEM suzuki which is what i should have just done in the first place! Now the bike is charging normally and still is..DO NOT waste your money and time..just go with factory parts..take my advice.
Date published: 2016-07-15
Rated

1

out of

5
by
Night
from
Complete Garbage
Bought this as a replacement for my Suzuki GSX650F. Did not last 200 km. Worst, the unit failed miserably and had no voltage regulation; I measured over 17 Volts DC at the battery. This fried the battery and blew all the tops off the sealed caps. Now I'm wondering what else it fried, putting 17 volts in a 12 volts system probably damaged other components of the electrical system. I'm surprised the lamps and headlights are still working. I also have to clean up the acid from the battery. Avoid these cheap China parts. They will cause other damage to your motorcycle.
Date published: 2018-06-22
Rated

1

out of

5
by
Billy43
from
Je ne le recommande pas
On doit défaire beaucoup de pièces pour l'installation. Enclenchement du cycle de charges trop basse...
Date published: 2018-06-21
Rated

1

out of

5
by
Rene
from
not at all good
The regulator/rectifier that I purchased was, not working. I took my bike to a motorcycle repair shop and they had to put a new regulator/rectifier in. The one you sold me checked out for AC but not for the DC charge into the battery. My battery while riding was discharging and almost ruined the battery.
Date published: 2016-08-13
Rated

2

out of

5
by
Anonymous
from
Part was not direct fit
Price and delivery was great but when I got the part found it was thicker than the OEM and I could not reinstall covers properly.
Date published: 2014-06-01
Rated

5

out of

5
by
whitey
from
great product
product was perfect fit,worked perfect,would buy again
Date published: 2015-10-26