ElectroSport Stator
Item # : 173240
$98.99 - $349.99
$96.99 - $314.99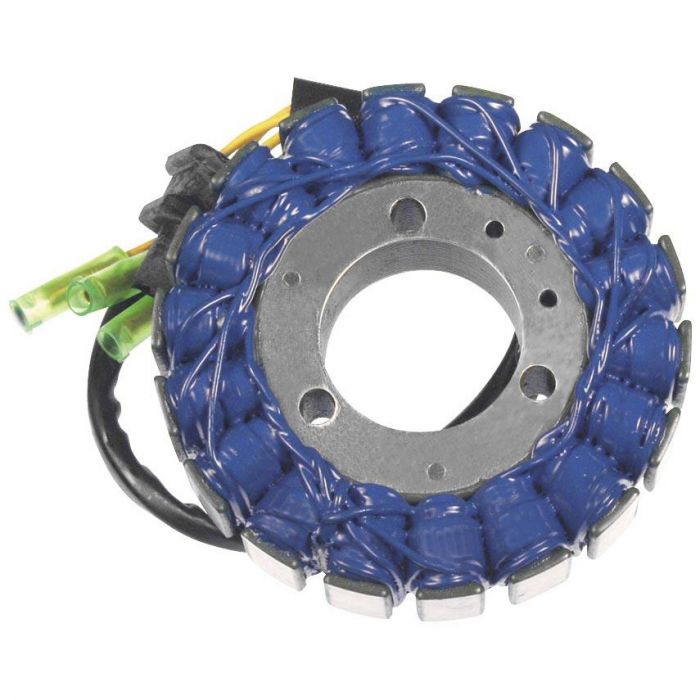 ElectroSport Stator
Item # 173240
Description
ElectroSport Stator
20% greater output than OEM stator
Triple insulated for maximum reliability
Supplied with new electrical connectors and wiring sleeves
1-year manufacturers warranty
Reviews
Rated

3

out of

5
by
JohnCarter
from
Faulty Crank Speed Sensor...
Okay so initially I got the stator, I took my old one out put it in just like the original and pluged it into my bike and resealed the gasket covers, cleaned up my mess and turned the key and all my bike did was crank over and over and over... So I did some basic multi-meters tests and the stator seemed to be fine, I check the results of the new ElectroSport Stator to my old one and they were different. My old stator has a resistance of 0.2 to a maximum of 0.3 and the ElectroSport stator had 0.6-0.8 which is really good. I couldn't figure out why my bike wouldn't turn over so i took off all the gaskets and re-installed my old stator, the bike fired right up... I was very confused and couldn't figure out what the problem was... After almost 3 hours of switching the stators and trying to figure out the problem, I looked at the crank position sensors, the original sensor from Yamaha was smaller and dirtier but the ElectroSport sensor was a bit bigger, that didn't matter and all the parts were clearencing fine but what ended up being the problem was the crank speed sensor was faulty and wasn't picking up the stator and I don't think it had a ground to earth, so I cleaned the area and tried starting it up and still no luck, finally what I did and afterall I had no choice I had opened up a faulty stator and FortNine refused to take it back since I had opened the "Original packaging"... I took my old crank speed position senor and the one on the ElectroSport Stator and switched them, I spliced them together and put some electrical tape around it, put it all together and applied gasket material to the bike and the stator cover and tried to start the bike and BOOM! fired right up!! Conclusion! : After hours of reading reviews online the ElectroSport Stators are known the have the Crank Position Sensors' Wires put on the wrong way, yellow and blue wires are indirectly wired and need to be switched around sometimes. In my case I had a faulty sensor and has to cut my old stators sensor off and rewire it to the brand new ElectroSport stator... Took awhile to figure out but I am glad my bike now gets 14.4 volts at idle and not 11.8 when my other stator was bad! Shouldn't have need to do any of this considering I paid $160... but hey that's what you get when you go aftermarket, sometimes you get lucky sometimes you dont...
Date published: 2017-10-19
Rated

5

out of

5
by
gakster73
from
Good stator not OEM.
Stator worked well but the original uses a flat plate to tighten it down which you can not use with this stator.
Date published: 2015-12-04
Rated

4

out of

5
by
Jeff
from
haven't Installed yet.
Haven't installed the stator yet, it is to replace a burned out Ricks stator that burned the three legs of the wiring where it mounts to the stator. Interesting to point out , the rubber grommet that the stator wires go through are not included with this stator, so I guess you need to reuse the old ones during reassembly which is why I only give it a 3 stars for ease of install. The Ricks one I has previously included the rubber grommet. Other than that it looks okay, the connectors included are a bit chintzy, but I will not use them anyways....
Date published: 2018-09-06
Rated

4

out of

5
by
Martijn
from
As Described
Works perfectly, be advised it doesn't come with a new gasket though! Other than that, perfect Not the easiest of jobs unless you have mechanical mindset
Date published: 2015-08-09
Rated

5

out of

5
by
Paul
from
Stator
No problèeme. Work great good price. Parts arrive days earlier then expected .
Date published: 2019-08-28
Rated

5

out of

5
by
Rocknray
from
The statator i bought month ago worked great eazy to install.
Date published: 2019-08-27
Rated

1

out of

5
by
Canuckcrawler
from
Very disappointed
I bought this last fall, and just recently went to install it on my CR250. (I'm doing a ground up restoration) First thing is they state that it's a direct replacement part for my existing stator, which was false. I had to add 12"of wiring to each lead so that it would actually connect to the rest of my ignition. I used the best silicone/pure copper automotive wire that I could find, made clean solder joints to ensure excellent current transfer and then installed it on my bike. Tried to start the bike after I filled it with fresh 91 octane fuel, and nothing, not even a burp. Pulled the plug, and checked for spark, absolutely nothing. Tried switching the wiring on the flywheel sensor as it apparently is suspect from the manufacturer, reinstalled the assembly, tried for spark again, and again nothing. Can't return it as I had to modify it to fit my bike, so I'm out $150.00. I will never buy anything from this manufacturer again.
Date published: 2019-08-20
Rated

5

out of

5
by
Johnny Red
from
Plug and play
Well packaged. Works as it should. Direct replacement for origonal stator. Plug and play on a 1980 KZ750 E1. No modification required. Bolt on and go.
Date published: 2019-06-23
Questions
Will this stator direct plug in to a 2007 Ducati monster s2r 800 
Yes, the Electrosport Stator is compatible with the 2007 Ducati Monster S2R800.
Date published: 2019-08-30