EMGO Classic Shocks
Item # : 250957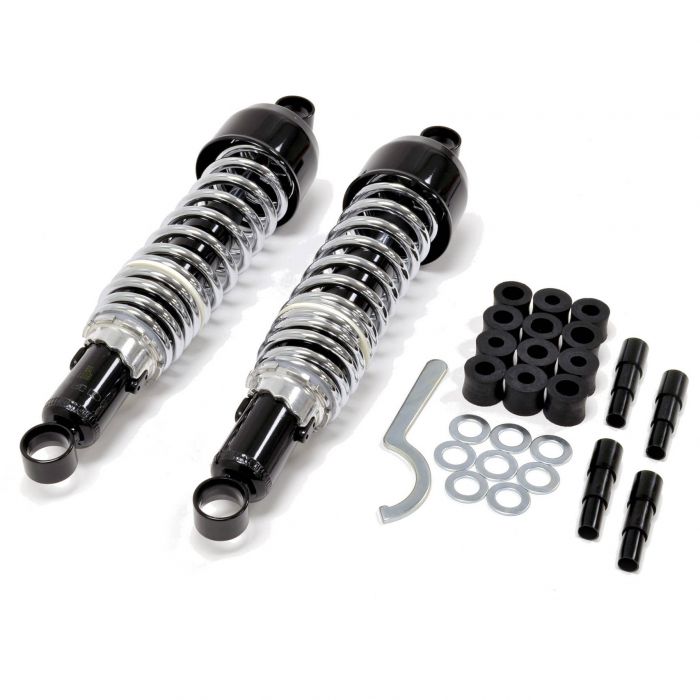 EMGO Classic Shocks
Item # 250957
Description
Emgo Classic Shocks
Features a glossy black body and short upper shroud with dual chrome springs upper collar and stepped pre-load adjuster
Each shock set includes 10, 12 and 14mm bushings
Sold in pairs
Available options:
325mm eye-to-eye
335mm eye-to-eye
340mm eye-to-clevis
365mm eye-to-clevis
Reviews
Rated

4

out of

5
by
Mason
from
Extremely stiff
I think my old ones were worn out but wow. No compression from me sitting on it at 160 lbs. Hopefully they wear in a bit.
Date published: 2018-02-21
Rated

4

out of

5
by
whattimisit
from
They look great
Bought these for my 81 cb750, the rubber spacers where pretty tight to get on, but otherwise they fit perfect. They ride way better than the stock ones, and they look great for the price.
Date published: 2015-06-09
Rated

1

out of

5
by
Luc B
from
Way too stiff
I will remove and put the old ones back on, i weigh 240 lbs and they dont have any give very hard. Dont buy
Date published: 2019-08-27
Rated

3

out of

5
by
Luc B
from
Stiff
Extremely stiff shocks, will probably put back the old ones that I thought were too weak. But wow, and I weigh 230lbs and they dont budge on my 79 GL1000
Date published: 2019-08-25
Rated

4

out of

5
by
AMB CBX
from
decent shocks
didnt have to go to Florida to purchase therefor didnt have to wait to long and much cheaper than the originals that were offerd - maybe not the same quality but it suited my needs ..
Date published: 2019-07-09
Rated

1

out of

5
by
Luc savoie
from
Too stiff for me
I bought these a month ago and don't like the ride
Date published: 2018-11-06
Rated

4

out of

5
by
Papag
from
Good features
Nice look,easy to install , good value for the price, works as required and easy to adjust.
Date published: 2018-01-06
Rated

4

out of

5
by
locpk
from
Good product
I purchased this shock set for my 1979 Gold wing. They were a good fit and are working out just fine.
Date published: 2017-09-17
Questions
I've got a 82 Kawasaki 750 ltd. Will these work for me? Also to note I weigh around 300 lbs, and the ones I have right now bottom out on just about every bump
Fortnine asked me to respond to this. I have these shocks on a 1979 GS850. They work just fine. However, They might bottom on every bump if I weighed 300 lbs as well. So do you need shocks or do you need heavier springs? If you remove the springs from your current shocks and they compress and rebound slowly, it would seem their damping mechanism is working. If so, then you either need heavier springs or become a lighter rider. Changing shocks made for the average rider (I'm guessing max 230 - 240 lbs) won't fix your bottoming issue. I hope this is helpful.
Date published: 2018-06-12