EVS TP199 Knee Guards
Item # : 540337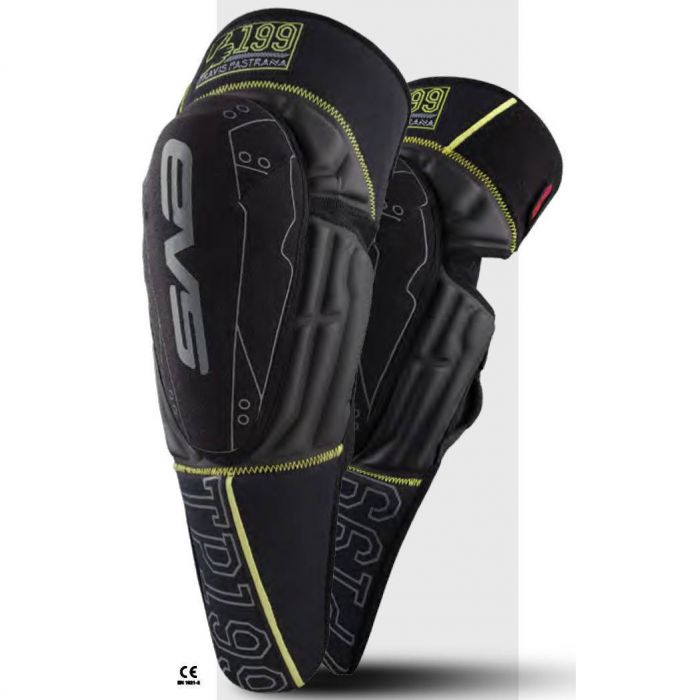 EVS TP199 Knee Guards
Item # 540337
Description
EVS TP 199 Knee Pads
One of our most popular knee protectors has been completely redesigned for the 2017 season. Designed specifically for Travis Pastrana, the official TP199 Knee Guards offers everything for those looking for complete support without the bulk of a traditional knee brace. They are perfect for both track and trail riders.
Features:
Cut and abrasion knee cup design utilizing "advanced impact foam" technology. This material allows it to bend and flex under low pressure but hardens up under hard impact.
The molded bio-foam upper provides added protection to the lower thigh, an area overlooked by most other knee supports.
Silicone strip on inner sleeve helps limit migration while riding
The floating inner knee sleeve provides added support and prevents migration of the knee support during use. The sleeve is easily removable allowing the TP199 Knee Guards to fit a wide range of sizes.
Fully breathable mesh back to help with temperature control
Low profile, hard molded shin guard slips easily into your boot
Sizes: S/M, L/XL
Sold in pairs
Reviews
Rated

5

out of

5
by
Chris_deBonga
from
Finally a pair of famntastic knee guards!
Rode 2,500 km offroad with those and I love them. Super comfortable when riding (or fixing flats or repairs). Protection is ALWAYS where it needs to be, not 3 inches off. And the Gel sides makes squeezing the bike really enjoyable. 5 stars.
Date published: 2017-08-17
Rated

5

out of

5
by
Dirty Dog
from
Well Thoughtout
Have only worn a handful of times. However when I have wore them they have been for about 8-10 hours at a time. Very comfortable. Grip the tank nicely. Shin pad goes right inside your boot. I like this. These aren't the cheapest kneepad you can buy but I do think they are among the best.
Date published: 2017-10-27
Rated

5

out of

5
by
Drock
from
Very comfortable
Fit is snug and comfortable. Can wear them all day without irritation. Excellent choice for knee pads
Date published: 2017-09-16
Rated

5

out of

5
by
Larry
from
The best!
Wore full knee braces for decades. Slipping down, cutting into legs. With these, it's next level comfort, squeezing the tank is pain free and happens much more often because of comfort. Impact protection of inner / outer knees and shins are great. Stays perfectly in place.
Date published: 2019-08-28
Rated

4

out of

5
by
madden
from
Great customer service!
Fortnine shipped the wrong size initially but worked with me to get the right ones here asap. Great customer service! Pads are well built and comfy. I just find the inner knee sleeve too tight. Ended up slicing the elastic to make it work. Still happy with them.
Date published: 2019-08-27
Rated

5

out of

5
by
Ponderosa Country Life
from
Comfortable fit & very good coverage
It's extremely hard to find protective gear for smaller riders, and finally I have a quality set of comfortable leg pads that stay in place and offers good wrap around the knee" coverage, unlike other models that just cover the front of the knee. Have used them for a few years and they show minimal wear, looks like they will last a long time.
Date published: 2019-06-23
Rated

5

out of

5
by
Newbie rich
from
Best knee pads ever made
No slip. Super comfy. Fits easily under tapered pant. Spend the extra money its worth it
Date published: 2019-04-24
Rated

3

out of

5
by
Kyle
from
Good quality but the knee cup is too small
First I bought the size s/m. Don't know why I did that considering I am a 180lbs. Couldn't even get my calf in them. Exchanged for the L/XL size. They fit great except for the knee cup/protector. It was like they put the small sized knee cup in the large ones. Because my knee wouldn't fit inside the cup it stuck out about 3" from my knee. This would get very annoying.
Date published: 2019-04-02