Firstgear Dual Portable Heat-Troller
Item # : 53955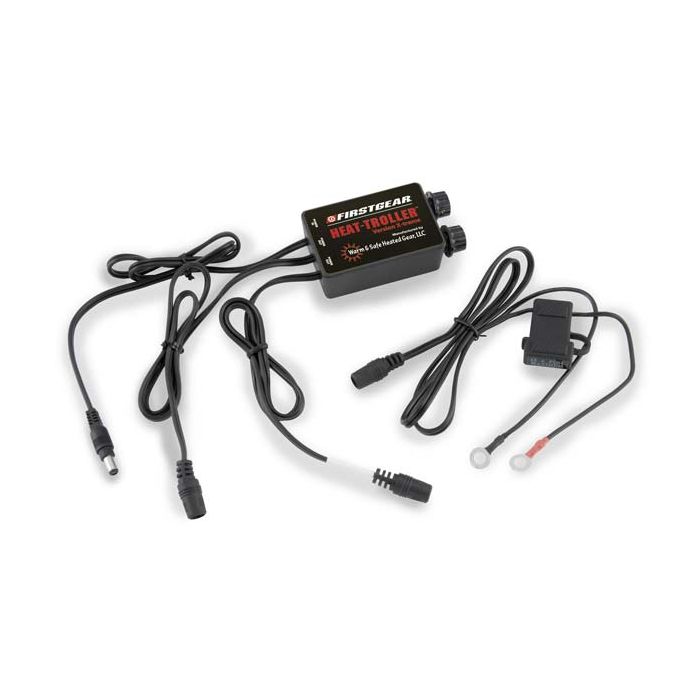 Firstgear Dual Portable Heat-Troller
Item # 53955
Description
Firstgear Dual Portable Heat-Troller™ designed for 1 person to variably control heat separately to multiple garments such as a jacket liner and gloves
It can also be used to balance the heat between any set of heated garments, such as jacket liner on 1 control and gloves, pants and socks on the other
Each rider must have their own Heat-Troller™
Portability allows use on more than one 12-volt DC motorcycle or ATV
Reviews
Rated

5

out of

5
by
Jakes
from
Works grat?
I purchased this about 1 month ago to extend my riding season as I live in Ontario, Canada. I have the heat-troller with the FirstGear heated liner and it is really warm. I turned it up to high just to try and was actually too hot! Dealing with Fortnine was also great, delivered quick and packaged really well.
Date published: 2018-05-09
Rated

5

out of

5
by
None
from
fantastic
These are the only ones that my buddies and I use, cordless and direct
Date published: 2017-06-23
Rated

5

out of

5
by
Popeye
from
great feature
I bought this heat trolley and am very happy. It was easy to install and it works great.
Date published: 2015-07-01
Rated

4

out of

5
by
Robby
from
Works well
This fits in the left hand pocket of my First Gear Kilimanjaro jacket. The jacket has a pass though for the cords to the heated inner jacket and gloves. I just reach into the pocket to adjust the settings - a bit tricky with heavy gloves. I kinda wish I'd bought the wireless version since then I could mount the controller up near my bars where I could see what I'm doing. I bought this due to its simplicity (no batteries). Definitely works and should last.
Date published: 2019-04-14
Rated

4

out of

5
by
Robby
from
Works, but consider the remote version
I've tried this on a couple of rides. I have a Firstgear Kilimanjaro jacket which is designed to hold this in its left hand pocket (pass-thrus for the wires inside the jacket). With big gloves on (because it's cold) it's a bit tricky to feel the knobs and guess at your adjustments but it definitely works. I like that it doesn't need batteries but I kinda wish I'd looked at the remote version since you could possibly mount the controls on your bars or somewhere else more visible/accessible.
Date published: 2019-04-05
Rated

5

out of

5
by
Garfield97
from
Makes the heated gear more comfortable.
Easy to hook up, allows me & my passenger the comfort to conrtol your own Temperature.
Date published: 2019-03-23
Rated

3

out of

5
by
sledjunk
from
Wires not very cold weather resistant
I bought this about 3 years ago and have been happy with it until recently. It is carried in a pouch on the outside of my snowmobile jacket. In preparing for this season, I noticed that all of the insulation on the wires was cracking and falling apart right at the controller box. The insulation of the wires is clearly not designed for cold weather (I suspect vinyl insulation as opposed to silicone) The controller os completely potter in epoxy, so it is not reparable. Quite disappointing for the cost.
Date published: 2019-01-30
Rated

5

out of

5
by
Jack Union
from
Love the duel infinite adjustability controls.
Bought one to run the Firstgear jacket on the one control and Firstgear gloves on the other. The kit is well made, waterproof and easy to install. Way better made than the Gerbing control.
Date published: 2018-11-07
Questions
I am more interested in using this system for skiing is there any way to use a battery system to power it?
It's a 12 volt system so don't see why not. Need to get the right connectors and McGiver it to a battery, such as the newer batteries used in power tools(Milwaukee, Bosch ECT) Though if doing that myself. Just not sure how long it would last. Btw works well on the motorcycle.
Date published: 2016-12-19