Firstgear Kathmandu Jacket
Item # : 84404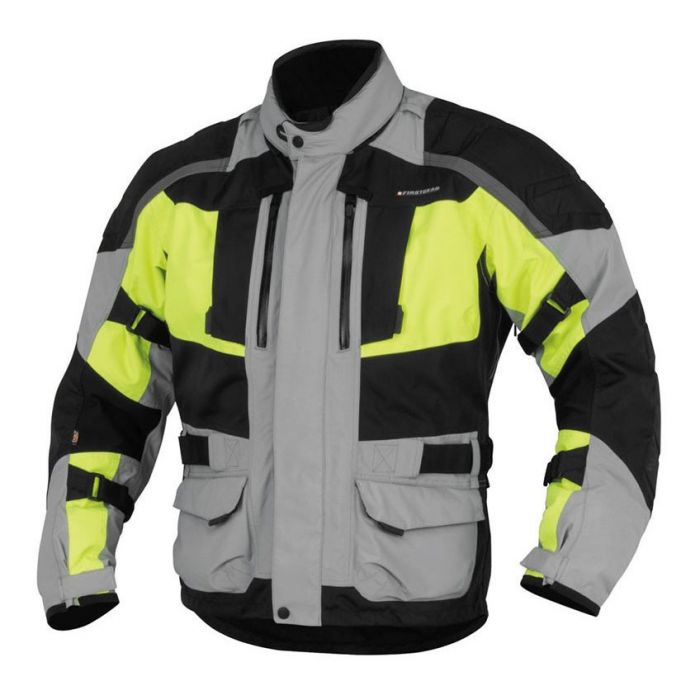 Firstgear Kathmandu Jacket
Item # 84404
Description
Firstgear Kathmandu Jacket

HYPERTEX™ Waterproof & Breathable outer shell, constructed of 420 denier rip-stop nylon and 300 denier high density nylon, durable and lightweight for ease of movement
Fully adjustable D3O T5 CE Armor in the shoulders and elbows delivers the same protection as standard CE foam armor, but is thinner and more flexible, resulting in a more comfortable, flexible fit. EVA dense foam back pad included
Collar closure utilizes a slider snap that allows up to 1-1/2" adjustment for a personal fit
Integrated into the collar is an under-the-helmet rain hood to keep water from running down your neck
1.5 liter hydration bladder included in removable backpack
Front left and right restraining loops for bladder tube make access easy
Achieve maximum air flow with two - 8" vertical chest intake vents, two – 9" armpit intake vents and two - 9" vertical rear exhaust vents.
Double storm flap front with snap and hook/loop closure that covers a #8 YKK Vislon two-way main zipper to keep out the elements
Dry Pockets will keep your stash dry – four front ones with flaps, protected by YKK #5 rubberized zippers on the chest and envelope closures on the bottom pockets.
Large rear dry pouch with 14" mouth to stow insulated liner or personal property, protected by waterproof zipper and flap with spring snaps and hook/loop closure to keep it all intact and safe from the elements
Reflective taping front and back increases nighttime visibility
One time adjustable waist belt with hook and loop closure
Elbow and underarm waterproof and breathable stretch material for increased flexibility also diminishes binding
Compression straps on the bicep and forearm adjusts to fit you. Adjustable cuff uses hook and loop closure for a custom fit
Removable, fully insulated, thermal liner with wind blocking, adjustable, neoprene cuffs to block out the cold
Interior pocketing in all Firstgear jackets are in the same location, whether the liner is in or out. On the left side, chest high is a mobile device pocket with flap closure using hook and loop to secure – On the right side is a cargo pocket that is 12" wide and 8" tall to hold whatever you need for the adventure ahead
Jacket- to-pant 10" full conjunction zipper ; fits easily through liner portal and attaches to overpant
Reviews
Rated

5

out of

5
by
Jonathan
from
That jacket is waterproof!
I was on my second moto course, the rain was pouring and the wind was blowing... A guy cancelled because of the weather, the highway 15 North was closed because of an accident... Weather to stay home... Unfortunately, the Kathmandu pants were too small, so I only had the jacket, some trekking rain pants and boots. After a few kilometers, my butt was soaking wet, than my left foot... after that, I lost count... 40 min in the course and the instructor asked us if we wanted to turn back because the weather was horrible... we pushed on. When we went back, I was soaking wet... except for the torso! My light grey t-shirt under the jacket was still dry! My phone stored in the special pocket on the left side of the jacket was dry too, and my wallet on the right breast pocket was dry too!!! Woah, what a nice jacket! The removable liner is a nice addition for cooler temperature, and there is a lot of ventilation option to stay cool... Can't wait to receive the good size for the pants!
Date published: 2016-08-18
Rated

5

out of

5
by
Anonymous
from
HUGE bang for the buck
Spent ALLLLOT of time shoping this bit of GEAR. They did an great job on the ZIPPERZZZ!Ordered as per the sizing chart and was perfect. If your wallet cant stomach the top end stuff then THIS IS THE BEST MONEY CAN BUY! FYI...Canada's Motorcycle is TOP NOTCH as well!
Date published: 2014-04-11
Rated

5

out of

5
by
Globalsynthetic.ca
from
Excellent Jacket
This Jacket rocks. I bought mine years ago, when they had orange for my KTM. Jacket vents well for the warmth and protection. And the bladder on the back, is kind of a nice feature for drinking while you drive. Why not offer it as an option for all the jackets? The only gripe is the pouch in the back for the liner. Too bulky, I just put it in my tank bag. Great jacket when it gets cold and wet.
Date published: 2013-12-02
Rated

5

out of

5
by
Hookster
from
Great jacket for all weather.
This jacket was ordered for a May ride thru the mountains. All temps from freezing to +27 celcius. The outer material keeps the rain and snow out and breathed very well with the liner removed. The fit when sitting on the bike is perfect. A couple of items for Firstgear to address is a better hanging system when not wearing, an outer loop would make it easier to hang. A second help is to make the design of the liner to be more fashionable so you can save bringing a second jacket in your bags.
Date published: 2014-06-02
Rated

5

out of

5
by
peter
from
great jacket
Did two very long trips wearing this jacket, one in blistering heat, one when it was very cold. It worked great both times! Ventilation could be a bit better for the hot weather, but opening the vents and main zipper a bit did cool me down enough to be comfortable. In the cold collar worked great at stopping cold air from getting under the jacket. Cuffs didn't let any air in too. And with the liner I was very comfortable. I also love tons of pockets.
Date published: 2015-10-17
Rated

5

out of

5
by
Toby1kenobi
from
So far so good
Only used it a couple of times for various distances, all in hot weather. It's well made with good features. The vents worked well even in stop start traffic. I'm about 5 10 and around 190. Got the XL but could have gone for the L. I like jackets a bit bigger.
Date published: 2015-07-04
Rated

5

out of

5
by
Mark
from
Excellent so far...
I've only worn this jacket for a few days, but I thought I'd add a few quick initial impressions before I forgot them. I immediately removed the liner so I haven't ridden with it yet. I'd probably use my own layering underneath anyways. However, it is REALLY comfortable and cool. It feels lighter than my Revit mesh jacket. I'm 6' and 225lbs and the x-large is a great fit. Arms are plenty long and good adjustment at waist, sleeves, etc. One thing I noticed is that without the liner in place, the shoulder pads get moved out of position or folded over when I first put the jacket on. Also the main zipper doesn't go as high as I'd expect, so it's necessary to button up the collar. Overall, very pleased with it.
Date published: 2017-06-16
Rated

3

out of

5
by
Dan JustDan
from
Nice, but not waterproof.
I bought this jacket mid season 2018, in large parts because I wanted a comfortable WATERPROOF jacket. There is a desing flaw of the closure around the neck area(see pics) that allows for cold air and water to enter. Not ideal in early spring or late fall Quebec weather. I spent an hour in constant but light rain yesterday, and I did get wet. Firstgears's response to my concerns was to have done velcro installed. I happen to feel that a $460 garment that is advertised as waterproof should not need to be modified post-purchase to match the advertisement. The black flexible fabric on the inside of the elbow also leaked. That is app despite the fact that 2 weeks ago I wanted and treated the garment with technical fabric spray. Another avoidance is the light colored collar. When I shoulder check, the bottom of my helmet rubs on the collar. The light gray turns gross black very quickly... (See pics). I can live with that, but a black collar would make that, less of a problem. Overall, I liked the jacket. Acceptable venting, very good cold weather liner. Useless hydration bladder in a heat-attracting black pouch... But having to stop and pour on a rain jacket on top of my expensive "waterproof" jacket... I don't like that. If waterproof it's not crucial for you, yes I recommend. Otherwise, in sure there are better options at a similar price out there. I hope my Kilimanjaro pants don't disappoint me like the Kath jacket did.
Date published: 2019-08-29
Questions
Is the fit accurate? I've read it fit's large and if you normally wear an XL you should order a Large
I'm usually a M, sometimes S. The S was good except really tight around the waist(I have a 30 waist). The M fits the waist good but everywhere else is big (arms, upper chest). Im not sure about the waist on the larger jackets but I would have preferred the smaller size if it wasn't for that fitment issue. Hope this helps.
Date published: 2018-06-07
is it warm for four seasons
no it needs a full length Velcro strip to secure the front flap a crosswind from the right side gets through the zipper
Date published: 2017-06-12