Fly Ignitor Pro Heated Gloves
Item # : 622528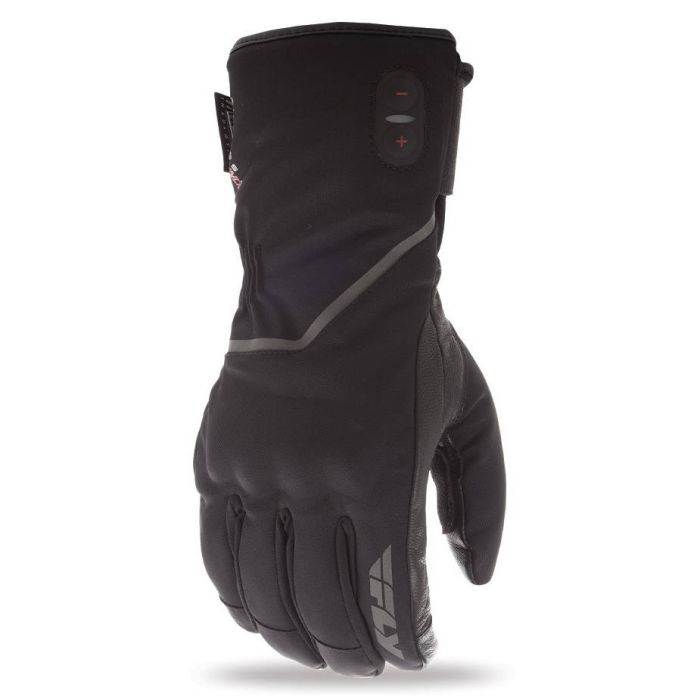 Fly Ignitor Pro Heated Gloves
Item # 622528
Description
Fly Ignitor Pro Heated Gloves
Features:
Integrated Hard Knuckle Armor
Full Leather Palm & Fingers for added durability
Reflective Logos and Print for Improved Visibility
Cuff Pull Tab to assist in pulling on
Silicone Print on Palm for Increased Grip
3M 200g Thinsulate Insulation
20g Thinsulate in palm for easier use of your controls
Touch screen compatible
Stainless Core heating technology provides superior life, even heating and extreme durability
Pre-curved fingers for added comfort
Adjustable wrist strap
Hipora® Liner waterproof, windproof, and breathable
7.4V lithium ion battery and controller with 3 heat settings
Gauntlet adjuster
LED indicating activation and heat status
110 volt wall charger with dual charging ports
Storage bag included
Reviews
Rated

4

out of

5
by
Dogger
from
Not perfect but pretty darn good!
This was a great purchase. It would have extended my riding season here in Northern Ontario but the weather was kinda SHYT so I didn't get as much use out of them as I would have liked. Nearing 0c would be about the gloves limit for coldness on a naked bike I would think. I rode in these temperatures at highway speed and it was hard to tell that the gloves were turned "on" but they definitely were as my hands were not cold (they weren't super warm either but not cold). A friend purchased a pair of these at about the same time as me and needed to return/exchange them for another pair as one glove went dead almost immediately but customer service is great when dealing with Fortnine and returns are not an issue. Keep up the great thing you have going Fortnine! I tell all my friends about you!
Date published: 2018-11-05
Rated

4

out of

5
by
Mel2
from
Great gloves for the money!
I have worn these 3 times in 5-10 Celsius weather and they kept my hands nice and warm,out for about an hour each time. The sizing is spot on from the Fly sizing chart. It's nice to have the temp control on them when you want to crank up the heat! The battery lasts about 4 hrs on med setting.
Date published: 2019-01-20
Rated

4

out of

5
by
DjAdams
from
Work great!
Bought these to use on my unfaired bike. I didn't want to install handguards, I was told heated grips won't fit my bike (haven't checked into that claim as yet) and I didn't want to hardwire gloves. I like that the heating elements run down the top of the fingers and hand which is where the wind hits. I have used these a couple of times now riding 5k to work at speeds of about 60km/h in temperatures as low as 4 degrees Celsius and my hands are quite comfortable. .
Date published: 2018-11-25
Rated

3

out of

5
by
megamoe
from
Wish they were warmer
The gloves fit well and so far have been decent in the rain. There is three heat settings for the gloves and I don't really feel any difference between them. It's been around 4 to 6 degrees during my morning commute (15 minute ride) and these gloves are just enough to keep my fingers from being icicles, but definitely not enough to keep them roasty toasty. Don't perform exceptionally well for the price.
Date published: 2019-11-25
Rated

5

out of

5
by
Evan
from
I wish I Had Found These Gloves Sooner!
I absolutely love these gloves. I had tried other options like heated grips, other types of gloves, layers of gloves, etc.. These Fly Ignitors from FortNine were a miracle find. I drive almost year round in a climate that can be harsh with rain and wind and in the winter low temps. These gloves have made the driving much easier, safer, and far more enjoyable. Every other solution was limited in how they kept my hands warm or they were poor material. As the title says, I wish I'd found these gloves months ago and many dollars ago, before I spent my hard earned money on junk.
Date published: 2019-01-18
Rated

5

out of

5
by
EL81
from
Great Heated Gloves
Bought couple of weeks ago and was able to try them on in 5 C temperature in medium heat. They work really good making you feel comfortable. I have heated grips so my palms stay warm and these gloves kept my hands warm on the outside. Much recommended.
Date published: 2019-11-28
Rated

4

out of

5
by
Éric
from
Belle qualité
Pour les avoir essayer seulement 1 fois J'ai trouvée qu'elle sont très efficace
Date published: 2019-01-16
Rated

5

out of

5
by
FrankyG
from
Very cool product
Excellent product, well priced...was expecting a little bit more heat...but they still do a great job considering they are battery operated and not connected. And Fortine service...just fantastic!
Date published: 2018-11-12
Questions
How long will a typical charge last at a medium setting?
I rode to work twice with mine on the "high" setting before recharging and my ride is about 25 min each way so I would guess that you should get about 2 hours at least on High.
Date published: 2019-01-08