FMF Racing Gnarly Pipe
Item # : 135526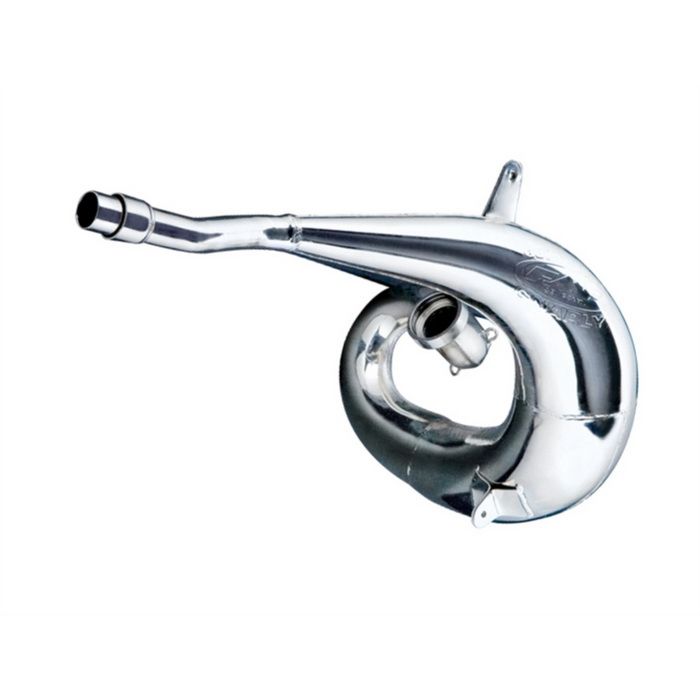 FMF Racing Gnarly Pipe
Item # 135526
Description
FMF Racing Gnarly Pipe
The FMF Gnarly pipe focuses on increasing the lower RPM horsepower and torque to get you out of the toughest terrain. When looking to add 4-stroke tractor like torque to your 2-stroke and you need a pipe to withstand the harsh elements, this is the pipe for you. Strong and rugged, this aggressive pipe dishes out handfuls of torque and bottom to mid range pull needed for late model 200cc through 500cc machines and the rigors of the off road domain.
Features:
Nickel plating is an FMF trademark and has been 'copied' by everyone making it the most imitated expansion chamber in the world.
Super strong 18 gauge steel Mufflerruction makes it GNARLY!
Reviews
Rated

5

out of

5
by
Jeff
from
Great for tight woods riding, enduro.
I race enduro's in Ontario and this is my pipe of choice. It provides great bottom end for lugging it through the woods, through mud, up hills etc, but as a trade off it tops out sooner than other pipes and sometimes I wish I had a bit more top end before having to shift. The heavy gauge material is nice if you're riding in hazardous areas with lots of logs and rocks to ding up your pipe - but it's a double edge sword; these pipes are harder to repair back to original condition once they get banged up. They don't quite go back to the original shape like the thinner ones. Fit is bang on. Easy to install. I believe they come with O-rings installed but not springs.
Date published: 2018-11-06
Rated

5

out of

5
by
Frank
from
Love this pipe
Great low end boost and torque. I am really pleased, it signs off sooner than stock but great for woods
Date published: 2015-07-04
Rated

5

out of

5
by
Grizzly
from
A must have upgrade
The hype is true. A huge power gain down low but still had plenty of over rev. Using the Gnarly with a fatter main jet or the JD jetting kit (blue needle) you won't lose the power up top. The pipe stands up to abuse compared to the stock pipe. I installed this pipe on both my 2008 250 SX and my 2018 250 XCW with similar results.
Date published: 2019-09-10
Rated

4

out of

5
by
Jacob
from
Heavy duty
I have ran this pipe for a month or so now and am fairly happy with its performance. It fits good except the header that fits into the cylinder is a bit loose and leaks exhaust. I noticed a small increase in bottom end power on longer hills. No increase from the initial snap. I would buy it again over stock.
Date published: 2019-08-28
Rated

5

out of

5
by
Smackdaddy
from
Great pipe
I have not noticed a difference in power but I have also not tuned the carb. I love the sound. The sound is definitely worth it!
Date published: 2019-06-12
Rated

5

out of

5
by
Modetoad
from
Strong, does not dent easily. Does not rust.
This is my third one, very strong, takes a great beating, never rusts. It is too bad the price has gone up so much over the last several years (over $100). The only reason I go through them is u crash so much. But great pipe, lots of power.
Date published: 2018-11-08
Rated

5

out of

5
by
Aaaaaaaaaaa
from
Awesome pipe !
Tractor like low end torque. Slight loss in too end but not really bad. I do mostly woods riding with rocks and roots and it's perfect ! 300 XC-w
Date published: 2018-11-08
Rated

5

out of

5
by
kroy410
from
Exactly what I wanted!
About 5 hard enduro woods rides on it, fallen on it and nothing wrong, no dents or bends. Tougher than other brands and a pipe guard makes it even better!
Date published: 2018-08-28
Questions
Doe this fit the 2019 ktm 300 xc-w tpi
Yes, you would require FMF part number 025203
Date published: 2019-06-06